Was Larry King cryogenically frozen?
January 27th, 2021 under Larry King. [ Comments: 1 ]

Larry King passed away on Saturday. The talk show legend had said in the past that he wanted to be cryogenically frozen when he died. Was he? Inside Edition found out.
After King's family saw those interviews with their dad wanting to be frozen, they had a heart-to-heart with him, and he opted not to do it. Thus, King was buried in the ground over the weekend.
So there will be no interviews for him with Justin Bieber XXI in the far future.

---
Larry King is in the hospital with COVID-19
January 2nd, 2021 under Larry King. [ Comments: none ]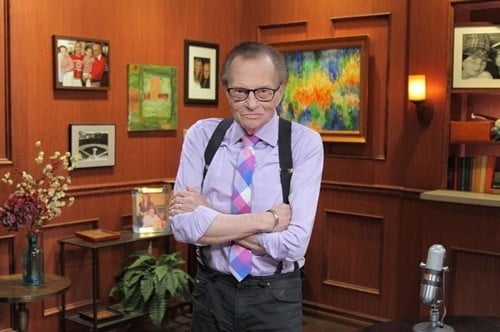 Larry King, 87, has had a rough few years. In 2019, he suffered a stroke, and filed for divorce from his wife. Then in 2020, he lost two of his children. Now, 2021 is starting off just as crappily because he spent New Year's in the hospital.
According to Showbiz 411, the talk show legend has spent the last 11 days in the hospital battling COVID-19.
Since King has survived heart attacks, heart surgeries, strokes, lung and prostate cancer, and so much more, I wouldn't be surprised if he survives this too.

---
Larry King joins the TokTik
August 17th, 2020 under Larry King. [ Comments: none ]

Larry King is 86 years old, but that does not mean he is too old to join TikTok. Or as he calls it TokTik.
His sons Chance, 21, and Cannon, 20, convinced their dad to join the social media site this weekend, and the legendary host already made his first Savage Love video. However, instead, of dancing to the Jason Derulo song, he is jamming to Frank Sinatra's Come Dance with Me.
I don't know about you, but this is what I needed to put a huge a$$ smile on my face today. I can't wait to see what he does his next.
King could be the King of TokTik. That is if his old friend Donald Trump doesn't ban it next month. Maybe King can convince Trump to change his mind. If anyone can do it, he can.

---
Kristin Chenoweth's birth dad is wicked tall
December 9th, 2019 under Kristin Chenoweth, Larry King. [ Comments: 4 ]

Kristin Chenoweth is one of the tiniest people in Hollywood. However, it turns out that her biological dad is a giant. She told Larry King that she recently learned more about her birth dad and he is actually 6'4″. She got her short genes from her mom, who is 5′ tall.
While she did not get her height from her dad, she did get her musical ability from him. Turns out her "birth father, [is] a major musician, a guitarist, a pianist, perfect pitch."
Out of the things she got from him, I think she got the better end of the DNA stick. She is a star because of it.

---
Larry King reveals a stroke left him a coma for a few weeks
November 27th, 2019 under Larry King. [ Comments: none ]

Back in March, Larry King suffered a health emergency and in April we were lead to believe it was heart-related. Turns out that was not the case. The legendary talk show host told Extra he suffered a stroke and that he was in a coma for several weeks after it.
It has been a long road to recovery and he is still not 100%. In fact, he was in a wheelchair when he spoke the entertainment news show because he still does not have full use of his left foot. However, doctors say that he is expected to be walking again by Christmas.
Since his health scares, several people filled in for him on Ora TV's Larry King Now. However, he did return to his show sometime in September.
A few weeks ago, he interviewed fellow stroke survivor, Timothy Omundson, and the host mentioned that he had a stroke. The way King talked about it, I thought it was no big deal. Now we know, it was more serious than he led on.
Thankfully he is on the mend and was able to celebrate his 86th birthday on November 19th with friends and family.

---