Simon Cowell got an eyeful from a male stripper
June 26th, 2019 under America's Got Talent, Simon Cowell. [ Comments:

none

]

Australian native Ben Trigger came to America's Got Talent to wow the audience with his dancing and that is exactly what he did.
There was not a lot of Boogie when he started off his routine, but then it quickly became a Wonderland. About a quarter of the way into his number, he started to take his clothes off. That is when the Earth, Wind and Fire lit up the stage. It got so hot, he came down off of it and shook his tassels for Simon Cowell's eyes only. Leaving the King of Mean stunned and excited. Not as excited as Trigger who accidentally triggered the Golden Buzzer for himself.
Does that mean he automatically moves forward to Hollywood? Nope, that is not how the show works. Does he move forward to the next round? All four judges said yes, so yes!
I cannot wait to see what he does next? Hopefully a lap dance for Cowell!
---
Can Simon Cowell sing?
May 28th, 2019 under Joan Collins, Simon Cowell. [ Comments:

none

]

For almost 2 decades, we have heard Simon Cowell harshly critique singers all over the world, but can the King of Mean sing himself? Something, we surprisingly did not know until now.
Thanks to Joan Collins inviting him to her 86th birthday party, we now know the answer. Let's just say there is a reason he produces singers and is not one himself. I mean, if you can't sing the most recognized English song in the world, then you just can't sing. Dawg! He makes William Hung sound like Ricky Martin.
Now, let's focus on Joan. Is she really 86 because she looks just like she did on Dynasty?
---
When will America's Got Talent be back?
March 5th, 2019 under America's Got Talent, Gabrielle Union, Howie Mandel, Simon Cowell. [ Comments:

none

]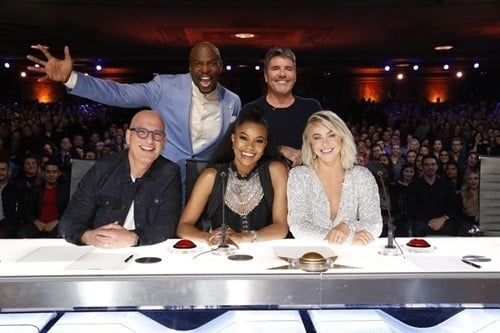 We know that America's Got Talent changed it up this season, but when will we see those changes? NBC announced today talent competition show will return on May 28th.
That is when we will find out if the new judges, Julianne Hough and Gabrielle Union, work well with Howie Mandel and Simon Cowell and new host Terry Crews. I think it will be interesting because we know that Hough doesn't like to share the spotlight and neither does Cowell. Since it is the latter one's show, I think we know who will win out.
---
America's Got Talent is changing things up
February 11th, 2019 under America's Got Talent, Gabrielle Union, Simon Cowell. [ Comments:

none

]


You know how they say, if it is not broke, don't fix it. America's Got Talent never heard of that. That is because for season 14, they are changing things up again.
Out are Heidi Klum, Mel B and Tyra Banks, in are Gabrielle Union, Julianne Hough and Terry Crews. The Brooklyn Nine-Nine actor has been well received as the host of AGT: Champions, so his hiring makes sense. As does the departure of the three ladies who are working on other projects. What I cannot get into is Hough joining the panel. Who doesn't find her annoying? I am sure Simon Cowell will find out soon enough that she thinks it should be all about her.
On a positive note, at least there are Americans on the panel again. The first time there has been one since Howard Stern left after season 10.
What do you think of the new America's Got Talent?
---
Is Simon Cowell a member of the mile high club?
October 18th, 2018 under Ellen DeGeneres, Simon Cowell. [ Comments:

none

]

Simon Cowell is on Ellen today and Ellen DeGeneres asked him a lot of burning questions. The last one being, Are you a member of the mile high club? Without much hesitation, he said, "It wasn't quite a mile." It takes a real man to admit that.
The King of Mean also admitted that he does not watch any reality shows he is not on. Can anyone say that he is missing out?
When it comes to his son Eric, he is going to be just like his dad. That is because the two of like to look in the mirror at the same time to say how handsome they are. Did you expect any less from him?
---