Heidi Klum looks different than I remember
March 12th, 2020 under America's Got Talent, Howie Mandel, Modern Family, Simon Cowell, Sofia Vergara. [ Comments:

none

]

On Tuesday, Heidi Klum was not able to tape America's Got Talent because she went home with a common cold according to NBC sourced.

Since the show must go on (while it can until the Coronavirus shuts it down), they brought in Eric Stonestreet to replace her. You know, because he is practically her twin.

He is lucky, his Modern Family co-star Sofia Vergara is a judge on the show now. I am sure she helped to convince Simon Cowell and Howie Mandel to give him the job.

To see some photos of him with the other AGT judges, then click here!
---
Heidi Klum too sick to do America's Got Talent
March 11th, 2020 under America's Got Talent, Heidi Klum, Howie Mandel, Simon Cowell, Sofia Vergara. [ Comments:

none

]

Even though, America's Got Talent doesn't air until the summer, they are filming the episodes now. Yesterday, all four of the judges showed up to work, but only three of them made it oot to stage.

According to TMZ, Heidi Klum went home sick with suspected food poisoning, and not the Coronavirus.

I wonder if maybe it wasn't food poising and she is instead pregnant with her fifth kid, her first with husband, Tom Kaulitz. That is something that only time will tell.

Since the show must go, it did with judges Simon Cowell, Howie Mandel and Sofia Vergara.
---
America's Got Talent once again doesn't have an American judge on the panel
February 27th, 2020 under America's Got Talent, Heidi Klum, Howie Mandel, Simon Cowell, Sofia Vergara. [ Comments:

none

]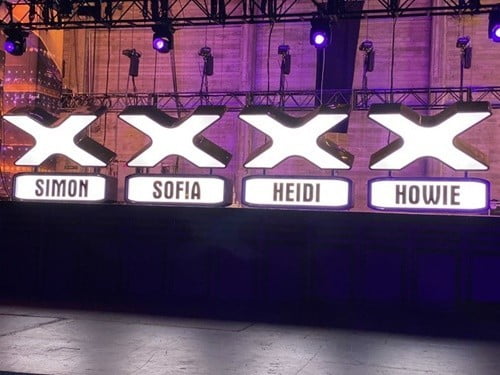 Last year, for the first time in a long time, America's Got Talent had two Americans sitting at the judges' table. Then, they decided not to ask Gabrielle Union and Julianne Hough back for another season.
Today, they announced who will be sitting in their seats. Germany's Heidi Klum is back for a seventh season, and Columbia's Sofia Vergara will be joining the show for her first one. She was rumored for being up for the job in December. Both women will be seated next to England's Simon Cowell and Candian Howie Mandel.
What is wrong with having an American judge on a show called America's Got Talent. We have talent, but we don't know how to judge it? I guess at least we have Terry Crews as a host, and he is American. I hope he is also there to translate because there are three very thick accents on that panel, and it might be hard for the American contestants to understand them.
Let's talk about the Modern Family actress. It is such a random hire. I don't really know if I think of her as someone who can identify talent. The same way I did not think Union would be able to do it. However, I thought that Mrs. Dwyane Wade did a good job on the show. Hopefully, Vergara will surprise us.
On that note, Mandel had a little welcome message for his new co-judge. He wrote, "Sofia, please don't try to shake my hand. Fist bumps only." I bet you he would not turn down a hug from her. Who would?
---
Simon Cowell is writing children's books
February 24th, 2020 under Books, Simon Cowell. [ Comments:

none

]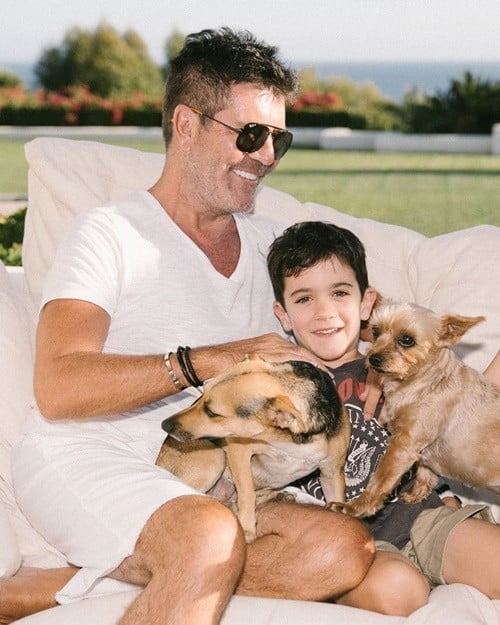 We have all pictured Simon Cowell doing a lot of things, and I don't think any of us imagined him as an author of children's books. Come spring of 2021, that will be on his resume.
The television mogul announced today that he and his son Eric are releasing a 7-book series called Wishfits with Hachette Children's Group. The Wishfits are a combination of two animals like the DAT (dog/cat) the COG (cat/dog), the SNOG (snail/dog – the enthusiasm of a dog at the speed of a snail), the PEEP (pig/sheep) the CHUG (cheetah/slug – the slowest cat in the world), the HIPPOROO (hippo/kangaroo), the CHIMPANPOO (chimpanzee/poodle), the POLARBAT (polar bear/bat), the CROCOPUSS (crocodile/cat), the SHIGER (sheep/tiger – the most nervous cat in the world), the SPIKEY (spider/donkey) and many, many more.
The father and son have been working on this concept for three years, or half of Eric's life.
Part of the proceeds of the books will be donated to Shooting Star Children's Hospices and Together For Short Lives. Who knew the King of Mean was such a big softie?
The best part of the press release is the 6-year-old's bio, "Eric's favourite things to do are reading stories, he loves going to school and playing with his friends. Eric also loves animals, swimming, go-karting and jet ski-ing together with his dad Simon amongst other adventures. Eric's dad is Simon Cowell, his mum is Lauren Silverman and Eric also has an older brother Adam Silverman (14)." His bio is more impressive at 6 than mine is now.
Back to the papa bear, does he believe that hybrid animals exist? He wrote, "My gut feeling is that some of these WISHFITS actually exist…somewhere!" Every time our dog humped our cats, we really thought that one day we were going to have a dat or cog. There was only one problem, they were all males, so no puttens or kippies for us. At least not in the real world.
---
Simon Cowell and Randy Jackson thought American Idol would fail
September 18th, 2019 under American Idol 1-5, Kelly Clarkson, Paula Abdul, Simon Cowell. [ Comments:

4

]

Kelly Clarkson has a new talk show and she had some huge guests on it today. They are Simon Cowell, Paula Abdul and the dog Randy Jackson. Three people who have been with her since the start of her career back in 2002 on a little show called American Idol.
That was an interesting year for all of them and they talked about what it was like working on the singing competition before it aired. Cowell said the auditions were so bad he thought the show was going to fail. He went back to London and had no idea when the show was going to debut in the States. The day after it premiered, he got a phone call telling him the show was a hit. Cowell really thought it would be on for two weeks and then be done. Jackson felt the same way, but Paula knew it was going to be a hit. Who is the smartest one in the trio?
Although the boys would try to make Abdul look crazy and dumb on the judging panel. They would play a game they called The Name Game. Cowell would say to them, you can have x amount of time on Rodeo Drive with his black card if they said certain words like "spotted dick" on the air.
The had a lot of fun working together, as you can see, would they do it again? In a heartbeat. If I were ABC, I would fire those three judges they have now and replace them with this set. Then I would watch American Idol again.
One thing I will never watch again is From Justin to Kelly. I am not alone because Clarkson really hates the film. In fact, the singer told her nanny if she ever shows it to her two kids, that person would be fired. What would it take to get Clarkson to remake it? If Cowell did it with her. He would do it in a small role.
Talking about that film, whatever happened to Justin Guarini? He also was on the show and talked about how he landed that Dr. Diet Pepper commercials. However, he did not say if he would do another From Justin to Kelly. I would watch a sequel, wouldn't you?
Seeing them all together makes me miss how good Idol was before they added the fourth judge. That is when the show went downhill.
---