Ice T and Snoop Dogg, 2 West Coast Rappers shooting on the East Coast
March 25th, 2019 under Dick Wolf, Ice-T/ Coco, Snoop Dogg. [ Comments:

none

]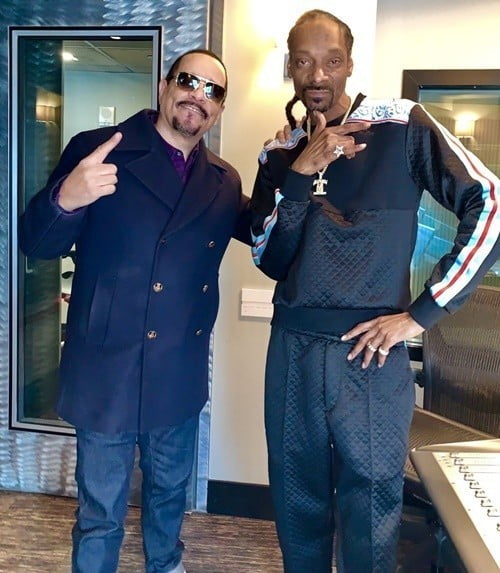 Two of the biggest West Coast Rappers are working on a project together on the East Coast. Ice T revealed today that Snoop Dogg is guest starring on an upcoming episode of Law & Order: SVU. Ice T did not say if Snoop is a good guy or a bad one on the NBC procedural, but he says it is titled Diss. I am sure it will be the shiznit and nothing to diss.
It is amazing that the two men, who have had their run-ins with the law, are working on a cop show. The irony is not lost on me. It also shows people do change.
It just dawned on me, when I was trying to figure out if they worked together before, that I interviewed both of them on the red carpet for Flavor Flav's Comedy Central Roast.
---
Does Snoop Dogg think Tupac Shakur is alive?
October 23rd, 2017 under Snoop Dogg, Steve Harvey. [ Comments:

none

]

Suge Knight recently hinted to Ice-T during an investigative television report that he thinks that Tupac Shakur might still be alive. Steve Harvey wanted to know if Snoop Dogg feels the same way, so the host asked the rapper about it on his talk show today. Snoop told him with a chuckle, "That's good TV!" Then he got serious and said, "You know, my homeboy, he rest in peace…You got to understand when Gd takes you home, he takes you home and that is where you are."
If Tupac were still alive, I think Snoop would know over Suge. Don't you agree? Do you think 2pac is with us or is he with Gd?
---
Martha Stewart and Snoop Dogg get their Ghost on!
August 30th, 2017 under Martha Stewart, Snoop Dogg, VH1/MTV. [ Comments:

none

]

Remember that sexy scene between Demi Moore and Patrick Swayze in Ghost when the pottery was not the only thing to get a rise? Well, Martha Stewart and Snoop Dogg recreate that scene to promote the second season of Martha & Snoop's Potluck Dinner Party on VH-1 and you will never watch the inspiration for this promo the same way. That and you will be craving sex, pot and chocolate cake after watching it, which is a good thing if you have all three handy. If you do not, then catch up on their show on the VH1.com or the app and that will help satisfy your longings.
---
Snoop Dogg's first pitch goes to shiznit
June 9th, 2016 under Snoop Dogg. [ Comments:

none

]

Snoop Dogg threw the first pitch at the San Diego Padres game yesterday and it was just like him, high. I guess you can't teach old doggs new tricks, like how to throw a ball since they are so used to catching. Seriously, has anyone seen a dogg pitch before this? I think not.
Now some say, Snoop's pitch was worse than 50 Cent's and I disagree. Snoop's was more on the money.
Hey networks, I got a brilliant reality show, forget Lip Sync Battle, let's do First Pitch Battle. The first one to get the baseball into the Catcher's mitt wins! Although that show might go on for weeks if it between Fiddy and Snoop!
---
Snoop Dogg from gangsta to Gangnam Style!
June 9th, 2014 under Jimmy Kimmel, Snoop Dogg. [ Comments:

none

]

Yesterday on Jimmy Kimmel Live, they had on Snoop Dogg and Psy, who talked about their upcoming song. The two revealed that they spent so much time working on it that they had no time to have any fun. So the ABC host took them out to sing some Karaoke. Psy rapped one of Snoop's songs, and no one knows what the hell the rapper did to Gangnam Style. But the one thing we do know is that was so much fun.
Seriously, who knew that Psy was a the Shiznit when it came to rapping?
---