Howie Mandel confirms a Bobby's World revival is happening
May 21st, 2019 under Howie Mandel. [ Comments:

none

]

Back when Howie Mandel had hair, aka 1990-1998, he had a sweet cartoon series on the air called Bobby's World. Mandel played the title character, an elementary school student. Those of us who watched it, are going to be happy to hear this news. The America's Got Talent judge confirmed that he is bringing back the beloved show when a fan asked him if it is happening. He did not say when it is happening, but at least we know it is happening.
---
When will America's Got Talent be back?
March 5th, 2019 under America's Got Talent, Gabrielle Union, Howie Mandel, Simon Cowell. [ Comments:

none

]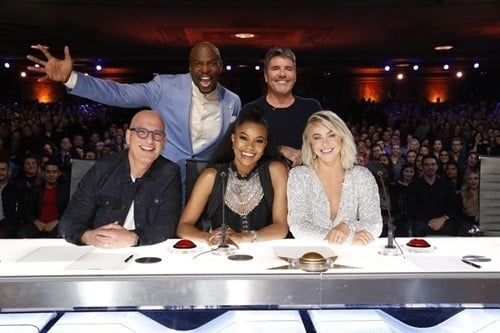 We know that America's Got Talent changed it up this season, but when will we see those changes? NBC announced today talent competition show will return on May 28th.
That is when we will find out if the new judges, Julianne Hough and Gabrielle Union, work well with Howie Mandel and Simon Cowell and new host Terry Crews. I think it will be interesting because we know that Hough doesn't like to share the spotlight and neither does Cowell. Since it is the latter one's show, I think we know who will win out.
---
This is p0rn to Howie Mandel
January 3rd, 2019 under Howie Mandel. [ Comments:

none

]

While watching p0rn is p0rn to us, it is not Howie Mandel. To the germophobe, watching laundry go around and around is just that. He made sounds that that sound a lot like people watching the stuff that is not so clean. Although, I get turned when I sit on the dryer with a lot of sneakers inside going around and around. But I have said too much!
---
Howie Mandel as a blonde
October 8th, 2018 under Howie Mandel. [ Comments:

none

]

When we got to know Howie Mandel, he had brown curly hair. Now he has he has no hair at all. But for one day only, he tried on Andy Warhol like blonde wig.

Do you say to his new look deal or no deal? I say open that suitcase because we have a deal.
---
Howie Mandel had some famous assistants
September 17th, 2018 under Howie Mandel, Kathie Lee and Hoda. [ Comments:

none

]

Before Meghan Markle was the Duchess of Sussex married to Prince Harry of England, she was a suitcase girl on Deal or No Deal (which is back on CNBC in December). She is not the only person who worked for Howie Mandel before they were famous.
Today, when he was on Kathie Lee and Hoda, he revealed that two of his past assistants are famous today. The first one he mentioned is Dan Fogelman. Know the name but can't place it? He is the creator of This Is Us, Galavant, The Neighbors, Grandfathered and Pitch. He also has a movie coming out this week called Life Itself, so go see it.
Fogleman replaced another now-famous person, Robin Thicke's ex-wife, actress Paula Patton also got Mandel his hand sanitizer whenever he needed to shake hands with someone.
The moral of this story is that if you want to make it big, then work for Howie Mandel. Hey Howie, are you hiring?
---