Howie Mandel has the saddest pillow fight
November 25th, 2019 under Howie Mandel. [ Comments:

none

]

Who hasn't been in a pillow fight and had the greatest time of their lives. It is so much fun hitting someone else with something soft, knowing that you are not really hurting them. For Howie Mandel, he enjoys beating himself up with the pillows. While it looks really sad, he is having a blast. At the end of the day that is all that matters.
---
Caption Howie Mandel and Ryan Seacrest
November 21st, 2019 under Caption the Celeb, Howie Mandel, Kelly Ripa, Ryan Seacrest. [ Comments:

none

]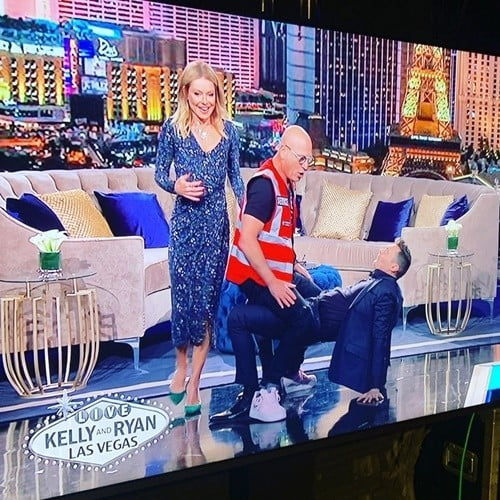 This photo of Howie Mandel on Live with Kelly and Ryan has caption me written all over it, so go ahead and do it.
---
Howie Mandel makes people poop in their pants
October 29th, 2019 under Ellen DeGeneres, Howie Mandel. [ Comments:

none

]

Howie Mandel is hosting The Ellen DeGeneres Show today and he decided to do an Ellen. As in scare people. He went into the bathroom and as women walked into the stall, he jumped out and scared them.
Luckily none of them had to go really badly because then he would have a mess to clean up.
---
Howie Mandel has the saddest AGT anniversary party!
July 10th, 2019 under America's Got Talent, Howie Mandel. [ Comments:

none

]

Howie Mandel has been with America's Got Talent longer than anyone else on camera. How long? Ten amazing years.
In honor of the milestone, he decided to throw himself a party and invited everyone from the show to come. He is so well-liked that only the three other judges and one other person showed up.
Which is the perfect amount of people for the cake he brought for everyone to share. Although, as soon as the sparklers were out, so were Simon Cowell, Gabrielle Union, and Julianne Hough. As the dancer said, "This is so sad." Poor Howie. They treated him like he treats germs.
Here is to another ten. Just a word of advice, don't throw yourself another party.
---
Howie Mandel confirms a Bobby's World revival is happening
May 21st, 2019 under Howie Mandel. [ Comments:

none

]

Back when Howie Mandel had hair, aka 1990-1998, he had a sweet cartoon series on the air called Bobby's World. Mandel played the title character, an elementary school student. Those of us who watched it, are going to be happy to hear this news. The America's Got Talent judge confirmed that he is bringing back the beloved show when a fan asked him if it is happening. He did not say when it is happening, but at least we know it is happening.
---