Modern Family is wrapped
February 22nd, 2020 under Modern Family, Sofia Vergara. [ Comments:

none

]

After 11 years, Modern Family filmed their final scene. To commemorate the end of filming, they all sang along to Green Day's Time of My Life. With each word, they tried not to cry, but their tears were flowing. Even the funniest shows have their sad moments. Theirs was saying goodbye to one another.
The final episode airs on April 8th.
---
Does Sofia Vergara Got Talent?
December 19th, 2019 under America's Got Talent, Sofia Vergara. [ Comments:

none

]

We know that Sofia Vergara knows sexy, but does she know talent? That is something NBC is wondering because The Wrap reports that she met with the network to talk to them about being a judge on America's Got Talent.
I like the Modern Family vixen, but I don't think she is right for this job. Does anyone think she has any other talent besides acting? Therefore, how can she tell if the people auditioning have it? At least, Julianne Hough can dance. Although, she cannot act or sing.
Would you tune if Vergara got one of the two recently opened spots? You know, the ones that became available when Hough and Gabrielle Union were fired?
---
BTWF: Sofia Vergara on Baywatch
September 23rd, 2019 under Before They Were Famous, David Hasselhoff/Baywatch, Sofia Vergara. [ Comments:

none

]

Before we knew Sofia Vergara was a huge star, Baywatch knew. She looks the same now as she did when she was 26 in that 1999 episode.
---
Is Sofia Vergara trying to write Eric Stronestreet out of her life?
August 22nd, 2019 under Do they have something to tell us?, Modern Family, Sofia Vergara, Uncategorized. [ Comments:

1

]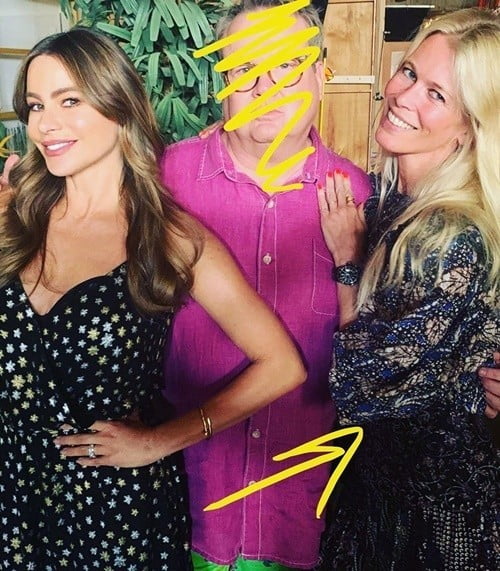 Sofia Vergara posted a photo with Eric Stonestreet crossed out, so are Modern Family stars no longer family? Nope. She explained, "My teenage girl crush came to visit!!! Sorry @ericstonestreet!!! I needed a picture alone!!! @claudiaschiffer 😍😍😍😍"
I am sure he would not mind being in the meat in that sandwich if Vergara's teenage dream was able to be fulfilled.
When it comes to what the Supermodel is doing on the show, we do not know. We will find out on one of the Wednesdays after September 25th. That is when the ABC sitcom returns for its final season.
---
BTWF: Sofia Vergara's first photoshoot
September 13th, 2018 under Before They Were Famous, Sofia Vergara. [ Comments:

none

]

Before Sofia Vergara's photoshoots were all sexy, her first one was very innocent. Doesn't she look more like her co-star Julie Bowen than herself when she was 11 back in 1983?
---