Heidi Klum got married again!
August 5th, 2019 under Heidi Klum. [ Comments:

none

]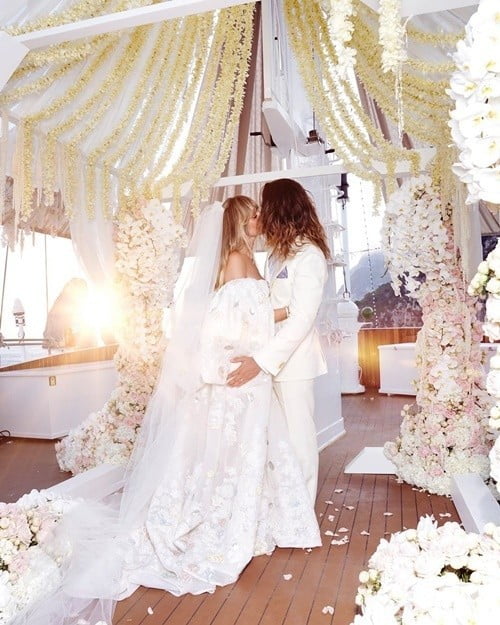 Remember when Heidi Klum was married to Seal, the then-couple kept renewing their vows every year. Well, the model is doing that again with her new husband, Tom Kaulitz.
Klum and the Tokio Hotel guitarist got married earlier this year and they did it again on Saturday in Italy. She shared a photo of their first kiss as Mr. & Mrs. Kaulitz for the second time. The bride wore more fabric than she has worn all year, combined.
This is the third person she has been married to and the second one he said I do to. When it comes to what number wedding it is for both of them, I will leave that up to someone else to figure out. Too much math for me.
Congrats to the two.
---
Heidi Klum's wardrobe malfunction
July 27th, 2019 under Heidi Klum. [ Comments:

none

]
https://www.instagram.com/p/B0b_TReH6e8/
Heidi Klum was wearing a flowy skirt. Yet somehow she found a way to rip the back of it just below the waistline. Revealing less than she normally does.
Where are the Project Runway designers when you need them? Oh yeah, she no longer works on that show.
---
Heidi Klum recreates the infamous Jayne Mansfield and Sophia Loren photo
April 29th, 2019 under Heidi Klum. [ Comments:

none

]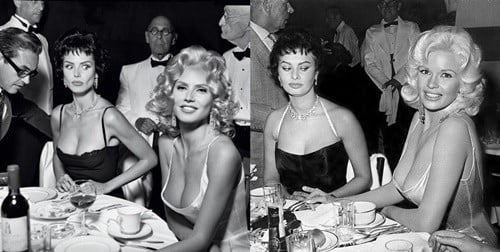 Back in April 1957, Sophia Loren and Jayne Mansfield sat down at a table together. The late gorgeous actress wore a low-cut dress that left very little to the imagination. The Italian actress could not help but to look at her breasts and luckily the photographers caught that amazing moment.
Now 62 years later, Heidi Klum recreated that iconic moment as Mansfield and added her own twist to the photo. While she is not as much of a knock out as Mansfield, she looks stunning in the photo. However, I was looking at the Loren double and the man doing a Loren to her.
When I look at Mansfield in this picture, I see how much her daughter Mariska Hargitay looks just like her mom. The camera does not do Hargitay justice, she is angelic in person.
Back to Klum, she also recreated other photos like Phoebe Cates in Fast Times at Ridgemont High, Jessica Rabbit, Raquel Welch in One Million Years B.C., Farrah Fawcett in a red bathing suit, Brigitte Bardot and Sharon Stone in Basic Instinct.
To see those photos, then click here!
---
Do Heidi Klum and Gisele Bundchen have something to tell us?
December 13th, 2018 under Do they have something to tell us?, Heidi Klum, In Bed. [ Comments:

none

]

Heidi Klum and Gisele Bundchen were photographed looking very cozy in bed, so do the two supermodels have something to tell us and more importantly Tom Brady? Yes, they do, but not what you would want. They want you to read her book Lessons: My Path to a Meaningful Life that is out now.
---