Terry Crews left us in tears on America's Got Talent
June 18th, 2019 under America's Got Talent, Terry Crews. [ Comments:

5

]

Terry Crews is from Flint, Michigan. He did not have the easiest start in life, but someone believed in him. Because of that belief, he is the man we know today as the host of America's Got Talent.
Tonight on the show, he saw that person who believed in him in Detroit Youth Choir's leader Anthony White. White is making sure these kids get the best of life. While that is all nice and stuff, can they perform?
DYC started it off slow with Macklemore and Ryan Lewis' Can't Hold Us, and they did a 360. They rapped, they sang and they danced in unison. Most importantly they wowed. Even Simon Cowell was dancing along. Simon "Mr. Mean" Cowell was smiling.
In fact, all of the judges praised them. Was that enough to move them forward on the competition? That is when Crews made a speech, got us crying and did something remarkable. He hit the Golden Buzzer. That means DYC automatically advances to the live shows. Something they completely deserve. I cannot wait to see what they do next. I know they will leave us cheering them on.
Ever since I saw Crews in White Chicks, I have been a fan. Tonight is another example of why!
---
Kodi Lee left everyone in tears on America's Got Talent
May 29th, 2019 under America's Got Talent, Gabrielle Union. [ Comments:

none

]

America's Got Talent is back on NBC and I was not sure how the new judges, Gabrielle Union and Julianne Hough, would do. Well, Union is proving to be the heart of the show.
Kodi Lee, a 22-year-old man who is blind and autistic, came out with his amazing mom Tina. The judges asked him some questions and he told them that he is going to sing for them. He sat down at the piano and started to play Donny Hathaway's A Song For You. Once he sang his first note and you heard his soulful voice, the tears began to stream down our faces. When he was done, the judges and the audience rightfully gave him a long standing ovation. Making a special moment even more special.
However, it did not stop there. All four judges, including Simon Cowell, praised him, and Union took it one step further. She hit the Golden Buzzer sending him directly to the live shows.
Lee said he will never forget that moment and neither will we. This is what talent competitions are all about. Finding extraordinary people with amazing talents. It is about giving people a shot that would normally not get one. I hope he goes all the way!
However, who knows who else we will find out about this season because yesterday was only night one.
To hear Lee talk about his audition, then click here!
---
When will America's Got Talent be back?
March 5th, 2019 under America's Got Talent, Gabrielle Union, Howie Mandel, Simon Cowell. [ Comments:

none

]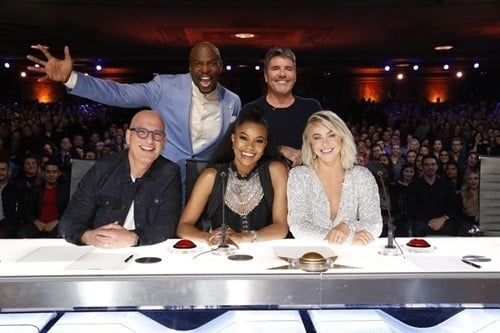 We know that America's Got Talent changed it up this season, but when will we see those changes? NBC announced today talent competition show will return on May 28th.
That is when we will find out if the new judges, Julianne Hough and Gabrielle Union, work well with Howie Mandel and Simon Cowell and new host Terry Crews. I think it will be interesting because we know that Hough doesn't like to share the spotlight and neither does Cowell. Since it is the latter one's show, I think we know who will win out.
---
America's Got Talent is changing things up
February 11th, 2019 under America's Got Talent, Gabrielle Union, Simon Cowell. [ Comments:

none

]


You know how they say, if it is not broke, don't fix it. America's Got Talent never heard of that. That is because for season 14, they are changing things up again.
Out are Heidi Klum, Mel B and Tyra Banks, in are Gabrielle Union, Julianne Hough and Terry Crews. The Brooklyn Nine-Nine actor has been well received as the host of AGT: Champions, so his hiring makes sense. As does the departure of the three ladies who are working on other projects. What I cannot get into is Hough joining the panel. Who doesn't find her annoying? I am sure Simon Cowell will find out soon enough that she thinks it should be all about her.
On a positive note, at least there are Americans on the panel again. The first time there has been one since Howard Stern left after season 10.
What do you think of the new America's Got Talent?
---
Mel B will be entering rehab next month
August 26th, 2018 under America's Got Talent, Rehab, Spice Girls. [ Comments:

none

]

Mel B is currently filming America's Got Talent. When the season is done, she will fly back to England and check into rehab. She told The Sun she was recently diagnosed with PTSD stemming from a past abusive relationship.

She explained, "I am being very honest about drinking to numb my pain but that is just a way a lot of people mask what is really going on.

"Sometimes it is too hard to cope with all the emotions I feel. But the problem has never been about sex or alcohol — it is underneath all that.

"I am fully aware I have been at a crisis point. No one knows myself better than I do – but I am dealing with it."

Therefore, she will be getting herself the help she needs, so she can be the best mom to her daughters.
---