When will America's Got Talent be back?
March 5th, 2019 under America's Got Talent, Gabrielle Union, Howie Mandel, Simon Cowell. [ Comments:

none

]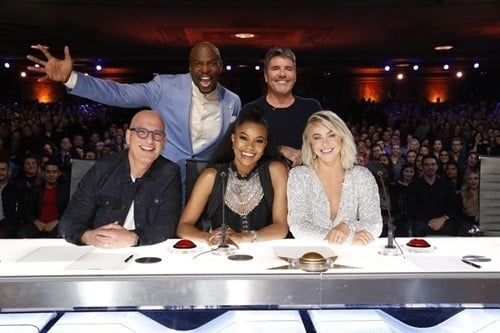 We know that America's Got Talent changed it up this season, but when will we see those changes? NBC announced today talent competition show will return on May 28th.
That is when we will find out if the new judges, Julianne Hough and Gabrielle Union, work well with Howie Mandel and Simon Cowell and new host Terry Crews. I think it will be interesting because we know that Hough doesn't like to share the spotlight and neither does Cowell. Since it is the latter one's show, I think we know who will win out.
---
America's Got Talent is changing things up
February 11th, 2019 under America's Got Talent, Gabrielle Union, Simon Cowell. [ Comments:

none

]


You know how they say, if it is not broke, don't fix it. America's Got Talent never heard of that. That is because for season 14, they are changing things up again.
Out are Heidi Klum, Mel B and Tyra Banks, in are Gabrielle Union, Julianne Hough and Terry Crews. The Brooklyn Nine-Nine actor has been well received as the host of AGT: Champions, so his hiring makes sense. As does the departure of the three ladies who are working on other projects. What I cannot get into is Hough joining the panel. Who doesn't find her annoying? I am sure Simon Cowell will find out soon enough that she thinks it should be all about her.
On a positive note, at least there are Americans on the panel again. The first time there has been one since Howard Stern left after season 10.
What do you think of the new America's Got Talent?
---
Mel B will be entering rehab next month
August 26th, 2018 under America's Got Talent, Rehab, Spice Girls. [ Comments:

none

]

Mel B is currently filming America's Got Talent. When the season is done, she will fly back to England and check into rehab. She told The Sun she was recently diagnosed with PTSD stemming from a past abusive relationship.

She explained, "I am being very honest about drinking to numb my pain but that is just a way a lot of people mask what is really going on.

"Sometimes it is too hard to cope with all the emotions I feel. But the problem has never been about sex or alcohol — it is underneath all that.

"I am fully aware I have been at a crisis point. No one knows myself better than I do – but I am dealing with it."

Therefore, she will be getting herself the help she needs, so she can be the best mom to her daughters.
---
Who knew Ken Jeong could be so sexy?
July 17th, 2018 under America's Got Talent, Ken Jeong. [ Comments:

none

]

We know that Ken Jeong is a very funny man and he is also very smart, but did you know he is sexy too? Maybe it was because I saw all of him in The Hangover, but I never realized it until I saw this photo that he posted to promote his appearance on America's Got Talent tonight as a judge. Now I am judging him, and I am making sounds like the late Eartha Kitt, meow! What about you, kitties?
---
Someone from Glee auditioned for America's Got Talent
June 12th, 2018 under America's Got Talent, Glee. [ Comments:

none

]

Remember when we never everyone's name from Glee? And now you never see any of them anywhere? Well, we saw one of them tonight on America's Got Talent.
Noah Guthrie, who played Roderick Meeks in 2015 on the musical comedy, sang Rihanna's Love on the Brain. As amazing as he is, his raspy voice reminds me of Macy Gray.
Maybe the next time he is on the show since he advanced to the next round, he will sing something from her like BOB. How bitchin' would that be?
---