Does Sofia Vergara Got Talent?
December 19th, 2019 under America's Got Talent, Sofia Vergara. [ Comments:

none

]

We know that Sofia Vergara knows sexy, but does she know talent? That is something NBC is wondering because The Wrap reports that she met with the network to talk to them about being a judge on America's Got Talent.
I like the Modern Family vixen, but I don't think she is right for this job. Does anyone think she has any other talent besides acting? Therefore, how can she tell if the people auditioning have it? At least, Julianne Hough can dance. Although, she cannot act or sing.
Would you tune if Vergara got one of the two recently opened spots? You know, the ones that became available when Hough and Gabrielle Union were fired?
---
America's Got Talent loses two judges
November 23rd, 2019 under America's Got Talent, Gabrielle Union, Julianne Hough. [ Comments:

none

]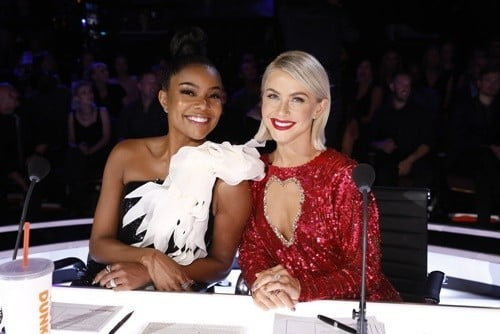 Last season, America's Got Talent added two new judges and now Variety is reporting that Gabrielle Union and Julianne Hough will not be back for another one.
No reason was given for their departure. I am assuming that Union wants to spend more time with her retired husband Dwyane Wade and work on projects with him. When it comes to Hough, I bet they will say she is busy with several projects. However, I bet Simon Cowell was not 100% thrilled to be working with her. She is a camera hog and that makes her so annoying, to me.
No word who will replace them. Who do you think should get the job of working with Simon Cowell, Howie Mandel and host Terry Crews?
---
Howie Mandel has the saddest AGT anniversary party!
July 10th, 2019 under America's Got Talent, Howie Mandel. [ Comments:

none

]

Howie Mandel has been with America's Got Talent longer than anyone else on camera. How long? Ten amazing years.
In honor of the milestone, he decided to throw himself a party and invited everyone from the show to come. He is so well-liked that only the three other judges and one other person showed up.
Which is the perfect amount of people for the cake he brought for everyone to share. Although, as soon as the sparklers were out, so were Simon Cowell, Gabrielle Union, and Julianne Hough. As the dancer said, "This is so sad." Poor Howie. They treated him like he treats germs.
Here is to another ten. Just a word of advice, don't throw yourself another party.
---
Simon Cowell got an eyeful from a male stripper
June 26th, 2019 under America's Got Talent, Simon Cowell. [ Comments:

none

]

Australian native Ben Trigger came to America's Got Talent to wow the audience with his dancing and that is exactly what he did.
There was not a lot of Boogie when he started off his routine, but then it quickly became a Wonderland. About a quarter of the way into his number, he started to take his clothes off. That is when the Earth, Wind and Fire lit up the stage. It got so hot, he came down off of it and shook his tassels for Simon Cowell's eyes only. Leaving the King of Mean stunned and excited. Not as excited as Trigger who accidentally triggered the Golden Buzzer for himself.
Does that mean he automatically moves forward to Hollywood? Nope, that is not how the show works. Does he move forward to the next round? All four judges said yes, so yes!
I cannot wait to see what he does next? Hopefully a lap dance for Cowell!
---
Terry Crews left us in tears on America's Got Talent
June 18th, 2019 under America's Got Talent, Terry Crews. [ Comments:

5

]

Terry Crews is from Flint, Michigan. He did not have the easiest start in life, but someone believed in him. Because of that belief, he is the man we know today as the host of America's Got Talent.
Tonight on the show, he saw that person who believed in him in Detroit Youth Choir's leader Anthony White. White is making sure these kids get the best of life. While that is all nice and stuff, can they perform?
DYC started it off slow with Macklemore and Ryan Lewis' Can't Hold Us, and they did a 360. They rapped, they sang and they danced in unison. Most importantly they wowed. Even Simon Cowell was dancing along. Simon "Mr. Mean" Cowell was smiling.
In fact, all of the judges praised them. Was that enough to move them forward on the competition? That is when Crews made a speech, got us crying and did something remarkable. He hit the Golden Buzzer. That means DYC automatically advances to the live shows. Something they completely deserve. I cannot wait to see what they do next. I know they will leave us cheering them on.
Ever since I saw Crews in White Chicks, I have been a fan. Tonight is another example of why!
---