Rob Lowe reveals he won't be playing the Tiger King after all
July 8th, 2020 under Conan O'Brien, Rob Lowe, Ryan Murphy. [ Comments: 1 ]

A few months ago, Rob Lowe shared a photo of himself dressed up as Joe Exotic. Then he revealed that he and Ryan Murphy were working on a project about the Tiger King.
That was then. Yesterday, the actor told Conan O'Brien that the movie is off. When Murphy tried the get the rights to the story, they were already taken by Nicolas Cage's people.
Why can't they do an Amy Fisher and let multiple retell the purrfect story?
Are you mad that Lowe and Murphy's plan has been put in a cage?

---
BTWF: Rob Lowe in The Go-Go's Turn to You
May 7th, 2020 under Rob Lowe, The Go-Go's. [ Comments: none ]

Before Rob Lowe was the '80s heartthrob in movies, he was the leading man in The Go-Go's Turn to You. You can see why the girl group turned to the 20-year-old to be in their 1984 music video.

---
The Parks & Recreation special is as delightful as the show
April 30th, 2020 under Amy Poehler, Chris Pratt, Megan Mullally and Nick Offerman, Rob Lowe. [ Comments: none ]

Tonight at 8:30pp on NBC, the cast of Parks & Recreation comes out of their five-year retirement to inform us about COVID-19. The half-hour scripted special is a creative way to teach everyone what do and what not to do during this pandemic. They make learning how to protect yourself from Coronavirus fun.
Leslie Knope (Amy Poehler)! Ron Swanson (Nick Offerman)! Tom Haverford (Aziz Ansari)! Ann Perkins (Rashida Jones)! April Ludgate (Aubrey Plaza)! Andy Dwyer (Chris Pratt! Ben Wyatt (Adam Scott)! Chris Traeger (Rob Lowe)! Donna Meagle (Retta)! and Garry Gergich (Jim O'Heir)! They all get together tonight, but due to social distancing, they are all apart. How are the married couples going to do that? You just have to see how they explain it. That and to see what everyone else in Pawnee is up to after all of these years.
The episode starts off with Leslie talking to her husband, Ben, on Facetime. When she gets off the phone with him, it is time for her to start her phone chain. Her first call is to Ron, and he is thrilled to see her. Well, as thrilled as Ron can get. When he gets off the phone with her, it is time to move on to the next person. Then the chain keeps on going until someone has to talk to Gary.
In between phone calls, they appear on TV shows because Leslie wants the townspeople to know some of the dangers of being home all the time can have on a person's mentality.
Eventually, they all get on Zoom and we get the best moment from the enjoyable episode. The type of episode you can and should watch with your whole family. You don't have to be a fan of the show to adore tonight's special.
Show creator Mike Schur says it only took 45 minutes to get everyone on board to do it. What got them all to say yes so quickly? He says, "Like a lot of other people, we were looking for ways to help and felt that bringing these characters back for a night could raise some money,"
The show is raising money for Feeding America's COVID-19 Response Fund. State Farm and Subaru of America will each make matching donations of $150,000, while NBC and Parks & Rec will match $500,000 in donations up until May 21st.
What more do you need to watch?

---
Rob Lowe is so going to play Joe Exotic
April 6th, 2020 under Rob Lowe. [ Comments: none ]

Since so many actors are out of work, they are pondering what their next job is going to be. For Rob Lowe, he is thinking it is going to be as Joe Exotic. Therefore, he dressed up as the Tiger King, and proved to us that he would be the purrfect choice for the part.

Lowe did not only convince us, he says that he convinced someone else. The actor wrote, "Ryan Murphy and I will be developing our version of this insane story. Stay tuned!"

Since Lowe is starring in Murphy's 9-1-1: Lonestar and the producer has a contract with Netflix, the streaming service that airs the reality show, I think it might be true.

---
9-1-1 gets an Austin spinoff with Rob Lowe
May 12th, 2019 under Fox, Rob Lowe, Ryan Murphy. [ Comments: none ]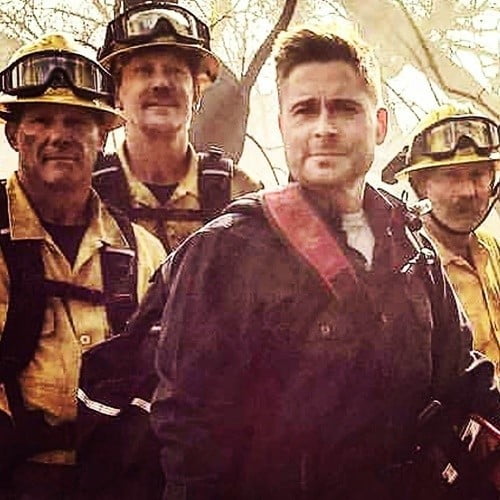 9-1-1 is doing so well, Fox is giving it a spinoff. 9-1-1: Lone Star stars Rob Lowe and will debut next season.
The drama centers around a sophisticated New York cop (Lowe) who, along with his son, re-locates to Austin, and must try to balance saving those who are at their most vulnerable with solving the problems in his own life. No word how old his son will be.
Personally, I wish they would have gone with Florida as a location because imagine the stories Ryan Murphy and his crew could have come up with for 9-1-1: Sunshine State? It is so much more up his alley. Maybe they will do that for the 2020-2021 season?

---