Lin-Manuel Miranda is man enough to show he cries during movies
September 10th, 2019 under Lin-Manuel Miranda. [ Comments: none ]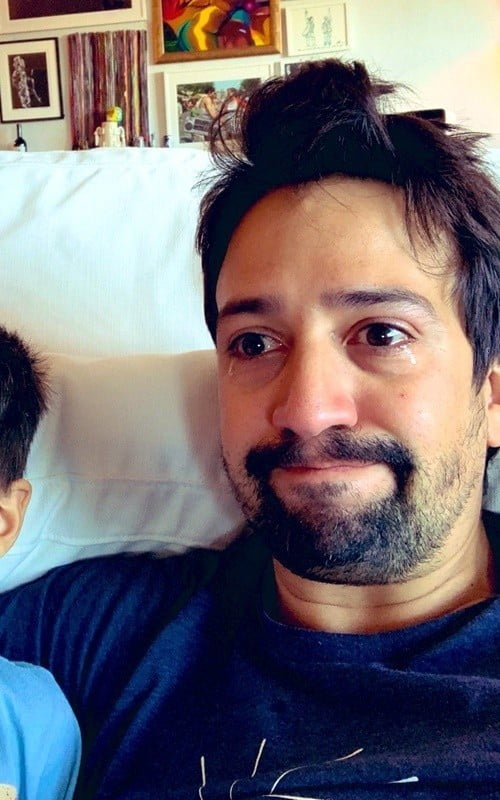 A lot of men do not like to admit that some movies make them cry. However, Lin-Manuel Miranda is not one of them. The lyrical wordsmith posted the above photo and wrote, "ROOKIE MISTAKE: Watching Toy Story 3 with your son the week he starts school. (He was fine. Me less so.)"
Someone get him a Buzz Lightyear and Woody doll to make everything seem better.
BTW I am heartless because none of the Toy Story movies made cry?

---
Why does Lin-Manuel Miranda disgust his son?
September 3rd, 2019 under Lin-Manuel Miranda. [ Comments: none ]

Most kids would be happy to have their dads sing Hakuna Matata to them. Especially if their dad is Lin-Manuel Miranda. However, Sebastian told his father, "You disgust me."
Why? Listen to his pop's version of the classic tune. It is no Moana! The 4-year-old is too young to appreciate Hamilton. Which is why I went with the Disney movie instead.
BTW you know the toddler is not serious. However, his critique is so awwwdorable. I am sure it is the first negative review Miranda has ever gotten in his life for his singing.

---
BTWF: Lin-Manuel Miranda in The Sopranos
December 19th, 2018 under Before They Were Famous, Kelly Ripa, Lin-Manuel Miranda. [ Comments: none ]

Before Lin-Manuel Miranda was not going to miss his shot in Hamilton, he was trying not to miss his spot on The Sopranos. His acting has come a long way since he was 28 in that 2008 episode.
He talked about his television debut on Live with Kelly and Ryan yesterday and it just makes you love him even more.


---
Jimmy Fallon cheats on Justin Timberlake with Lin-Manuel Miranda
June 1st, 2018 under Jimmy Fallon, Lin-Manuel Miranda. [ Comments: none ]

You know how Jimmy Fallon likes to take bromantic vacations with Justin Timberlake? Well, the singer is on tour, so he found someone else to go with him. Who is his brostress? None other than Broadway sensation Lin-Manuel Miranda.
Not only that, the NBC late night host copied his newer friend's goatee. The two bros loved having the same facial hair so much that they wrote a song about it. Two goats in a Boat! And just like G.O.A.T it is the Greatest Of All Time.
Just don't tell Timberlake about any of this because he might go all *NSYNC on Fallon, as in telling his BFF Bye, Bye, Bye.

---
Lin-Manuel Miranda has the shingles!
April 6th, 2018 under Lin-Manuel Miranda. [ Comments: none ]

Two months ago, Lin-Manuel Miranda became a father to his second child, and now he has the adult version of a childhood disease.

The Broadway legend tweeted that he had the worst migraine of his life, but turns out he did not have one. He explained what is really ailing him, by writing "Hey, cool story This isn't a migraine, it's shingles! Caught it early, quarantined away from the baby, in a Phantom mask til further notice."

Now the man who made millions on the Great White Way is stuck staying with his parents until the doctors clear him to go back to his house. Something I am sure his mother is loving because what mother does not love to spoil her sick child? I am sure she is giving him all the chicken soup he wants. Can chicken soup make the chickenpox/shingles feel less itchy?

On a personal note, this is very difficult for me to write. I never had the chickenpox. Even though I got the vaccine, every time I hear either chickenpox or shingles, I immediately start to itch. I have been itching like crazy while writing this and there is nothing I can do to stop it.

---