Clueless is getting a musical!
November 2nd, 2023 under Broadway. [ Comments: none ]
Clueless is so beloved that it is getting a musical makeover. Yes, there was a jukebox version that came out off-Broadway in 2018, but that was then. Next year, we are getting a new version with original songs written by K.T. Tunstall and Glenn Slater.
The new musical will debut in London this February. Casting will be announced at a later date.
I hope it is a smash so that it will cross the pond and play on Broadway.

---
Josh Groban and Annaleigh Ashford announce their Sweeney Todd end date
October 19th, 2023 under Broadway, Josh Groban, Uncategorized. [ Comments: none ]
Josh Groban and Annaleigh Ashford will not be celebrating a year with Sweeney Todd because they are leaving the Broadway musical at 46 weeks.
The producers made the announcement today: "They are finally heading to the seaside. Josh Groban and Annaleigh Ashford will be departing Fleet Street on January 14, but you still have more chances to brave the chair dearie. Our tale is extending into Spring 2024!"
The producers did not reveal who will be replacing them, but I expect that we will find out soon.
Before they do. Groban talked about his departure. "The countdown begins. My heart is heavy but filled with deep gratitude to announce my final performance as Sweeney Todd," the singer wrote. "To hold the torch of this monumental role for all of this year, alongside my dear friend and partner in crime @annaleighashford, has been nothing short of a life changing experience. This brilliant cast and crew and orchestra have given me so many gifts every single day. I will miss sharing Fleet Street with them, but will forever be grateful to have given audiences Sondheim's masterpiece alongside them these last many months. I will truly cherish and enjoy to the fullest the weeks ahead that I have left. ❤️"
So if you want to see him in the production, get your tickets now because there are only a limited amount of shows left to see them.

---
It's as the Tony Awards predicted the orange sky plaguing NYC
June 8th, 2023 under Broadway. [ Comments: none ]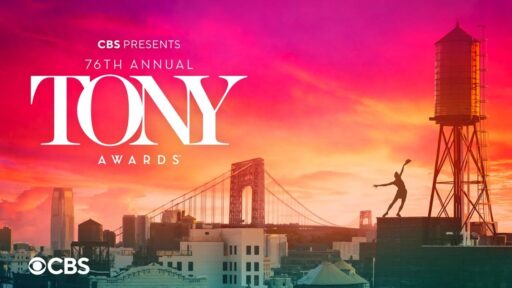 NYC is experiencing a rare orange sky due to the smoke traveling southeast from the Canadian wildfires.
And today, CBS released the above picture to promote this Sunday's Tony Awards. And since chances are the sky will still be orange, it is like they knew what was going to happen.
How ominous for an awards show that almost got cancelled because of the Writers Guild of America strike.
Let's just hope the poor air quality doesn't do it for real. Because the show must go on!

---
Funny Girl will stop laughing in September
March 2nd, 2023 under Broadway, Lea Michele. [ Comments: none ]
Lea Michele is starring in her dream role on Broadway, so you think she would want to play Fanny Brice in Funny Girl forever. But she doesn't.
That is because the musical announced today, "Hey, gorgeous! We're having so much fun with you on Broadway, we're sticking around until September 3rd! Get your tickets now. #FUNNYGIRL"
I am surprised that with the record-breaking box office, they are letting the curtain go down. But I guess nothing lasts forever.
Unless Michele signed on to do a movie version of the show. Will Barbra Streisand let her do that? I am sure that is something Babs would allow only over her dead body.

---
Britney Spears is coming to Broadway
December 2nd, 2022 under Britney Spears, Broadway. [ Comments: none ]
Do you love Broadway? Do you love Britney Spears? Then you are going to love the Broadway musical, Once Upon A One More Time, which includes music from the singer. There are songs like Oops I Did It Again, Lucky, Circus, and Toxic.
What is the story that goes along with the tunes? Once Upon A One More Time features an original story written by Jon Hartmere (bare, The Upside) that flips the script on your favorite fairytale icons. Cinderella, Snow White, Little Mermaid, and other classic storybook characters gather for their fortnightly book club, when-oh baby, baby!-a rogue fairy godmother grants their wish for a new story, by dropping The Feminine Mystique into their corseted laps. The arrival of this new tome spurs a royal revelation: there is more to life than bird-made dresses and true love's kiss! The ultimate revisionist fairytale for anyone who yearns to feel "stronger than yesterday,"
Cast will be announced at a later date. But what is happening now is that you can buy tickets for the show that has previews starting on May 13th and an opening night on June 22nd. Britney Spears fan club members can purchase tickets now, and the rest of us can get them on Monday.

---