It's as the Tony Awards predicted the orange sky plaguing NYC
June 8th, 2023 under Broadway. [ Comments: none ]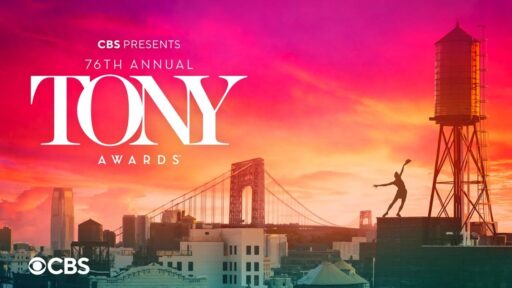 NYC is experiencing a rare orange sky due to the smoke traveling southeast from the Canadian wildfires.
And today, CBS released the above picture to promote this Sunday's Tony Awards. And since chances are the sky will still be orange, it is like they knew what was going to happen.
How ominous for an awards show that almost got cancelled because of the Writers Guild of America strike.
Let's just hope the poor air quality doesn't do it for real. Because the show must go on!

---
Funny Girl will stop laughing in September
March 2nd, 2023 under Broadway, Lea Michele. [ Comments: none ]
Lea Michele is starring in her dream role on Broadway, so you think she would want to play Fanny Brice in Funny Girl forever. But she doesn't.
That is because the musical announced today, "Hey, gorgeous! We're having so much fun with you on Broadway, we're sticking around until September 3rd! Get your tickets now. #FUNNYGIRL"
I am surprised that with the record-breaking box office, they are letting the curtain go down. But I guess nothing lasts forever.
Unless Michele signed on to do a movie version of the show. Will Barbra Streisand let her do that? I am sure that is something Babs would allow only over her dead body.

---
Britney Spears is coming to Broadway
December 2nd, 2022 under Britney Spears, Broadway. [ Comments: none ]
Do you love Broadway? Do you love Britney Spears? Then you are going to love the Broadway musical, Once Upon A One More Time, which includes music from the singer. There are songs like Oops I Did It Again, Lucky, Circus, and Toxic.
What is the story that goes along with the tunes? Once Upon A One More Time features an original story written by Jon Hartmere (bare, The Upside) that flips the script on your favorite fairytale icons. Cinderella, Snow White, Little Mermaid, and other classic storybook characters gather for their fortnightly book club, when-oh baby, baby!-a rogue fairy godmother grants their wish for a new story, by dropping The Feminine Mystique into their corseted laps. The arrival of this new tome spurs a royal revelation: there is more to life than bird-made dresses and true love's kiss! The ultimate revisionist fairytale for anyone who yearns to feel "stronger than yesterday,"
Cast will be announced at a later date. But what is happening now is that you can buy tickets for the show that has previews starting on May 13th and an opening night on June 22nd. Britney Spears fan club members can purchase tickets now, and the rest of us can get them on Monday.

---
Nicole Kidman spent $100,000 on Hugh Jackman's hat
November 28th, 2022 under Broadway, Hugh Jackman, Keith & Nicole Urban. [ Comments: none ]
Fellow Australians Nicole Kidman and Hugh Jackman are not only former co-stars, but they are also friends.
So it should come as no surprise that the actress came out to see her mate on Saturday in The Music Man on Broadway. However, what is surprising is that it cost her six digits. Not the price of a seat, which comes close to that, but on auction he held after the show for Broadway Cares/Equity Fights AIDS, a charity that helps people across the country and across the street receive lifesaving medications, health care, nutritious meals, counseling, and emergency financial assistance.
Jackman auctioned off the hat he was wearing to the audience and was surprised to hear Kidman bid $100,000 for it. Her donation will be used to pay for 20,000 meals and 2,000 doctor visits this holiday season!
Today, I tip my $10 (because that is all I can afford) hat in honor of the two generous actors who have been friends for 30 years and counting.

---
The curtain goes down on Phantom of the Opera after 35 years
September 16th, 2022 under Andrew Lloyd Webber, Broadway. [ Comments: none ]
Did you know that Phantom of the Opera was still playing on Broadway? I didn't. But it is. However, only for a few more months. That is because it is closing on February 18th, just a few days after its 35th anniversary on January 26th.
That means that Andrew Lloyd Webber has the two longest-running Broadway shows. The other one is Cats.
Personally, I am not a fan of either musical. Webber has had better shows like Jesus Christ Superstar and Joseph and the Amazing Technicolor Dreamcoat, and their runs weren't as long.
Are you sad that Music of the Night is being silenced?

---