The curtain goes down on Company for a final time on July 31st
June 22nd, 2022 under Broadway, Patti LuPone. [ Comments: none ]
Company survived pandemic closures and received 9 Tony nominations, but the lights will dim permanently on the Broadway musical at the end of next month.
They did not say why the show starring Patti LuPone is closing, but I have my theory. Yesterday, Broadway announced that masks will be optional come July 1st. And as we know, LuPone is a strong advocate for keeping them on. So I wonder if LuPone said she was done when the masks were done? And without her tickets sales would plummet.
When it comes to the mask mandate, I agree with her on this as the audience is packed in like sardines in a closed, confined room for 3 hours. You know, COVID-19 is going to start spreading faster than the news.

---
Nobody better take their shot at the Tonys!
April 20th, 2022 under Broadway. [ Comments: none ]
The Tonys slapped the Oscars with this new rule starting with this year's awards show.
According to Deadline, a letter went out from the Tony Award Productions to potential ticket-buyers that says, "The Tony Awards has a strict no violence policy. In the event of an incident, the perpetrator will be removed from the event immediately."
Oh, please. This is the Tonys. There will be no bitch slapping. And if there is, it will be so dramatic that the slapper will exit stage left and never look back. And if that doesn't happen, then there will be a rumble between the musicals and the plays that will make West Side Story jealous.
Now, I am thinking they should do a Hamilton and not miss their shot. We need a duel. Just not one that ends as it did between Hamilton and Aaron Burr. Too soon?

---
Sarah Jessica Parker tests positive for COVID-19 2 days after Matthew Broderick
April 7th, 2022 under Broadway, Coronavirus, Sex and the City. [ Comments: none ]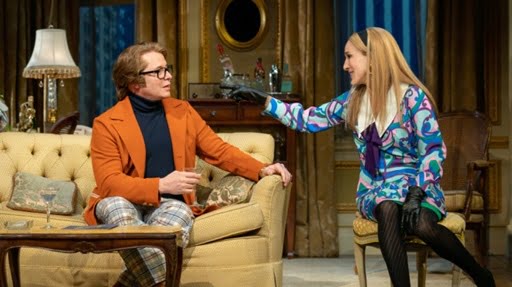 Last week, the curtain finally went up on Sarah Jessica Parker and Matthew Broderick's take of Plaza Suite on Broadway. However, this week, the lights are off for a few performances. That is because the couple and co-stars have both tested positive for COVID-19.
"With both Matthew Broderick and Sarah Jessica Parker positive for COVID, tonight's performance of 'Plaza Suite' is canceled," the show's producers said in a statement to Variety. "The producers apologize for the inconvenience this has caused audience members. Ticket holders should contact their point of sale to reschedule for a future performance or obtain a refund. Everyone wishes Matthew and Sarah Jessica a speedy recovery."
Broderick got his results right before showtime on Tuesday, and his wife got the same diagnosis today.
Producers did not say when the show will go on again. But, I have a feeling they will wait until they both can resume the production together.

---
Matthew Broderick tests + for COVID-19 hours after appearing on Live with Kelly and Ryan
April 6th, 2022 under Broadway, Coronavirus, Kelly Ripa, Ryan Seacrest, Seth Meyers. [ Comments: 2 ]
Matthew Broderick is starring in Plaza Suite on Broadway with Sarah Jessica Parker. In order to get the word out about the play, which opened last week, the actor is doing press for it. Yesterday, he appeared on Live with Kelly and Ryan plus Late Night with Seth Meyers.
Then, when he was done with that part of his day, it was time for him to go to work. Before he could go on the stage, he had to do a COVID test. That is when the actor found out that he had tested positive for the virus after two tests, according to Broadway World.
This makes me wonder if the talk shows are doing enough to protect their hosts. For example, Meyers gave Broderick a quick hug when he came out, which could put the NBC host at risk. Something that would be bad because he has children that are too young to get vaccinated. However, I don't know when Broderick taped that appearance, so Meyers could be in the clear.
When it comes to Live, I think you can kind of see that his eyes are watery. But I could be reading too much into it because I watched the interview after I knew he tested positive.

---
Pamela Anderson is coming to Broadway
March 7th, 2022 under Broadway, Pamela Anderson. [ Comments: none ]
Hulu is airing a series about what Pamela Anderson and her ex-husband, Tommy Lee, went through when their sex tape was stolen and went public.
For some reason, the fake show has been very good for the real Pamela Anderson. First, the actress and Netflix announced that she is telling her story in her words to the streaming service. And today, The Shubert Organization announced that she will be playing Roxie Hart in Broadway's production of Chicago for 8 weeks starting on April 12th.
"I have always been a huge fan of Bob Fosse's & Gwen Verdon's work. Ann Reinking, too," said Pamela Anderson. "Playing Roxie Hart is a dream fulfilled. Performing Fosse, you don't have time to get in your head. You can't dance, sing and think at the same time. There is a freedom, a unique joy in knowing it's all about the work. Playing Roxie Hart is a sweet escape for me."
I have a feeling she is going to be really good. We don't give her enough credit. She is more than pretty blonde.

---