Once Upon a Time in Hollywood, Brad Pitt ages in reverse
June 27th, 2018 under Brad Pitt, Leonardo DiCaprio. [ Comments: none ]

You know how Brad Pitt played a character who aged backward in The Curious Case of Benjamin Button? Well, he looks like he is doing the same in real life. Here is the 54-year-old posing with Leonardo DiCaprio in their upcoming movie Once Upon a Time in Hollywood.

Can you believe that Pitt is 11 years older than the 43-year-old because I think it looks the opposite way? The former Mr. Aniston Jolie looks so much younger than the Playboy. I guess being a father of 6 does not age you as much as dating models more than half your age!

When it comes to the Quentin Tarintino film that takes place during the time of the Manson family murders, it comes out next August.

---
Did Armie Hammer just admit that Leonardo DiCaprio has bad breath?
May 26th, 2017 under Andy Cohen, James Corden, Leonardo DiCaprio, The Rock, Zac Efron. [ Comments: none ]

Yesterday when Armie Hammer was on Watch What Happens Live, and Andy Cohen wanted to know all, and I do mean all, about his kiss with Leonardo DiCaprio in J Edgar.
The first thing the Bravo host needed to find out is if Leo has good breath? The Lone Ranger seemed to imply he does not. Which is a good thing that there no tongue was involved between the two men. But that doesn't that mean that DiCaprio's dreamy eyes didn't him give him a slight boner during their lip lock! And there you have what a lot of Victoria Secret's models already know.
While Hammer didn't have a good experience with his co-star's breath, Zac Efron had quite the opposite with The Rock in Baywatch. The High School Musical graduate told James Corden on The Late Late Show that DJ tasted like a Winterfresh commercial when you kiss him. How would he characterize their smooch? Efron said, "It was crazy, he is good at that too. Jeez…He is just the best at everything…It was an awesome kiss."
I don't know about you, but given the choice to make out with Leo or Dwayne, I would pick Johnson every time. Who doesn't want to feel like they living a Winterfresh when they make out?

---
F*ck The Wolf of f*ckin' Wall Street is in the f*ckin' record books!
January 3rd, 2014 under Leonardo DiCaprio, Martin Scorsese. [ Comments: none ]

The Wolf of Wall Street is in the record books for using the word f*ck the most times in any movie. According to Variety you can hear the f-word 506 times during the 180 minute film, that is 71 more times than the next film on the list, Summer of Sam. Overusing the word is nothing new for Martin Scorsese, who has two other movies in the Top 20. Those films are Casino with 422 and Godfather at an even 300. So maybe the Oscar winning director's middle name should be fuckin' as in Martin Fuckin' Scorsese, since I am sure that is what a lot of people already call him when describing his work.

---
Do Cameron Diaz and Leonardo Dicaprio have something to tell us?
May 27th, 2013 under Cameron Diaz, Do they have something to tell us?, Leonardo DiCaprio. [ Comments: none ]

Fame Flynet
Cameron Diaz and Leonardo DiCaprio were seen together on the red carpet at Tag Heuer Yacht Party in Monte Carlo and I have to wonder if the two former co-stars have something to tell us? You know they should consider it, if they haven't already, because they actually make a cute couple.

---
Leonardo DiCaprio stands out in a crowd!
August 27th, 2012 under Leonardo DiCaprio. [ Comments: none ]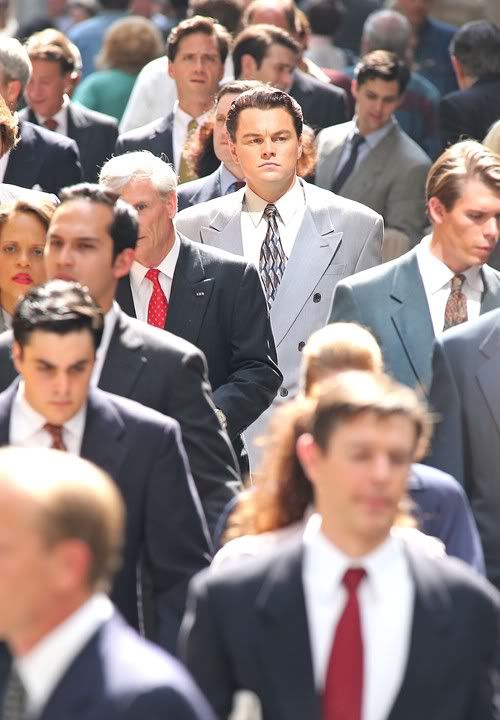 Fame Flynet
Leonardo DiCaprio finally cleaned up to star in Martin Scorsese's The Wolf Of Wall Street and he looks so good that you can immediately spot him in a crowd of business men who look just like him. Seriously doesn't he look great now that he lost that beard and put on a suit? He should only play stock brokers from now on because that look suits (no pun) him well.

---