Cameron Diaz and Benji Madden's new lifestyles as rich, famous parents
January 3rd, 2020 under Cameron Diaz, Good Charlotte. [ Comments: none ]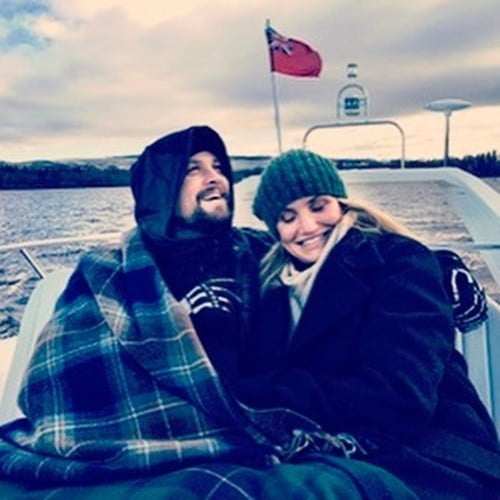 Cameron Diaz and Benji Madden are starting the New Year off in a big way, they are the brand new parents to their first baby. The couple, who are celebrating their fifth anniversary this month, announed the happy news on social media today.
Happy New Year from the Maddens!
We are so happy, blessed and grateful to begin this new decade by announcing the birth of our
daughter, Raddix Madden.
She has instantly captured our hearts and completed our family. While we are overjoyed to share this news, we also feel a strong instinct to protect our little one's privacy. So we won't
be posting pictures or sharing any more details, other than the fact that she is really really cute!! Some would even say RAD:)
From our family to all of yours, we're
sending our love and best wishes for a Happy New Year and Happy New Decade…
Sincerely,
Cameron&Benj
I guess if they want to really keep her privacy, they will have Raddix wear a Mask whenever she goes out. Get it.

---
My Best Friend's Wedding cast reunite!
February 7th, 2019 under Cameron Diaz, Dylan McDermott Dermot Mulroney, Julia Roberts. [ Comments: none ]

Back in 1997, we were all hoping to have a moment where we would all break out into a Burt Bacharach song at a restaurant with our friends just like they did in My Best Friend's Wedding. I don't remember the rest of the movie because that moment drowned out the rest.

Anyways now 21 years later, Julia Roberts, Dermot Mulroney, Cameron Diaz and Rupert Everet all reunited to talk about that iconic film to Entertainment Weekly. I didn't read the article, just like Playgirl I just read it for the photos. Seeing them all together brought me joy. Now I cannot get I Say a Little Prayer out of my head. I just wish other people would sing it with me at this restaurant and not look at me like I am crazy.

---
Drew Barrymore and Cameron Diaz have a playdate!
July 13th, 2018 under Cameron Diaz, Drew Barrymore, No makeup. [ Comments: none ]

Even though has been nearly 18 years since Charlie's Angels came out, two of the angels are still partners in crime. Or were Drew Barrymore and Cameron Diaz the good guys?

Anyways, the two actresses got together today for some fun in the sun, and they went au naturel. Not as in naked, but without any makeup on. And in Hollywood the latter is scary. Which is weird because the two women in their 40's look great with or without it on. Don't you agree?

---
Cameron Diaz and Nicole Richie are legally sister-in-laws!
January 5th, 2015 under Cameron Diaz. [ Comments: none ]

Even though Cameron Diaz has bashed marriage in the past, she still decided to walk down the aisle with Benji Madden tonight. According to Us Weekly, the couple, who have been dating since July, said I do in her house surrounded by friends and family. The actress' friends Drew Barrymore, Reese Witherspoon and Gwyneth Paltrow were there to see it happen, along with the rocker's twin brother Joel, his wife Nicole Richie and his friends Samantha Ronson and Robin Anton.
Even though our first reaction is that it won't last, whirlwind romances, like theirs, seem to be the ones that actually work out better that the ones who have had long courtships.

---
Jimmy Fallon rides Cameron Diaz!
May 1st, 2014 under Cameron Diaz, Jimmy Fallon. [ Comments: none ]

Yesterday on The Tonight Show, Jimmy Fallon and Cameron Diaz photobombed some unsuspecting tourists on the roof of 30 Rock! The two, who share a BFF, had a lot of fun as they posed in different ways and shared a Hoagie without using any hands. As fun as those things were for them, I think the had the most fun was when the NBC late night host went for a Piggyback ride on the Charlie Angel. Did I mention they posed as the Charlie Angles minus their shared BFF, Drew Barrymore?
As excited as they looked in the photos, it looks like the tourist were even more excited when they realized what was happening. How awwwdorable was the last girl who went in for a hug?

---