Kevin Hart reportedly underwent back surgery
September 2nd, 2019 under Kevin Hart, The Rock. [ Comments:

none

]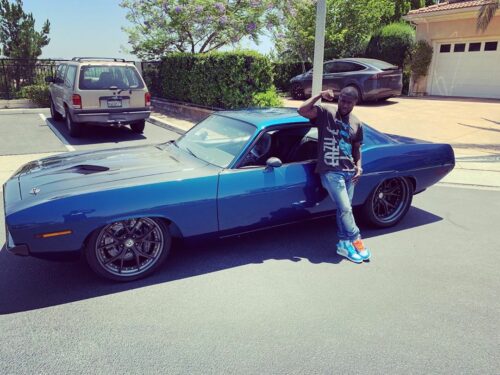 Yesterday morning, Kevin Hart and two other people were in a very serious car crash that left the actor and the driver with "major back injuries." Today, The Blast is reporting that he underwent surgery on his back to stabilize it. Doctors said that he is doing as well as can be expected after going under the knife. However, they did add that he is expected to make a full recovery.
The website also says that he was able to talk, walk and move all of his extremities while he was in the hospital. Which is a good sign.
However, I might be reading too much into The Rock's message to his best friend. DJ wrote, "Stop messing with my emotions brother @kevinhart4real. We have a lot more laughing to do together. Love you man. Stay strong 🙏🏾" Doesn't he make it sound like he is worse off than what is being reported?
Praying that he and the driver Jared Black a speedy recovery.
---
The Rock is no longer a baller
August 22nd, 2019 under HBO, The Rock. [ Comments:

none

]
https://www.instagram.com/tv/B1fGY8ZllTB/?igshid=ybbz3glyonr
The Rock announced today that this season of Ballers will be its last. He did not explain why it is ending (we can all assume he has way too many other projects and this one is very time consuming), but he is grateful for the five seasons that they produced.
Even though he revealed that the sports drama is ending, the fifth season has not even begun to air. You can tune into HBO this Sunday at 10:30p for the final season premiere.
What can you expect from the last eight episodes? This season finds Spencer (Johnson) settling into retirement and reflecting on his past, when an offer that's too good to refuse comes his way and sends him back into the lion's den, this time as a team owner. In the wake of his split with Spencer, an ambitious Joe (Rob Corddry) gambles aggressively to make Sports X greater than ever with the help of his new partner, Lance (Russell Brand). Meanwhile, Ricky (John David Washington) has a startling setback that forces him to consider a new kind of future and tests his physical, mental and emotional resolve; Charles (Omar Miller) learns that being a general manager means getting your hands dirty; Vernon (Donovan W. Carter) shifts his focus to his love of professional gaming despite Reggie's (London Brown) wariness; and Jason (Troy Garity) decides to take his career to the next level.
Are you sad to see Ballers end up in the end zone or do you think it still had a few touchdowns left in it? Since I went to college with DJ, I better know my football terminology when I post about him.
---
The Rock put a wedding band on it!
August 19th, 2019 under The Rock. [ Comments:

none

]
https://www.instagram.com/p/B1V5m7WFfUy/?igshid=1u91jys6lnfk3
The Rock is the biggest movie star on the planet right now, and he somehow was able to secretly get married to Lauren Hashian in Hawaii yesterday. No other details are known at this time, but you can tell it was the perfect private ceremony that the newlyweds wanted.
The couple met in 2006 and started dating a year later. Together they have two daughters, Jasmine, 3, and Tiana, 16 months. No word what role the toddlers and his daughter Simone. from his first marriage. played in the nuptials. I hope we find out that Simone, who turned 18 on the 14th, officiated the wedding!
Congrats to Lauren who gets half of his huge fortune when they get divorced! I am kidding DJ! I hope you keep making beautiful spunky kids together until death you do part.
---
Who does The Rock would be a better fight opponent: Statham or Elba?
August 1st, 2019 under Ryan Seacrest, The Rock. [ Comments:

none

]

The Rock is starring with Jason Statham and Idris Elba in Hobbs & Shaw, that is out tomorrow. Today, when he was on Live with Kelly & Ryan, Maria Menounos wanted to know who would put up a better fight in real life.
After some thought, he said it would be Elba. Why? DJ explained, "He's a skilled martial artist and he is the second sexiest man alive." Who is the first? Blake Shelton, of course…not. Dwayne Johnson always will be. Look at that man whose muscles show through his suit. However, we cannot see his biggest muscle. Not that one, naughty person. His heart is the hugest one of them all.
---
BTWF: The Rock at his dad's wrestling match
July 2nd, 2019 under Before They Were Famous, The Rock. [ Comments:

none

]

Before people would watch The Rock wrestle from the audience, he was watching his father do it ringside. How weird is it seeing him with hair back when he was 11 in 1983?
Here is what DJ had to say about that video, "Damn look at that 11yr old punk kid with a bad afro 🤦🏽‍♂️. Used to idolize my pops, til' he started beatin' my ass in the gym and in the ring lol. But tough love (the right kind) can be a good thing to a kid. #builtlikeabrickshithouse #soulman"
---