Watch Gal Gadot kick The Rock and Ryan Reynolds' a$$ in Red Notice
September 2nd, 2021 under Gal Gadot, Netflix, Ryan Reynolds, The Rock. [ Comments:

none

]
The first full trailer for Red Notice is out now, and I can't wait to stream it on Netflix on November 12th.
I normally don't like Dick Flicks, but the cast is phenomenal. I mean, who does like The Rock, Ryan Reynolds, and Gal Gadot. Plus, you know that DJ and Reynolds are going to have a contest to see who can ham it up more for the camera. Who do you think will win?
Good thing that Gadot was in the Israeli Army because she can put both of those boys in their place. That is why she is Wonder Woman, and they are just Deadpool and Black Adam. Yeah, I don't know what that means either. So put me on Red Notice.

---
The Rock responds to his doppelganger
August 31st, 2021 under The Rock. [ Comments:

none

]
Morgan County Sheriff's Office Patrol Lieutenant Eric Fields looks just like The Rock, and he gets mistaken for him all of the time. So much so, Alabama Life & Culture did a feature on him.
Well, word got back to DJ, and he had a message for his twin. "Oh shit! Wow," he wrote. "Guy on the left is way cooler. Stay safe brother and thank you for your service. One day we'll drink
@Teremana and I need to hear all your "Rock stories" because I KNOW you got 'em."
I can't wait to see them side by side. I wonder if we will be able to tell them apart. At this point, I am not sure.

---
Emily Blunt reveals that The Rock isn't perfect
July 15th, 2021 under Kelly Ripa, Ryan Seacrest, The Rock. [ Comments:

none

]
When you look at The Rock, you think he is invincible. It turns out he isn't.
Today when Emily Blunt was on Live with Kelly and Ryan, they asked her if she got seasick when she filmed The Jungle Cruise. The actress told them she didn't, but her co-star did.
In fact, Blunt says DJ took so many Dramamine that he should they spokesperson.
Personally, I think she is lying. But, I am sure someone will ask him if it is true. I mean, if he didn't get seasick while he was filming Moana, I doubt it happened with this latest movie. What do you think?

---
Who looks better in a tux: The Rock or Ryan Reynolds?
July 8th, 2021 under Gal Gadot, Netflix, Ryan Reynolds, The Rock. [ Comments:

none

]
On November 12th, The Rock, Ryan Reynolds, and Gal Gadot will be starring in Red Notice on Netflix. It is such a big deal that they are all getting dressed up for the occasion.
The boys are both wearing tuxes. Who looks better dressed up to the nines? Gal Gadot, of course. That is because she is Wonder Woman, and they are just Black Adam and Deadpool.
For those of you who want to know what the film is about, here it is. An Interpol-issued Red Notice is a global alert to hunt and capture the world's most wanted. But when a daring heist brings together the FBI's top profiler (Johnson) and two rival criminals (Gadot, Reynolds), there's no telling what will happen.
They say, "go big, or go home." Therefore DJ declared, "This is my career first streaming film and I wanted to make it big and special for all the fans worldwide."
Get to see how special it is around Thanksgiving.

---
Young Rock and Kenan score a second season
April 30th, 2021 under Kenan Thompson, The Rock. [ Comments:

none

]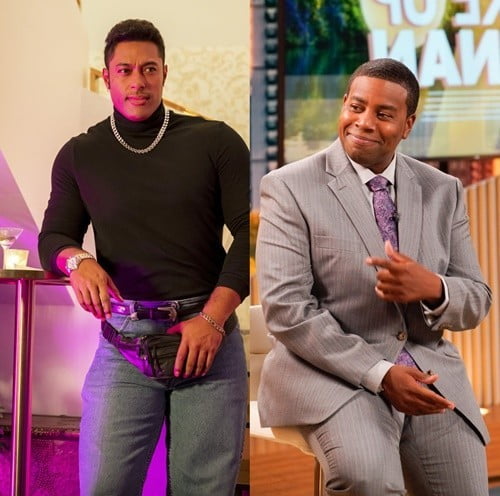 NBC announced today that it renewed both Young Rock and Kenan for a second season.
"It has been a true joy to watch Dwayne Johnson & Kenan Thompson on NBC every week and see families connect with their relatable, entertaining and heartwarming stories," said Lisa Katz, President, Scripted Programming, NBCUniversal Television and Streaming. "We're thrilled to renew both of these shows for another season and can't wait to see more from Dwayne, Kenan and the incredibly talented casts and producing teams behind each of them."
It will be interesting to see what stages of DJ's life they will take on next season. Although, I am biased for them keeping up with his life in college.
When it comes to Kenan, I can't wait to see how they move forward after the season finale's cliffhanger. I am assuming there will be a time jump that will take place. However, I could be wrong.
Either way, I am happy both sitcoms will be back.

---