BTWF: Paul Feig from The Facts of Life
January 10th, 2020 under Before They Were Famous, The Facts of Life. [ Comments:

5

]

Before Paul Feig was directing four ladies in Ghostbusters, he was directed by four ladies on The Facts of Life. How cute was the 23-year-old in a beanie on the 1986 episode?
xoxo Mindy Cohn
---
An '80s family sitcom fan's wet dream
January 7th, 2020 under 80s, The Facts of Life, Wet dream. [ Comments:

none

]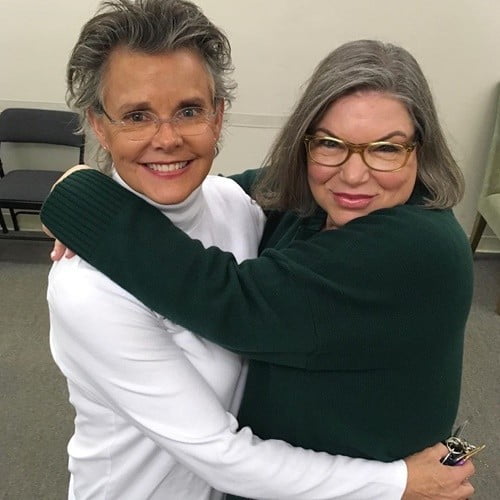 At the start of '80s, Mindy Cohn was on one of our favorite shows The Facts of Life. A year before it ended its run, Fox debuted Married…with Children with Amanda Bearse. She would wind up filling the void that we needed when Natalie went on her own way.
Even though, both of their shows filmed at the same lot for a season, we never saw the two actresses together. That is until now because Cohn shared a sweet hugging photo with her friend. Now we get to see what happens when the facts of life meet married…with children. Or if Natalie cheated on her friendship with Tutti and Marcy did the same to Peggy.
While we will not see them on a television show together…at least not for the near future, there is a place you can see them act together. The women are starring in The Wendy Chronicles this Sunday at the Jewish Women's Theatre in Santa Monica. Go see them live, it is better than television.
---
The Facts of Lisa Whelchel's engagement!
November 18th, 2019 under The Facts of Life. [ Comments:

none

]

Lisa Whelchel grew up learning the Facts of Life, and one of those facts is getting engaged to the person you love. The actress did just that! She said yes when her boyfriend Dr. Pete Harris asked her to marry him. She moved to Nashville to be with him and that is where he got down on one knee.
Blair Warner had this to say about her good news, "I said, "Yes!!!!" to spending the rest of my life loving this man. To marriage as a spiritual path with this true companion. To belly laughing over sophomoric humor and word nerd puns. To never-enough couch cuddles and kisses on curbs. To creating memories while on a bi-coastal family adventure. To soul growth within the crucible of intimacy. And, fun – lots and lots of fun! I love you, @lovemattersmostyall and I am grateful beyond words for the Grace that led me to you. 📸: @keno1947"
This will be her second marriage. She was married to Steven Cauble for 24 years and they have three kids together.
Welchel will next be seen in You Light Up My Christmas, December 1st on Lifetime with her three other FoL co-stars Nancy McKeon, Kim Fields and Mindy Cohn.
---
Lifetime brings The Facts of Life girls together for Christmas
October 21st, 2019 under Lifetime, The Facts of Life. [ Comments:

none

]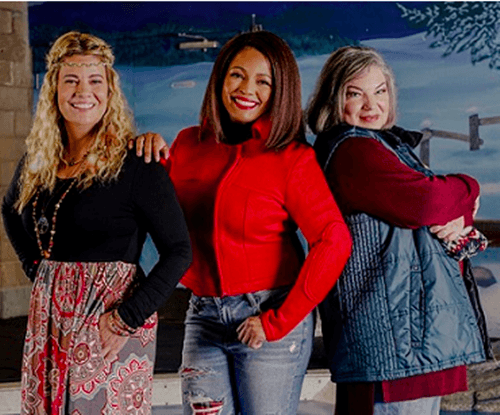 Back in 1979, we got to know Tootie, Natalie, Blair and Jo on The Facts of Life. This Christmas, Kim Fields, Mindy Cohn, Lisa Whelchel and Nancy McKeon are going to have a 40th reunion on Lifetime in the movie You Light Up My Christmas.
Fields, who is starring and producing the telemovie, explained why she asked her classmates to join her. She said, "We're sisters. We have a ball when we get to hang out personally and holidays are about family, memories and fun. So, when the opportunity came up to combine all of that with You Light Up My Christmas, I invited Lisa, Mindy and Nancy to make some fun, Christmas cameos and was thrilled they all enthusiastically jumped on board." Maybe Lifetime will see how well the four of them still work together that they will consider giving them a revival. How awesome would that be?
Charlotte Rae, who passed away last year, will also be part of the film. They named an ice rink after her. Therefore, you should look out for it when the movie debuts on December 1st.
---
BTWF: Lisa Whelchel on Mickey Mouse Club and who she beat out for the role
May 1st, 2019 under Before They Were Famous, The Facts of Life. [ Comments:

none

]

Before all the boys wanted to dance with Lisa Whelchel on The Facts of Life, she was hoping someone would ask her to dance with them on Mickey Mouse Club. You will never believe who the 14-year-old beat out to be on the show in 1977. To see which famous rocker it is, then click here!
---