A Facts of Life mini-Reunion
September 9th, 2022 under The Facts of Life. [ Comments: none ]
A few months ago, we saw Mindy Cohn, Kim Fields, and Lisa Whelchel reunite for the Live in Front of a Studio Audience reenactment of a Facts of Life episode.
Yesterday, three of the cast members reunited for another Norman Lear special. This time, it was to celebrate his 100th birthday.
Also, this time Nancy McKeon was there, but Whelchel was missing. Where was Blair Warner? The actress said to Natalie Green, "Beautiful! I'm disappointed I didn't get to see you before you left. ❤️"
Whelchel is 100% right when she said that Natalie, Tootie, and Jo are "beautiful." Can you believe it has been over 40 years since they started working together? Because it certainly doesn't look it. And that is just the facts of life!

---
Janet Jackson reunited with her abusive TV mom's real-life daughter, Kim Fields
July 5th, 2022 under The Facts of Life, The Jacksons. [ Comments: none ]
Over the weekend, Janet Jackson performed at the Essence Fest, and she was reunited with an old friend Kim Fields. Both women share the same mom. How? Chip Fields is Kim's biological mother, and she played Janet's mom on Good Times in three unforgettable episodes in 1977. Chip's character physically abused Jackson's.
Not only did they share that connection, but Fields also guest-starred on two episodes of the sitcom.
So, they obviously have a connection. Therefore, as soon as they saw each other, it was like no time has passed for the two actresses who have known each other for 45 years. And neither woman looks close to being old enough to have known someone for that long.

---
Kim Fields still gets excited to see her face on a Times Square billboard
June 30th, 2022 under The Facts of Life. [ Comments: none ]
Kim Fields has been acting for 45 years. Therefore, you would think that she wouldn't still get excited by stuff like new actors do when they see their names and faces in lights for the first time. You would be wrong.
The actress is in NYC and saw a moving poster for her show, The Upshaws, on Netflix in the middle of Manhattan. "I wish I could fully express this surreal stunned joy to be a girl from Harlem and see yourself on a Times Square billboard," The Facts of Life star wrote. "This is my 3rd time and my mind body and spirit are yet again blown awayyyyyyyyyyyyy.🙌🏽"
Seriously, her reaction was so cute; all I could see was the little girl we got to know with braces who wore pigtails and got around on rollerskates. She might be a little older, but moments like this turn her into Tootie.

---
BTWF: Nancy McKeon for Best Foods Mayonaise
December 9th, 2021 under Before They Were Famous, The Facts of Life. [ Comments: none ]
Before Nancy McKeon was playing softball on The Facts of Life, she was doing it for Best Foods Mayonaise. She looks the same now as she did when she was 12 in that 1979 commercial.

---
It looks like at least one of The Facts of Life OG is part of Live In Front of a Studio Audience
December 7th, 2021 under The Facts of Life. [ Comments: none ]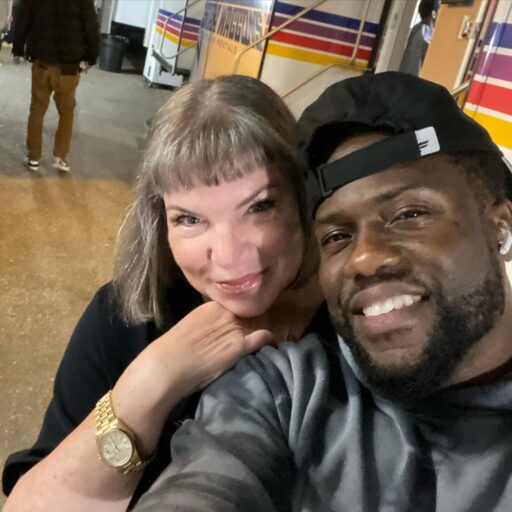 Mindy Cohn/Instagram
Tonight at 8p on ABC, Jimmy Kimmel and Norman Lear are doing another Live In Front of a Studio Audience. This time around, they are doing Diff'rent Strokes and The Facts of Life with actors in their 40s, 50s, and a 61-year old playing the lead roles that originally were played by minors.
That got a lot of people wondering why they didn't just use the original actresses since Kim Fields and Jennifer Aniston are the same age. I mean, I would love to see Lisa Whelchel, Nancy McKeon, Fields, and Mindy Cohn reprise the roles that made them famous over Aniston, Kathryn Hahn, Gabrielle Union, and Allison Tolman.
While the OGs might not be playing their characters again, it looks at least Cohn, who played Natalie Green, will be part of it. That is because she shared a photo of herself with Kevin Hart, who is starring as Arnold Jackson in the Diff'rent Strokes recreation, from what looks like the set.
What part will Cohn and possibly her former co-stars play in the special? I think they will just make an appearance before a commercial break like Good Times' BernNadette Stanis, Jimmie Walker, and the late Ja'net DuBois did when they recreated their sitcom.

---