An Empty Nest reunion!
July 8th, 2019 under Kristy McNichol, Reunions. [ Comments: none ]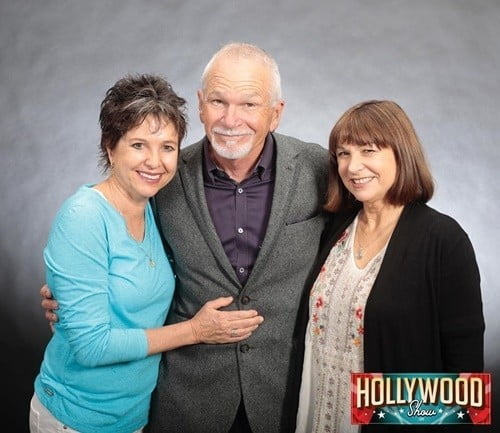 It has been 30 years since Kristy McNichol and Dinah Manoff started playing sisters and David Leisure was their annoying but kind of lovable neighbor on the NBC sitcom Empty Nest that was a spinoff from The Golden Girls. Last week, Barbara, Carol and Charlie Dietz reunited at the Hollywood Show and they look just as close as they did then.
Not only that, they all still look great. Maybe we can get a revival with them, Park Overall and Marsha Warfield. They could have Scotty becoming a doctor just like his late grandfather who winds up moving back in with his mom, his stepfather Charlie and her sister. I still miss Richard Mulligan, he was a comedic genius.

---
An '80s boy's wet dream: Lydia Cornell and Kristy McNichol
October 23rd, 2018 under Kristy McNichol, Lydia Cornell, Wet dream. [ Comments: none ]

Back in 1980, Kristy McNichol was everyone's little darling and boys wanted to see what was Too Close for Comfort for Lydia Cornell. At the time, their careers were going in different directions, and we never saw them together.

That was then, now 48 years later the long-time friends met up at the Hollywood Show and took this photo. They are just as beautiful now as they were then. They could still do a poster and their fans would hang it up on their walls. Which makes you wonder why some studio has not given them a project together.

---
Remember Jimmy and Kristy McNichol?
September 9th, 2013 under Debbie Gibson/ Tiffany, Kristy McNichol, Remember?. [ Comments: none ]

Debbie Gibson attended the Hollywood Show in Chicago this weekend and she met up with her childhood idols Jimmy, 52, and Kristy McNichol, 50. She was so excited that she met them that she shared this photo of the three of three of them together.
The brother and sister teen idols from the '70s are looking as good as they did when they were on the cover of every teen magazine out there back then.
Here's a little tidbit for you, Jimmy is ready for his comeback and I can't wait for his return. Maybe if we get really lucky the McNichols will get cast in a sitcom together, I'd like to see them working together on the small screen. And who knows maybe Gibson could sing the theme song?

---
Kristy McNichol comes out of hiding and the closet
January 6th, 2012 under 80s, Kristy McNichol. [ Comments: 1 ]

Kristy McNichol has rarely been seen since she left Empty Nest and now she is coming out of hiding to come out of the closet. She has broken her two decade silence to People announce that she has been living with her partner Martie Allen since then. Why now? Her publicist told People, she "is very sad about kids being bullied," adding "She hopes that coming out can help kids who need support. She would like to help others who feel different." Since her movie Little Darlings has been a coming of age movie for so many decades, hopefully her braveness will do the same to people who need the support of someone like her coming out.
Way to go Kristy. Now can we get her back on TV or movies because her fans like me miss her.

---
Remember Kristy McNichol?
November 1st, 2010 under Kristy McNichol, Remember?. [ Comments: 1 ]

WireImage
I haven't seen Kristy McNichol in years, so I was so freaking excited to see this picture of her at the Chiller Theater Expo over the weekend. The 48 year Little Darling looks just like she did when she did the rite of passage movie 30 years ago. I know that she has retired from acting, but I really wish she would reconsider because she is still one of my all time favorite actresses. Seriously doesn't she look awesome just like she did when she was on Empty Nest?

---