Remember Tommy Shaw!
June 4th, 2019 under Remember?. [ Comments:

none

]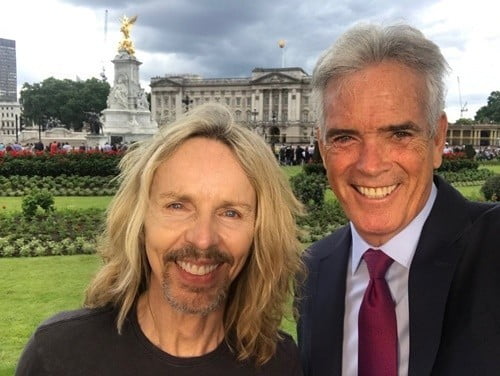 Tommy Shaw is in London performing with the Styx and he went to see an American who was visiting Buckingham Palace. Not the President, but his friend, John Roberts, from Fox News.
I do not remember the last time I saw the singer, but he looks better now than he did then. As in he never ages. Can you believe he is 65 years old? He sure as hell does not look old enough to collect social security.
Since he looks so good, I hope Supernatural finds a way to bring him and the band on the show for the final season. They have used so much of their music throughout its run, it is only fair. How cool would it be if they find a way to incorporate them singing Renegade live on the drama with something happening in the scene. Although, I can see them using Lady instead.
---
Remember So You Think You Can Dance's Benji Schwimmer?
December 5th, 2018 under Remember?, SYTYCD. [ Comments:

2

]

Back in 2006, Benji Schwimmer defied the odds and won the second season of So You Think You Can Dance. The scrawny little dancer was a fan favorite because we loved his geekiness.

That was then, now 12 years later he is a buff man showing off his muscular body. Who knew that by doing Swing dancing it would give you a bod like that? Now thanks to DNA Magazine we know that. So who else besides me is going to sign up for classes? Plus, am I the only one who wants him to be their teacher. He teaches Tango too, right?
---
Remember Emmanuel Lewis?
November 7th, 2018 under Remember?. [ Comments:

none

]

Yesterday was a big election day in Georgia. So big it got Emmanuel Lewis out to vote. Doesn't the 47-year-old look fantastic? He hasn't aged a day since Webster. Someone needs to give him another show because TV has been missing him.
---
Remember Glee's Kevin McHale?
October 18th, 2018 under Glee, Remember?. [ Comments:

none

]

Remember when Kevin McHale was on Glee, he played the nerdy Artie Abrams? Not anymore. He is now a 30-year-old man making grapes looks sexy for A Book Of. Who knew all of that was under those glasses? Too bad they did not take them off when he was on that musical comedy. We would not have enjoyed that pool scene so much!
---
Remember Martha Quinn?
August 1st, 2018 under Remember?, VH1/MTV. [ Comments:

none

]

37 years ago, the music world was rocked by the birth of MTV. Today, to celebrate the day that video killed the radio star, Martha Quinn, who was an original VJ shared this photo of herself raising a glass for the anniversary.

Back then she was just 22 years old and ready for her MTV. Now, she is 59-year-old radio star who hosts I Heart the '80s weekday mornings from the Bay Area. Therefore, I guess you can say radio killed the video star?

One thing that time has not killed is her looks, she looks better now than she did then.

If you are old enough to play this game, then post your answer in the comments. Seeing MTV for the first time was a pretty big deal for teens back in the day. You will never forget the first video you saw on music television, so what was yours? Mine was Big Country's In a Big Country. To this day, I still smile when I hear the tune and cry a little when I think the lead singer, Stuart Adamson, is no longer with us.
---