Sally Jessy Raphael looks different without her signature red glasses 
August 15th, 2022 under Remember?. [ Comments: none ]
Sally Jessy Raphael is as known for her red glasses as her red hair. However, over the weekend, she changed it up and put on pink frames in honor of Randy Rainbow's new book.
The 87-year-old talk legend looked so different with them on that I almost didn't recognize her. No matter what color eyeglasses she wears, she always looks beautiful.

---
Remember the Mandrell Sisters?
August 5th, 2022 under Remember?. [ Comments: none ]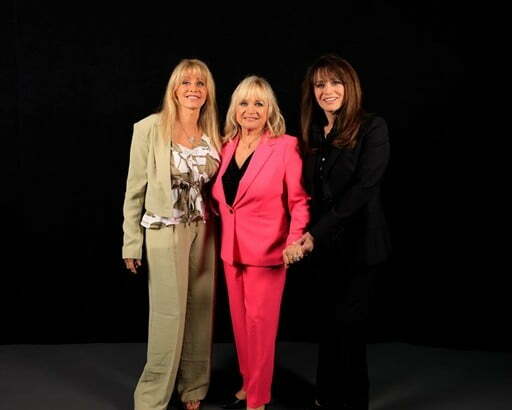 Before there were Hanson and Jonas Brothers, there was the Mandrell Sisters. They had a huge variety show in the early '80s, and everyone loved them.
While they were big back then, we haven't seen them a lot recently. However, Louise, 68, and Irene, 66, came out over the weekend to support their big sister, Barbara Mandrell, 73, who was honored by the Grand Ole Opry for her 50th year with them.
All three of them look better now than they did then. So much so, I wish they would bring back the variety genre as it was back then. It was so much fun, and don't we all need that these days?

---
Does Debby Boone still light up your life?
April 19th, 2022 under Remember?. [ Comments: none ]
Pat and Debby Boone came out to support his movie The Mulligan yesterday. I don't remember the last time I saw the father and the daughter together, but they both look fantastic.
Can you believe that she is 65 and he is 87? They don't look even close to their ages. I guess it is all that lighting up of life they did that keeps them looking so young.

---
Remember Marc Price?
November 15th, 2021 under Remember?. [ Comments: none ]
Back in the '80s, Marc Price was more known by his Family Ties' character's name than his own. Today, Skippy, I mean Price, is more known by his given name as he takes the stage to do his standup in a brand new blue tux.
Now that comedy is back in full force, he says he is "horny for laughs." So, if you want to satisfy his needs by laughing with him, then go see him live. I have seen his routine, and he is really hilarious.
Now, let's talk about him in that suit! He looks so sexy at 53. So much so, Mallory will regret not choosing him. What was she thinking?

---
Remember Kunal Nayyar?
September 3rd, 2021 under Remember?. [ Comments: none ]
I don't know about you, but I don't know the last time I saw Kunal Nayyar. I think it might have been the series finale of The Big Bang Theory, which was over 2 years ago. Since then, he turned 40 this past April, and he doesn't look like the Raj Koothrappali we knew.
Now, he wears his hair curly, grew a beard, and put on a little weight. Gone is the nerd, and say hello to a sexy man—a man who, unlike his character, could talk to any woman who comes his way.

---