Is Pete Davidson being considered to host the Oscars?
January 12th, 2022 under Oscars, Pete Davidson. [ Comments: none ]
I am assuming that Kris Jenner is hard at work trying to get Kim Kardashian's new boyfriend a job. That is because Page Six is reporting that Pete Davidson is in talks to talks to host the Oscars. Doesn't that feel like a PMK thing?
The source told the site that he attracts a younger demographic, and that is why they are considering him. However, I can't see ABC/Disney going for someone who is as raunchy as him to host their biggest show of the year. Plus, he comes from an NBC show. But then again, they let Seth MacFarlane host; and he is raunchy and has a few Fox shows.
Seriously, I don't see it. But I have never seen what anyone sees in Davidson. I don't find him funny. And if he hosts, then I won't watch. But truth be told, I wasn't planning on watching. I was hoping I could get the fourth COVID-19 vaccine shot on that day. Just like I got the first one on Oscar Sunday. So I slept through them, and I heard I didn't miss anything.
Back to this year's Academy Awards, I was just thinking that Seth Rogen would be a good choice to host the shindig. I can see him calling everyone out who doesn't follow COVID-19 protocols, he attracts a young audience, and he can be funny. But that could be because we get a contact high watching him.

---
Pete Davidson went back to black
December 29th, 2021 under Miley Cyrus, Pete Davidson. [ Comments: none ]
Miley Cyrus and Pete Davidson are going to host a New Year's Eve special on Fox this Friday. Therefore, the two of them are rehearsing for the big night, and Cyrus shared some photos from the rehearsal.
The first thing I noticed is that Kim Kardashian's arm candy is no longer has bleached blonde hair. The comedian has gone back to his natural black roots. He looks so much better like this. Well, as good as he can look.

---
There is a Pete Davidson dildo that gyrates when he's on SNL
November 4th, 2021 under Pete Davidson, Sex Toys. [ Comments: none ]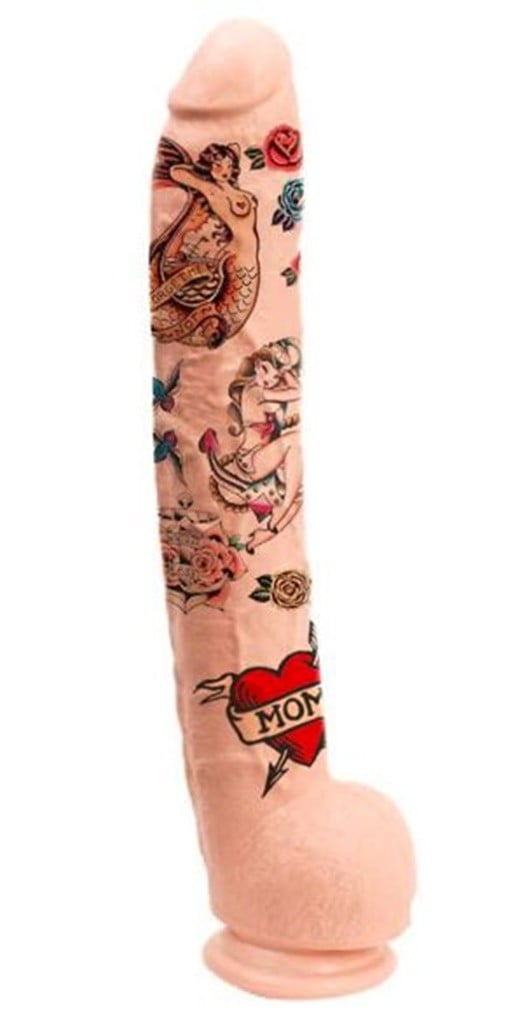 Have you ever wanted to ride the same dick as Ariana Grande, Kate Beckinsale, Phoebe Dynevor, and possibly Kim Kardashian? Then your wish can come true, thanks to CamSoda. That is because they made a dildo full of tattoos in honor of Pete Davidson.
Not only is it inked like him, but it can be synched to gyrate during his appearances on Saturday Night Live. Thanks to Teledildonics technology, you can SNL & Thrill. It's the only way to get you excited for an episode of the variety show.
If they really wanted to sell out of Teledidonics dildos, then they should create one for Sam Heughan and have it go off during his Outlander scenes. There wouldn't be a battery left in any store if they did.

---
BTWF: Pete Davidson doing standup
June 9th, 2020 under Before They Were Famous, Pete Davidson. [ Comments: none ]

Before Pete Davidson had his own comedy specials, he was just a teenager doing stand up at comedy clubs like The Broadway Comedy Club. He was actually funny back in 2010 when he was just 17. That is right, he is not even old enough to vote in this video.

---
Is Pete Davidson leaving SNL?
June 8th, 2020 under Pete Davidson, Saturday Night Live. [ Comments: none ]

Now that Pete Davidson is a movie star, is he ready to leave the show that made him a star? Especially after he dissed his co-workers at Saturday Night Live in an interview.
He spoke to Entertainment Tonight, and told them, "I think I'm very lucky to be on that show. And I'm really lucky to have Lorne Michaels as, you know, not only a mentor and a boss but a friend. I'll be there as long as they allow it."
Who else was hoping that both parties were ready to move on because he adds nothing to the sketches?

---