Howie Mandel does a Billy Idol and is dancing with himself
March 30th, 2020 under Howie Mandel. [ Comments:

none

]

During this time of social distancing, we have to be creative when it comes to finding a dance partner. Howie Mandel got really imaginative when it came to his. He used a mirror for his salsa distancing. Get it?
Mandel asks, "Mirror, mirror on the wall. Who is the greatest dancer of them all?" She says, "It is Simon Cowell, I want to take to the ball."
You know, he should consider auditioning this act on America's Got Talent. I am sure he would get the golden buzzer…from himself. Although, I don't think he would want to hear what Sofia Vergara has to say about his movies.

---
Heidi Klum looks different than I remember
March 12th, 2020 under America's Got Talent, Coronavirus, Howie Mandel, Modern Family, Simon Cowell, Sofia Vergara. [ Comments:

none

]

On Tuesday, Heidi Klum was not able to tape America's Got Talent because she went home with a common cold according to NBC sourced.

Since the show must go on (while it can until the Coronavirus shuts it down), they brought in Eric Stonestreet to replace her. You know, because he is practically her twin.

He is lucky, his Modern Family co-star Sofia Vergara is a judge on the show now. I am sure she helped to convince Simon Cowell and Howie Mandel to give him the job.

To see some photos of him with the other AGT judges, then click here!

---
Heidi Klum too sick to do America's Got Talent
March 11th, 2020 under America's Got Talent, Coronavirus, Heidi Klum, Howie Mandel, Simon Cowell, Sofia Vergara. [ Comments:

none

]

Even though, America's Got Talent doesn't air until the summer, they are filming the episodes now. Yesterday, all four of the judges showed up to work, but only three of them made it oot to stage.

According to TMZ, Heidi Klum went home sick with suspected food poisoning, and not the Coronavirus.

I wonder if maybe it wasn't food poising and she is instead pregnant with her fifth kid, her first with husband, Tom Kaulitz. That is something that only time will tell.

Since the show must go, it did with judges Simon Cowell, Howie Mandel and Sofia Vergara.

---
America's Got Talent once again doesn't have an American judge on the panel
February 27th, 2020 under America's Got Talent, Heidi Klum, Howie Mandel, Simon Cowell, Sofia Vergara. [ Comments:

none

]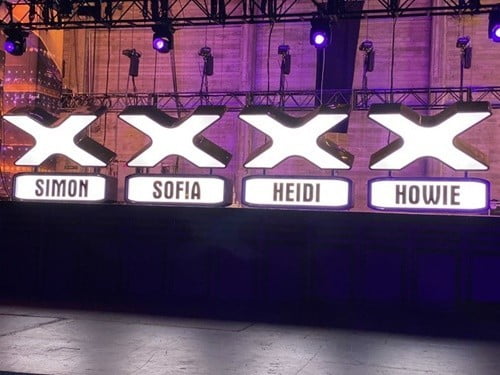 Last year, for the first time in a long time, America's Got Talent had two Americans sitting at the judges' table. Then, they decided not to ask Gabrielle Union and Julianne Hough back for another season.
Today, they announced who will be sitting in their seats. Germany's Heidi Klum is back for a seventh season, and Columbia's Sofia Vergara will be joining the show for her first one. She was rumored for being up for the job in December. Both women will be seated next to England's Simon Cowell and Candian Howie Mandel.
What is wrong with having an American judge on a show called America's Got Talent. We have talent, but we don't know how to judge it? I guess at least we have Terry Crews as a host, and he is American. I hope he is also there to translate because there are three very thick accents on that panel, and it might be hard for the American contestants to understand them.
Let's talk about the Modern Family actress. It is such a random hire. I don't really know if I think of her as someone who can identify talent. The same way I did not think Union would be able to do it. However, I thought that Mrs. Dwyane Wade did a good job on the show. Hopefully, Vergara will surprise us.
On that note, Mandel had a little welcome message for his new co-judge. He wrote, "Sofia, please don't try to shake my hand. Fist bumps only." I bet you he would not turn down a hug from her. Who would?

---
Howie Mandel is sexy and only he knows it
February 25th, 2020 under Howie Mandel. [ Comments:

2

]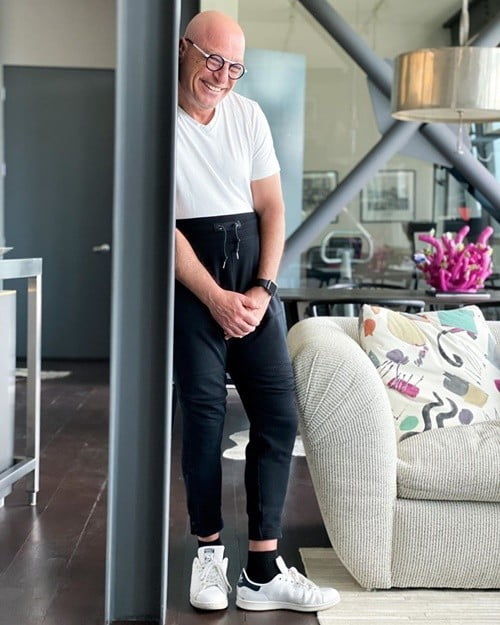 Howie Mandel posted a photo and wrote, "Felt sexy, might delete later #instagood" He has not deleted it, so he still thinks he looks tempting in this picture with his sweatpants up to his nipples. Do you want to make a deal with him or is it a no deal?

---