The Spice Girls are not going to a land down under
August 27th, 2019 under Spice Girls. [ Comments:

none

]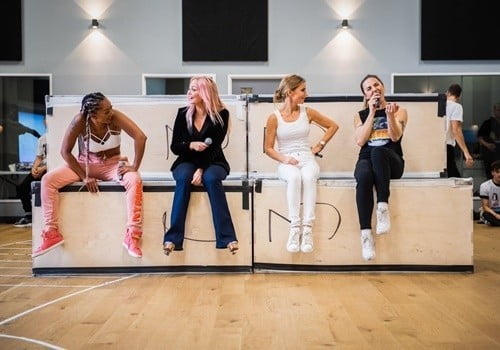 Back in June, Mel B announced that the Spice Girls would be touring in Australia in February. There is only problem. The other girls had not signed on yet.
Today, Daily Mail says that the tour is off because the band and the promoters could not come up with a deal. The paper claims that Geri Halliwell did not want to sign on because she "does not need the money."
Once again, it seems that the spice has gone out of their relationship. Knowing them, they will reunite and tour again in a few years. You know when Ginger Spice needs the money.

---
Adele fan girls over the Spice Girls!
June 16th, 2019 under Adele, Spice Girls. [ Comments:

none

]

Adele is a really really big Spice Girls fan and she got to see them live yesterday. Not only that she finally got to say "hello" to Ginger Spice. Which made her cry happy tears, unlike the tears we cry when we hear her music.
How excited was the singer about her night? She wrote, "Oiii last time I saw the Spice Girls at Wembley was 21 years ago! Tonight with my nearest and dearest i cried, laughed, screamed, danced, reminisced and fell back in love with my 10 year old self. It's no secret how much I love them, how much they inspired me to run for my life and never look back. I finally got to meet Ginger, I got drunk with the girls and quite frankly I can't believe how far I've come 😂 thank you for the madness I get to live, I couldn't have got here without you 5 BRITISH legends! I love you! ❤️"
Personally, I will never understand why they never asked Adele to replace Posh Spice on tour. She would have been great as Naughty Spice.
To see how Adele would look as the 5th Spice Girls' member, than click here!

---
Scary Spice talks about her scary eye incident
May 21st, 2019 under Spice Girls. [ Comments:

none

]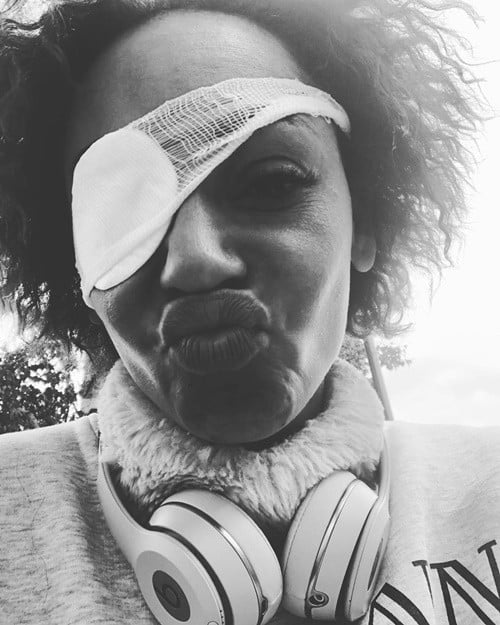 Over the weekend, there were rumors that Mel B went blind in her left eye. Today, she revealed what really happened.
Thank you so much for all the lovely support and messages I've had about my eye. Just so you know the real truth. I had an awful experience last week when I went blind in my right eye and my left eye went blurry. Even though the stupid press said I'm ok and this has happened to me many times before, just to be clear I was NOT ok and this has NEVER EVER happened to me before,so who every is selling this story "a close reliable source" is full of BS and needs to get there silly facts right big time,I was actually in a lot of pain and very very scared but thanks to the incredible eye specialists in A&E at London's Moorfields Hospital and after at Luton and Dunstable University Hospital I was diagnosed by and eye specialist with severe IRITIS in my right eye and UVEITIS in my left eye.I'm taking multiple prescription heavy duty eye drops and other medication the dr gave me that I have to take every day to keep the inflammation under control,Also I'm being so well looked after by Team Spice special thanks to our paramedics too!!im still dealing with it and will be fir the next 3/4 months to fully get it under control but I'm no longer worried that my condition will get worse. My only problem now is I have to find a very cool Scary eye patch. Does anyone – apart from Madonna – know where I can get one ?? #eyepatch Pls #takingcareofme thank you #nhs 🇬🇧
This is the second time she has needed medical assistance since the Spice Girls announced their tour. Back in December, she broke two ribs and a severed hand from a fall. Hopefully, she will make it through the tour, that starts on Friday, without having to rush to the doctor again.

---
Four becomes one Spice Girls
April 25th, 2019 under Spice Girls. [ Comments:

none

]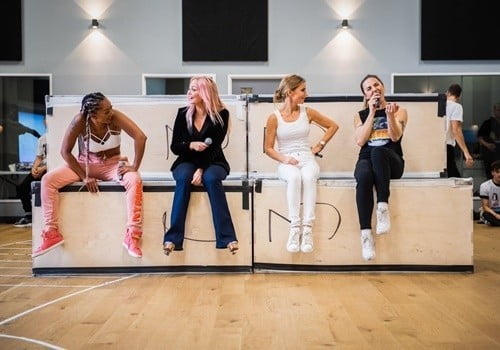 After weeks of rehearsals for the Spice Girls reunion tour, the four remaining members are together again.
When Scary Spice was missing from rehearsals, everyone assumed that Ginger Spice was mad at her for telling the world that they had a one night stand. Baby Spice then cleared up that the reason why Mel B was not there, is that she was rehearsing in the States would be joining them shortly.
Yesterday, Melanie Brown, Melanie Chisholm, Emma Bunton and Geri Halliwell were all together again looking like the best friends that they have been all along and don't really want any tension between them. Do you think this will put the rumors to rest? I doubt it because it just makes the tour that more exciting.

---
Baby Spice reveals which 4 Spice Girls Robbie Williams got it on with!
April 16th, 2019 under John Barrowman, Spice Girls, This Morning. [ Comments:

none

]

Emma Bunton was on This Morning today to talk about her new album My Happy Place. However, you cannot have Baby Spice on and not talk about the Spice Girls upcoming reunion tour. That is all we really really want to know.
Bunton told the hosts that she recorded a duet with Robbie Williams called Two Becomes One. At that point, John Barrowman wanted to know if it is true that Williams had relations with 4 out of the 5 Spice Girls. Without hesitation, she said that was a lie and told him to stop staying it with a chuckle. Williams told her it was a joke that when too far and he even had to apologize to his wife for saying it. Someone was in the dog house for a while
Talking about jokes that went too far, is it true that Mel B was not at rehearsal with the other 3 remaining Spice Girls yesterday? Bunton confirmed that she was not there. Is it because she claimed that she had a one night stand with Ginger Spice and that is causing tension between them? Nope, sorry to burst that tantalizing bubble. Scary Spice did rehearse with them, she is just doing it in LA and not London. She will be flying across the pond in a few weeks to join her bandmates.
As we know there is one bandmate missing from the reunion, how will they handle being Poshless? Bunton says they are all swapping out her lines. They don't know who will sing what just yet, they are waiting to find out in rehearsal how it feels naturally.
One last thing, they will be playing the oldie but goodies, so the fans will not be disappointed.

---