BWTF: Hilary Farr in Rocky Horror Picture Show
August 12th, 2019 under Before They Were Famous, HGTV. [ Comments:

none

]

Before Hilary Farr was trying to get couples to fall in love with their homes again on Love It or List It, she was in love with the man she just married in Rocky Horror Picture Show. Can you believe that the 23-year-old bride back in 1975 is the same woman we know from HGTV? Seeing is believing and I still don't believe it.
xoxo Doron!
---
Here's a story of when A Very Brady Renovation will debut
July 29th, 2019 under HGTV, The Brady Bunch. [ Comments:

none

]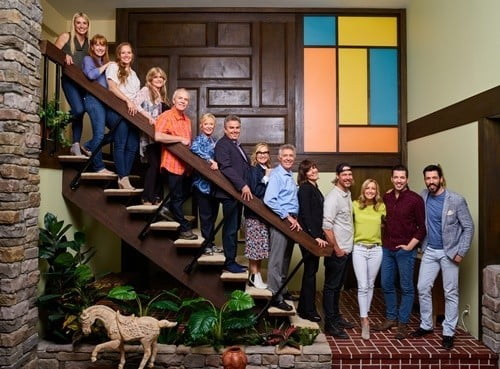 On Septmeber 26th, The Brady Bunch turns the big 5-0! However, we are getting a gift 17 days earlier! That is because after a year of hearing about A Very Brady Renovation, the show finally gets a premiere date.
HGTV announced today that will see how the inside of the Brady house was renovated to match the outside starting on September 9th. 9/9 is an easy date to remember, so don't forget it.
You are not going to want to miss this series. Out of all of the renovations they have done throughout the decades, this is their best one yet. Because when it's time to change, you've got to rearrange an iconic house that finally became available to own. I hope they use that song as their theme song because it seems so relevant to the theme.
When it comes to series, on the 90-minute season premiere, the six Brady children and the designers give us a tour of the house that looks nothing like the one we grew up with. Then when they are done, it is time to take a hammer to it. As the weeks go on, we will see "Christopher Knight and Eve Plumb recreate the orange and green kitchen and family room with Leanne and Steve Ford; Mike Lookinland and Susan Olsen join forces with Mina Starsiak Hawk and Karen E Laine to overhaul the kids' bedrooms and the Jack-and-Jill bathroom as well as the backyard; Barry Williams and Jasmine take on Mike's den; Barry, Jasmine Roth and Lara Spencer makeover Greg's attic; and Eve and Lara recreate Alice's bedroom."
I cannot wait to see what they did. They are being so secretive about it, they have a covered fence around the house so we cannot see in. I know this because I keep driving by to look inside and I can't. Meanies. Don't they know it is about the fans who love seeing the house? Or me!
---
Want to spend 6 nights at The Brady Bunch house?
July 15th, 2019 under HGTV, The Brady Bunch. [ Comments:

none

]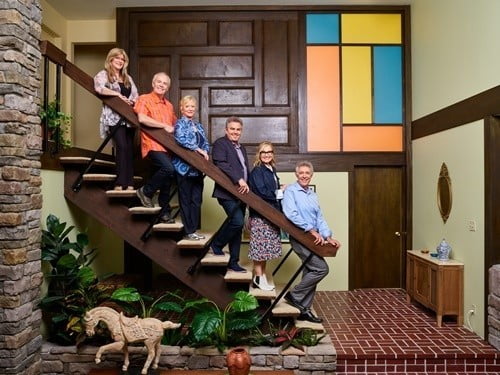 HGTV just spent the last year renovating the inside of the house whose exterior was used on The Brady Bunch. For the last 49 years, the inside did not match the outside. Now thanks to them it does. Beginning in September, we will see how they did that on A Very Brady Renovation.
While it is nice to see the final product on TV, what about in person? HGTV is not only giving one person that chance, but they are also letting them stay there for 6 nights with six of their loved ones. Not only that, they will fly you out here, give you a tour of LA and $25,000 shopping money.
What do you have to do to win? From now until September 11th, you need to make the most creative :30-:90-second video that tells us why they deserve to win the groovy prize. HGTV will pick the best 9 videos and we get to vote for who is the Bradiest one of them all between September 30th to October 11th. One winner will be selected and the other 8 will get a $500.
If you win, then can I be one of your 6 friends? My friend asked me why I always drive by The Brady Bunch house. It is because when I was a kid, I was a Cindy who wanted to be Marsha. When I got braces, I was like if Marsha Marsha Marsha could survive with them, then I could too. The Bradys were the family we all wanted to be part of when we were growing up. Until we learned that the Partridges were having way more fun. I know I am not the only feels that way.
---
The Brady Bunch house's inside matches the outside
May 24th, 2019 under HGTV, The Brady Bunch. [ Comments:

none

]

The first time I came to LA, my friend Juan drove me to the Brady Bunch in Studio City. It truly brought a tear to my eye. The only thing is that the then current owner put a cement fence on the lawn so we could not look inside. That former owner owned the house since the show was on the air, and it felt like she would never sell. Sadly, she passed away and her kids decided to sell it.
There was a bidding war for the house and eventually, HGTV bought it last year for $3.5 million. Then seven months ago they invited Susan Olsen, Mike Lookinland, Eve Plumb, Christopher Knight, Maureen McCormack and Barry Williams to look at the old house before they renovated it to look like the one knew. Finally, the wait was over and yesterday was the day where they would get to see the final product.
Good Morning America's Lara Spencer and the Brady Bunch kids went inside and Marcia, Marcia, Marcia was brought to tears. The house we grew up with and they lived in looked exactly how we all remembered. It is like time stood still for 50 years.
And now I have another tear in my eye. Since Juan and I live a mile from the house, I am going to call him to go see the restored house we know. I wonder who will cry first and the longest. I think it will be a tie.
A Very Brady Renovation begins airing this September on HGTV. Just in time for the show's 50th anniversary.
---
The youngest Brady Bunch kids paint their home!
March 18th, 2019 under HGTV, The Brady Bunch. [ Comments:

none

]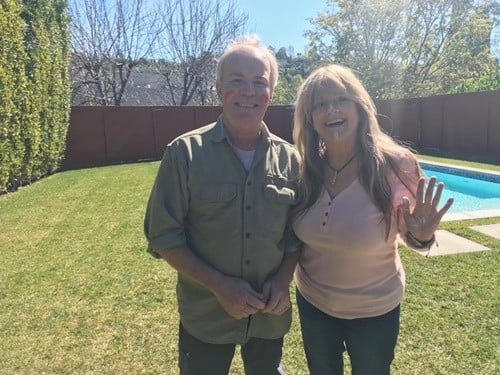 Last year, HGTV bought the exterior of the Brady Bunch house in Studio City, so that they can convert the inside to look like the one we know and love. They asked the network's biggest stars like the Property Brothers to help them out. Although, they can only do so much.
They need 12 more hands to finish the job. Thus, they also need the hands of Cindy, Bobby, Jan, Peter, Marcia and Greg to get dirty too in their old home. On Friday, not only did Susan Olsen and Mike Lookinland get their paws all messed up, their faces were also covered with paint and not as in makeup.
Proving that even though they are nearing 60, they are still the kids we fell in love with from the beloved sitcom.
Which makes me even more excited for A Very Brady Renovation that debut in September. The same much the classic show turns the big 5-0!
---