Kevin Hart is afraid of a butterfly
November 22nd, 2019 under Kevin Hart, The Rock. [ Comments:

none

]

The Rock and Kevin Hart are in Mexico promoting their movie Jumanji. The studio opted to do the junket outside and not in a hotel room. That means they have to deal with all the elements that come with nature like bugs.
Well, Hart is afraid of bugs including butterflies. Thus, when a pretty yellow one kept flying by him, he screamed like a little girl and tried to run away from it. Later on, a grasshopper decided to say hi. As soon as Hart saw it, he could not stop focusing on it. DJ being the kind man that he is, picked it up to show it to his friend. For some reason, Hart did not want to see it.
If I were DJ, then for Jumanji 3, I would force his BFF to have to film a scene with real bugs. A room full. Think Joe's Apartment amount of bugs, but without the CGI!
Although, it probably won't happen because here is what Hart wrote about this video, "I don't f*ck with bugs man….for the life of me I can't figure out why they love to f*ck with me…they pick on me constantly. Leave me alone bugs. Enough is enough damn it 🤦🏾‍♂️🖕🏾" Anyone else siding with the bugs over the actor beside me?
---
Kevin Hart went as a teenage The Rock for Halloween
October 30th, 2019 under Kevin Hart, The Rock. [ Comments:

none

]

Tomorrow is Halloween! However, we know today what Kevin Hart is going as today. He dressed up as The Rock when he was a teenager and wore a fanny pack. You know what, he looks like a mini version of DJ. Thus, it makes sense that all he got was a bite-size candy bar.
Not only is this video a treat, but it will also be one when we watch the king-sized trailer for Jumanji: The Next Level on Halloween. Am I the only one who can't wait to see the sequel?
UPDATE: To see the trailer, then click here!
---
Kevin Hart no longer takes life for granted
October 30th, 2019 under Kevin Hart. [ Comments:

none

]

It has been almost two months since Kevin Hart was in a very serious car crash and he is not the same man he was before it happened.
On September 1, he and two friends were driving in his classic car, when the driver suddenly lost control of the car and they crashed. Hart broke his back in three places and has been radio silent since then.
Yesterday, he broke his silence along ith showing video of his recovery and said, "After my accident, I see things differently. I see life from a whole new perspective and my appreciation for life is through the roof." He now knows that tomorrow is not guaranteed.
The actor also feels this is Gd's way of telling him to slow down and that is what he is doing now. He is spending time with the people who have stuck by him like friends and family. Then come the New Year, he will do the same with his fans.
2019 was a crappy year for Hart between the accident and deciding to turn down the Oscars hosting gig after controversial comments he made about not approving if his son was gay came back into the limelight. Since this year has been life-changing for him, I am sure we will see how it has changed him come 2020.
---
Kevin Hart is finally home after his car accident
September 20th, 2019 under Kevin Hart. [ Comments:

none

]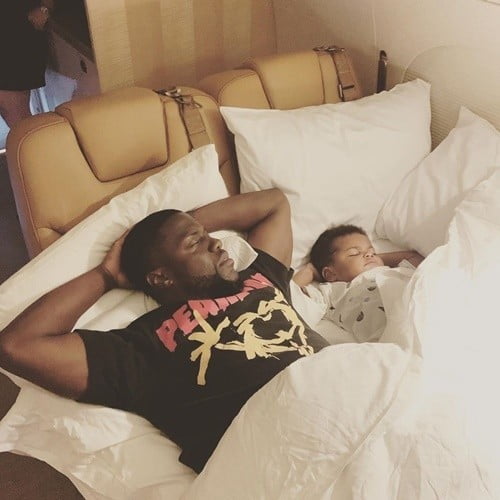 Tomorrow, it will be three weeks since Kevin Hart was in the car accident that left his back broken in three different places. After 10 days in the hospital, he was transferred to a physical rehab facility. Yesterday, he finally arrived home where he will be getting even more rehabilitation to get him back to where he was before that accident.
Now that he is in his own bed, a source told TMZ, "He really cherishes the fact that he's alive, and wants to make the most of it in every respect. The crash had a huge impact on him." He knows that he is lucky to be alive after seeing photos from the accident.
The site also reports that since he is in such good shape because of his exercise routine, he is expected to be back to how he was before that fateful night. It is just going to take time and patience. A lot of time and patience.
---
BTWF: Kevin Hart on Tough Crowd with Kevin Hart
September 12th, 2019 under Before They Were Famous, Kevin Hart. [ Comments:

none

]

Before Kevin Hart was using his words to fight with The Rock, he was fighting Colin Quinn with his hands on Tough Crowd on Colin Quinn. He looks the same now as he did when he was 24 in that 2004 episode.
---