Watch David Dobrik scare Kevin Hart with a snake
March 27th, 2020 under Kevin Hart. [ Comments:

none

]

Kevin Hart is afraid of all creatures even butterlies. Therefore, how will he react when David Dobrik scares him with an albino boa constrictor or python? Exactly as you would think.
Dobrik had him play, What the Sniff, inside a Tesla truck. The game was simple; they blindfolded Hart and made him smell things in a tissue box to guess what they were. After the second item, they had a surprise for him, the snake. What did the actor do? He found the handle and jumped out of the car faster than you can say snake. Before he got out, he said, "💩" and then he most likely did it!
When it comes to finding the handle, he is so right. It is not easy to find one in a Tesla, so he got lucky he found it so quickly. Actually, I think everyone else, including the reptile, was lucky. Could you imagine if Dobrik had locked Hart's door and he couldn't get out? Actually, I am, and I can't stop mischievously laughing.
---
Proof Kevin Hart's back is better
March 24th, 2020 under Kevin Hart. [ Comments:

none

]

2019 was a crappy year for Kevin Hart, but 2020 is turning out to be a better one for him. The actor revealed today that he and his wife, Eniko Parrish, are expecting their second child together and his fourth.

Back in September, Hart was in a near-fatal car accident that left him with his back in broken in three places. After months of rehab, he was able to regain his strength again. Once he was able to walk, he was able to have sex. Once he had sex, he went from a party of five to one of six.

Hart's three other children are Heaven, 15, and Hendrix, 12, with his first wife, Torrei, and Kenzo, 2, with his current one.
---
Kevin Hart looks like the Grim Reaper of Love
February 15th, 2020 under Kevin Hart. [ Comments:

none

]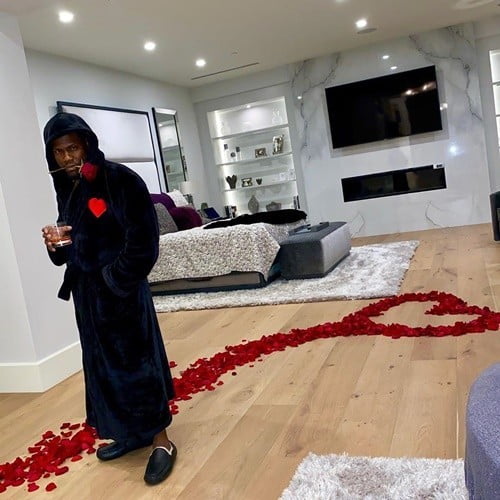 Kevin Hart shared a photo of himself wearing a black robe with a hood, and the actor think he looks all romantic. I think he looks like the Grim Reaper who traded in his scythe for a rose.
If I were his wife Eniko Parrish, walked in and saw him looking that, then I would turn around, take the kids and leave. That look is more scary than sexy. Would you stay or would you do an Elvis and leave the building?
---
Kevin Hart shows off his back scar
February 5th, 2020 under Kevin Hart. [ Comments:

none

]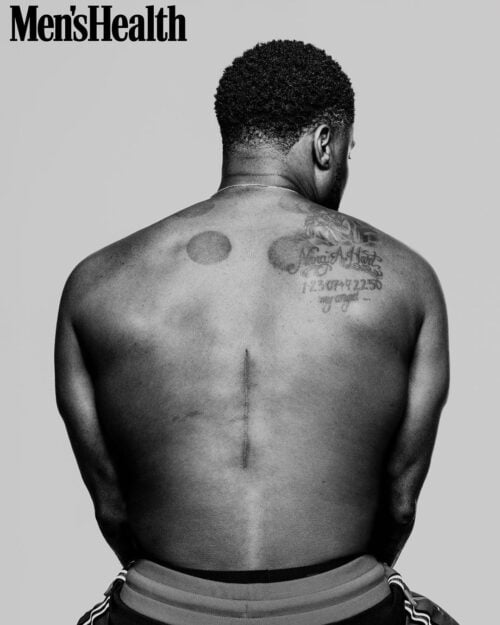 Back in September, Kevin Hart was in a horrific car crash that left his back broken in three different locations. Doctors said he was close to never being able to walk again. However, after a successful surgery, he is able to do more than walk. He opened up to Men's Health and revealed not only his huge scar but how he is a changed man.
Hart described his new perspective on life as, "It's a resurrection. That's the best way for me to put it. I feel like the other version of myself died in that moment and this new version was born to understand and to do better. Sometimes you're not going to get it when you're supposed to get it. But when it comes and that light bulb goes off, holy f*ck."
It was a slow process, and at first, he could not move in his bed, wipe his ass, or put on socks. Now, he can do all of that. However, he did not do it alone. That also changed how he feels about the people around him. He says, "It all boiled down to four walls. And in the space of those four walls was my wife and my brother, my kids and my friends, all on rotation. And I got a chance to think about what matters, and it's not fame. It's not money. It's not jewelry, cars, or watches. What matters are relationships. You know, the people that were helping me get up and out of the bed."
He is spending more time with those people. He gets home early to be with kids after school and eat meals with them. Instead of working on movies, he is watching them with the loves of his life twice a week.
Talking about movies, he also talked about the Oscars scandal. The actor spokle with Ellen DeGeneres, Wanda Sykes, and Lee Daniels about his first apology, and they explained to him what he did wrong. That is when he admitted to himself that he really "f*cked up."
He is not the man he was a year ago, and that is not a bad thing. It was just a bad thing that got him there.
---
Kevin Hart is afraid of a butterfly
November 22nd, 2019 under Kevin Hart, The Rock. [ Comments:

none

]

The Rock and Kevin Hart are in Mexico promoting their movie Jumanji. The studio opted to do the junket outside and not in a hotel room. That means they have to deal with all the elements that come with nature like bugs.
Well, Hart is afraid of bugs, including butterflies. Thus, when a pretty yellow one kept flying by him, he screamed like a little girl and tried to run away from it. Later on, a grasshopper decided to say hi. As soon as Hart saw it, he could not stop focusing on it. DJ being the kind man that he is, picked it up to show it to his friend. For some reason, Hart did not want to see it.
If I were DJ, then for Jumanji 3, I would force his BFF to have to film a scene with real bugs. A room full. Think Joe's Apartment amount of creepy crawlies, but without the CGI!
Although, it probably won't happen because here is what Hart wrote about this video, "I don't f*ck with bugs man….for the life of me I can't figure out why they love to f*ck with me…they pick on me constantly. Leave me alone bugs. Enough is enough damn it 🤦🏾‍♂️🖕🏾" Anyone else siding with the bugs over the actor beside me?
---