Contagion prepared Gwyneth Paltrow for the Coronavirus
February 26th, 2020 under Gwyneth Paltrow. [ Comments:

none

]

Back in 2011, Gwyneth Paltrow starred in a movie called Contagion, where she unintentionally spread a deadly plague around the World. That was then, and this is now.
Anyways, working on a movie about an international pandemic has prepared her for one. The actress is traveling to Paris, and she does not want to get the Coronavirus and be a carrier. Therefore, she is wearing a mask on the plane, so no one will blame her for eating a contaminated animal and wiping out most of the population, again.
BTW That mask she is wearing is on sale at goop for $75; they are called Smells Like My Bad Breath.
That is a lie, here is a true story. I once flew back and forth to NYC with bronchitis, which I did not know at the time. Well, I was coughing up a storm, and guess what the movie was playing on the back of our seats? Contagion. I swear. I did not think I was going to make it off of that airplane alive. I knew exactly who was watching the film because they were the ones giving me the looks that could kill.
Oh, and yes, I watched the movie both ways because sometimes I can be a masochist. Even though I watched it, I believe that movies like that should not be shown on planes for the safety of their passengers like me.
---
Jimmy Kimmel sniffs Gwyneth Paltrow's vagina
February 25th, 2020 under Gwyneth Paltrow, Jimmy Kimmel. [ Comments:

none

]

Gwyneth Paltrow's This Smells Like My Vagina candle is a better talking point than any movie she has made. Therefore, when she was on Jimmy Kimmel Live yesterday, he had to have a sniff of her vagina. What does he think it smells like? The ABC late night host says, "It smells a little bit masculine, really. Like it has, kind of, woody, like, I don't know." Well, you wanted to know, now you do.
Don't believe she smells more like a he. Then, you can pay $75 to get a whiff. It is finally back in stock at goop after selling out. The rumor is that Elton John bought over 100. Who knew he was so into the smell of vaginas?
---
Gwyneth Paltrow and Demi Moore go makeup free
February 20th, 2020 under Demi Moore, Gwyneth Paltrow, No makeup. [ Comments:

none

]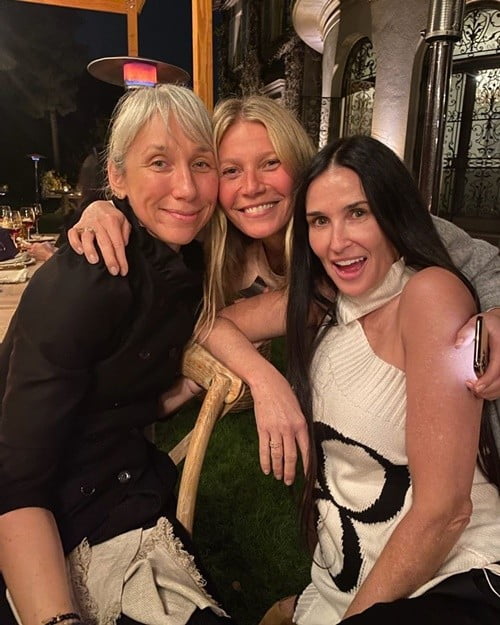 Gwyneth Paltrow threw a party, and there was one requirement from all of the guests. They were not allowed to wear any makeup. Since almost everyone there is a famous woman over 40, that is a big ask. However, they did it.
One of the attendees was Demi Moore, and the 57-year-old looks almost exactly the same. However, Paltrow, who is ten years younger, looks ten years older than her friend. Maybe she needs to use some more of the expensive GOOP stuff she sells.
On that I note, I wonder if the party was lit by using her This Candle Smells Like My Vagina candles. Who pays $75 for a candle?
To see what some of the other guests looked like, then click here!
---
Does that candle really smell like Gwyneth Paltrow's vagina?
January 23rd, 2020 under Gwyneth Paltrow, Seth Meyers. [ Comments:

none

]

Y'all have heard that Gwyneth Paltrow is selling a candle on Goop that is called This Smells Like My Vagina. Even though it costs $75, people still spent the money to find out if it does.
Since Seth Meyers can not get his hands on one, he asked her it does on Late Night yesterday. She shared with the NBC how it got its name. She was with the man who created the scent, and he lit it up for her to sniff. Her reaction, as soon as she got a whiff of it, was, "I smell this beautiful thing, and I was like this smells like my vagina." However, she was just joking. It does not smell like her vagina.
What does she think her vagina smells like? According to the website, it smells like, "geranium, citrusy bergamot, and cedar absolutes juxtaposed with Damask rose and ambrette seed." Thus, she thinks her vajayjay smells like roses. Would you think otherwise?
Why did they go with that name? The actress feels that "I think woman, a lot of us, have grown up feeling certain degrees of shame around our body or whatever. So this is just a little bit of a, you know, subversive candle for all of us out there." That, and the name is "punk rock."
Now I wonder if all of those people, who bought it, are thinking of returning it. Could it be considered to be false advertising?
---
What does Martha Stewart think of Gwyneth Paltrow's candle?
January 17th, 2020 under Andy Cohen, Gwyneth Paltrow, Martha Stewart. [ Comments:

4

]

Martha Stewart is reportedly not really a fan of GOOP, which is why a caller on Watch What Happens Live yesterday wanted to know what the Domestic Goddess thinks of Gwyneth Paltrow's candle that smells like her vagina for $75.
Stewart, once she understood what it was, said, "She does that irritating read…She is trying to zhoosh up the public to listen to her." Then she said, "That is great. Let her do her thing." Which is the North Easterner's classy way of saying, "Bless her heart."
Would she buy it? Of course, not. Then Andy Cohen wanted to know, who she thinks is purchasing it? The mogul told him, "I think it is a lot of guys who are horny." Personally, I think it is a lot of horny women. Who do you think is ordering it?
---