Helen Mirren did The Tonight Show from a bubble bath
June 18th, 2021 under Helen Mirren, Jimmy Fallon, Taking a bath. [ Comments: none ]
Now that celebrities are doing interviews from their homes, some have come up with creative ways to make it more exciting. Helen Mirren topped them all. The Oscar winner did it from her bathtub wearing only bubbles.
However, there was just one problem. she told Jimmy Fallon on The Tonight Show at the start of the interview, "I'm running out of bubbles."
To see if she still had some by the end of their chat, then click here!

---
Did Dame Helen Mirren diss Netflix?
March 19th, 2019 under Helen Mirren, Netflix. [ Comments: 1 ]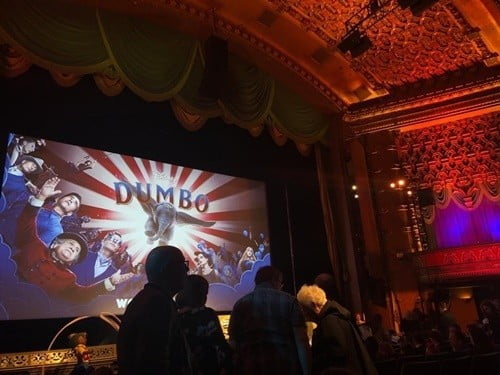 Dame Helen Mirren has a new movie in theaters this week and that is exactly where she saw Dumbo. Before the lights went down and the curtain went up, she said, "Netflix is great don't get me wrong but there is nothing like being in a beautiful theater waiting for the movie to begin with an audience, popcorn at the ready."
Can anyone argue with her? There are some movies that play better in a theater than at home. They need that experience with the powerful sound system that brings the sounds alive and an audience to laugh or cry with you. Personally, I prefer older movie theaters to newer ones. I love how dark they get and uncomfortable the seats are. They let you know that you are not at home, but in a place where movies are meant to be enjoyed.
I just wish they were cheaper. Who can afford to go to the movies these days? Which is why we see more of them on Netflix than in theaters.

---
Jason Momoa doesn't need a shirt!
February 25th, 2019 under Helen Mirren, Jason Momoa. [ Comments: none ]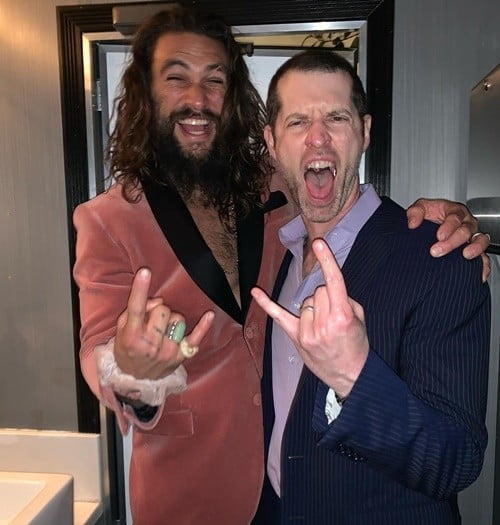 Jason Momoa wore a shirt at the Oscars, but as soon as it was over he took it off. His pink velvet tux looks even better without that distracting white cotton button down. Then again, he would look even better without the suit, but rules are rules.
On that note, everyone thought he matched his Fendi scrunchie to his custom made tux by the late Karl Langerfield, but that was not the case. Aquaman wrote, "Love to send my deepest aloha to @karllagerfeld RIP @silviaventurinifendi @jeanneyangstyle for taking my pink velvet scrunchie and turning it into a suit. Unko KARL your a legend. Mahalo for my first suit." What a first suit to own!
I wish I could have turned someone of my old Scrunchies into dresses. I used to try to match them to my clothes but it never truly worked.
What did work, was Momoa's chemistry with his fellow presenter Helen Mirren. The actor shared a photo from their rehearsal and it is even better than what we saw during the actual show. To see it, then click here!

---
Do you prefer Helen Mirren before or after
February 25th, 2019 under Helen Mirren. [ Comments: none ]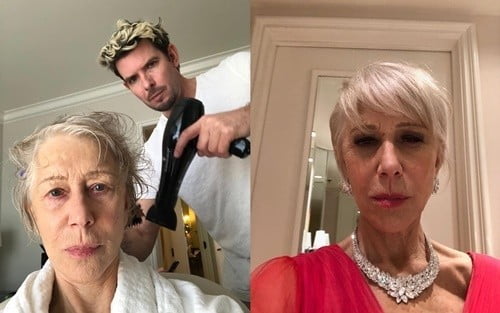 Helen Mirren might be 73 years old, and she is not afraid to show her age. Even though she looks no where near it.
While most actresses will not show what they look like before hair and makeup does their magic, she has no problem doing that. The Oscar winner shared a photo of her bare face as her team started working on her, and I don't think she ever looked prettier. She is a true beauty naturally and that is why we love her so much. That and her wicked sense of humor.
To see her gorgeous floor-length pink and orange Schiaparelli Haute Couture gown, then click here!

---
Does Helen Mirren look better with or without makeup?
March 8th, 2018 under Helen Mirren, No makeup. [ Comments: none ]

On Sunday night, Helen Mirren transformed for the Oscars and shared her before and after photos on Instagram. The 71-year-old showed her bare face and messed up hair, to let us know she is like all of us before the makeup artists do their magic. Then when we they were done, she looked like the actress we know so well.

But I think she looks the same before and after. The big difference is that she not wearing a smile. As we all know, that makes a difference for everyone. Even for Oscar winning actresses that we all love.

What do you think?

---