Jason Momoa dumped his beard
April 18th, 2019 under Jason Momoa. [ Comments:

none

]

Jason Momoa and his beard broke up. Not him and Lisa Bonet but him and his facial hair. Why did Aquaman go smooth? He wanted to get the word out there that aluminum cans are the future and plastic water bottles are the past. Airlines are you listening?
When it comes to how he looks without his beard? He looks hot either way. I think we can all agree, we will take him any way we can get him.
---
When are we going to get a Shazam and Aquaman buddy movie?
March 28th, 2019 under DC Comics, Jason Momoa, Zachary Levi. [ Comments:

none

]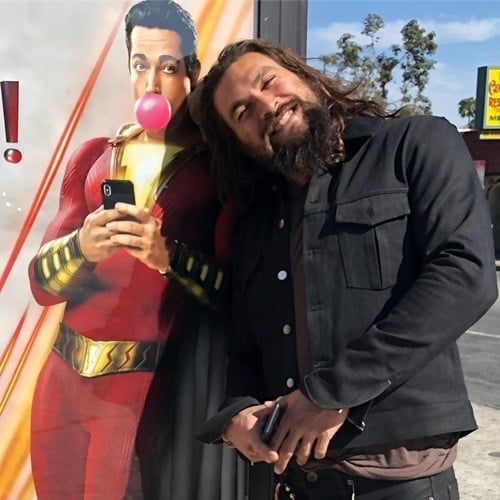 Jason Momoa was walking around town when he saw a poster for Shazam. He is so proud of his friends', Peter Safran and Zachary Levi, work that he had to pose with it. Then he wanted to remind you to go see the movie on April 5th, just like you saw his film Aquaman.
Which makes you wonder when are they going to do a feature together. I want to see the lighter side of DC Universe working together instead of the darker versions. Who is with me?
BTW how awwwwwdorable is Momoa when he smiles big like that?
---
Jason Momoa doesn't need a shirt!
February 25th, 2019 under Helen Mirren, Jason Momoa. [ Comments:

none

]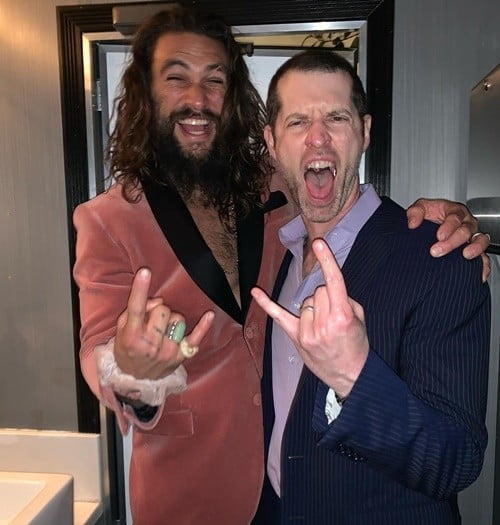 Jason Momoa wore a shirt at the Oscars, but as soon as it was over he took it off. His pink velvet tux looks even better without that distracting white cotton button down. Then again, he would look even better without the suit, but rules are rules.
On that note, everyone thought he matched his Fendi scrunchie to his custom made tux by the late Karl Langerfield, but that was not the case. Aquaman wrote, "Love to send my deepest aloha to @karllagerfeld RIP @silviaventurinifendi @jeanneyangstyle for taking my pink velvet scrunchie and turning it into a suit. Unko KARL your a legend. Mahalo for my first suit." What a first suit to own!
I wish I could have turned someone of my old Scrunchies into dresses. I used to try to match them to my clothes but it never truly worked.
What did work, was Momoa's chemistry with his fellow presenter Helen Mirren. The actor shared a photo from their rehearsal and it is even better than what we saw during the actual show. To see it, then click here!
---
Jimmy Fallon and Jason Momoa castrate a Aquaman
December 7th, 2018 under DC Comics, Jason Momoa, Jimmy Fallon. [ Comments:

none

]

Jimmy Fallon challenged Jason Momoa to a trident throwing contest on The Tonight Show
yesterday and the game took an unexpected turn. The two men basically played darts with an Aquaman as a dart board and tridents for darts.
While they got as many tridents to stick to the board as they didn't. The three that did stick, all landed on the guy's crotch. Which makes you wonder what they have against the jewels of the sea. Especially, since they both are men. You would think they would avoid that area like the plague.
---
Lisa Bonet and her babies' daddies
February 26th, 2010 under 80s, Jason Momoa, Lenny Kravitz. [ Comments:

none

]

WireImage
For some reason Lisa Bonet was at the Entertainment Weekly Celebrates the Best Director Oscar Nominees event with her boyfriend Jason Momoa, her daughter Zoe Kravitz and Zoe's daddy Lenny Kravitz. Why they were all there is beyond me? But I am assuming it has something to do with Zoe because why else would Lisa and her ex-husband Lenny be posing in pictures together like that? At least it looks like their divorce is amicable.
---