Joe Jonas takes a bath
June 26th, 2019 under Jonas Brothers, Taking a bath. [ Comments:

none

]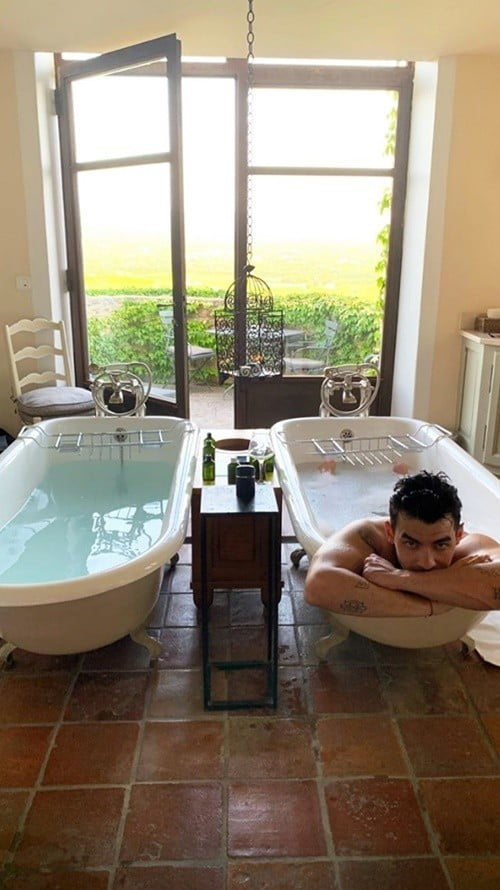 via Us Weekly
Joe Jonas is days away from his second wedding to his first wife and I guess he wants to clean up his act. Sophie Turner photographed her husband taking a bubble bath while looking lovingly as her. While we are looking at him the same way.
I wonder if the newlyweds took his & her baths. Imagine sitting in the warm water, holding hands with the love of your life and looking at that view. That is a baby making setting if I ever saw one. Well, at least practicing making a baby.

---
Sarah Hyland shows off her Olay skin!
May 28th, 2019 under Sarah Hyland, Taking a bath. [ Comments:

none

]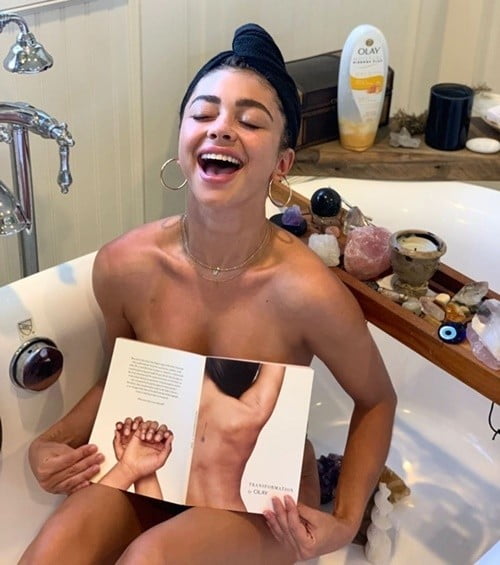 Sarah Hyland took the Olay Two Week Ribbons Body Wash Challenge and her skin changed drastically for the better. Her transformation was documented in a waterproof book, and she got a copy of it in the mail today. What did she do after she opened the package? The actress took a bath with the body wash and showed off her glowing skin. Forget Calgon, let Olay take me away!
Hyland talked about how the challenge changed more than her epidermis. She said, "This bath book captures my #SkinTransformed story and how amazing my skin looked after the #OlayBodyWashChallenge. It will be my daily reminder to pause and take time for myself even though I'm done with the challenge. The book celebrates owning skin transformation, not feeling guilty about fitting time in for yourself and also indulging in a one-of-a-kind bath with @Olay Ribbons."
How many of you are off to the store to try the challenge now?

---
Splish Splash, Halle Berry is taking a bath!
April 23rd, 2019 under Halle Berry, Taking a bath. [ Comments:

none

]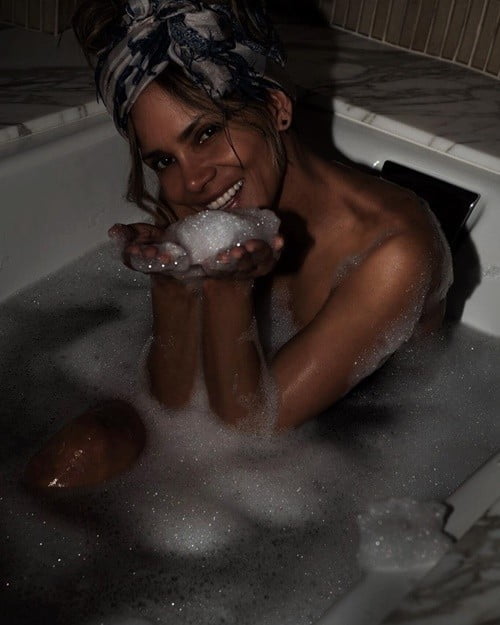 Halle Berry had a really tough day and all she wanted to do was take a nice relaxing bubble bath. So she did. Not only that, she had someone take a photo of it.
Therefore, for all you boys who have had an easy day, I think you are about to have a hard one. Berry might be 52, but her milkshake can still bring all the boys to the yard.

---
Suzanne Somers is one with nature during this bath
April 12th, 2019 under Taking a bath. [ Comments:

none

]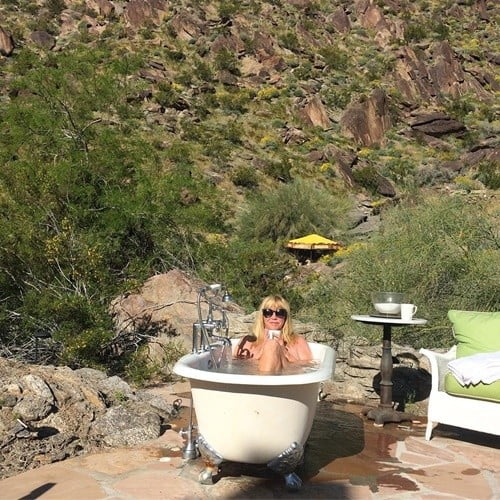 There used to be these commercials where women in stressful situations would ask for Calgon to take them away. They would take their baths with the bubble bath and be transported to calming places like a desert in Palm Springs.
Suzanne Somers might not have Calgon, but she has a real bathtub in her Palm Springs backyard. Which is a million times better than some cheap soap. That is unless a helicopter is flying over observing you.
Something I am sure the people in that chopper would not mind seeing because she looks good for 72 years young.

---
Rachel Bloom puts the crazy in Crazy Ex Girlfriend
January 10th, 2019 under Crazy Ex-Girlfriend, Taking a bath. [ Comments:

none

]

Almost every room in your house can become an office, but the one room that should not be is the bathroom. Don't tell that to Rachel Bloom because she turned her bubble bath into a workspace.

While it makes working more relaxing, she better hope she does not drop her laptop into the bathtub. If she does, then all of her writing will be gone and it will not be coming back. And can she get electrocuted?

Since she is most likely working on the series finale of Crazy Ex Girlfriend, she better not mess it up. Which also makes me wonder if she took her job into the bath because the network told her to clean up the script? Which I hope they didn't because I like it dirty!

---