Bella Thorne taking a bubble bath
December 23rd, 2021 under Bella Thorne, Taking a bath. [ Comments: none ]
It is cold all over the country, so men need something to warm them up. Therefore, Bella Thorne has given them that thing. It is a photo of her taking a bubble bath.
Since I am a girl, I want to know how she was able to get the bubbles to stay up like that. And the boys want to know how to get them to pop. And that is why we are the opposite sex.

---
Is Gwyneth Paltrow really 49?
September 28th, 2021 under Are they really their age?, Gwyneth Paltrow, Taking a bath. [ Comments: none ]
Yesterday was Gwyneth Paltrow's 49th birthday. So she celebrated it by sharing a photo of herself in her birthday suit in a bathtub.
Do you think she looks like someone who is a year away from turning 50? I would ask what her secret is, but we all know it is the latest trend on GOOP.

---
Ashley Tisdale taking a bath
August 13th, 2021 under Ashley Tisdale, Taking a bath. [ Comments: none ]
Ashley Tisdale is a new mom, and because of that, she is more comfortable with showing off her nude body. Here she is taking a bath to let people know something that has changed about her since she had Jupiter Iris French almost 5 months ago.
"Don't forget to detoxify your hair! We all know how to cleanse, exfoliate our bodies but it's just as important to scrub your scalp of all the buildup from products," she wrote. "Postpartum hair has left me with dry strands so I'm being extra loving and using a sugar scalp scrub before deep conditioning. What's your favorite scalp scrub?👇#FrensheFactFriday"
The women are reading this, thinking I have to buy a scalp scrub, and the boys are still looking at the photo.

---
Guess who is taking a bath?
July 8th, 2021 under Guess who?, Taking a bath. [ Comments: none ]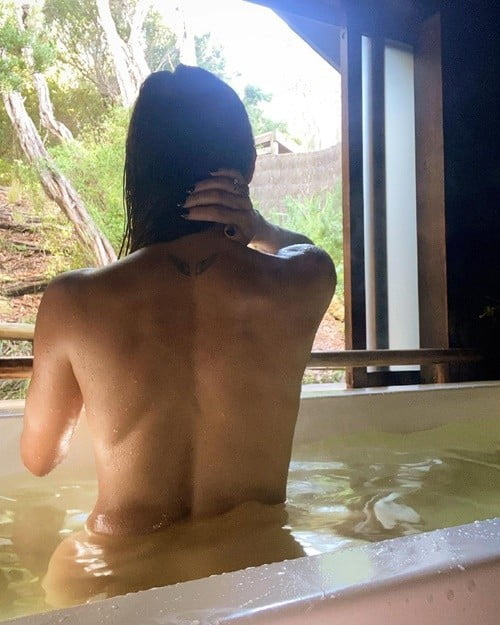 Want to see who looks like she should be a member of The Playboy Club, then click here!

---
The many faces of Scott Wolf in a bathtub
June 28th, 2021 under Scott Wolf, Taking a bath, The Many Faces of. [ Comments: none ]
It was hot outside, so Scott Wolf took a cold bath to cool off. Since he was in there for so long, he decided to have some fun by taking some selfies.
While the actor's face might not change, his expressions do. Seriously, he never ages. He looks just like he did when he was on Saved By the Bell in the early '90s.

---