Splish Splash, Halle Berry is taking a bath!
April 23rd, 2019 under Halle Berry, Taking a bath. [ Comments:

none

]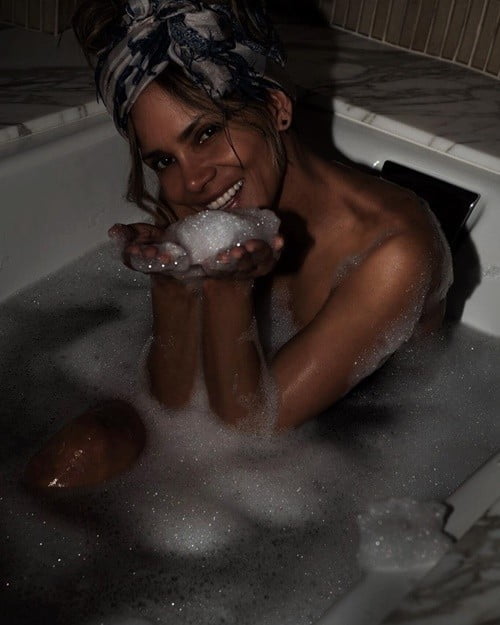 Halle Berry had a really tough day and all she wanted to do was take a nice relaxing bubble bath. So she did. Not only that, she had someone take a photo of it.
Therefore, for all you boys who have had an easy day, I think you are about to have a hard one. Berry might be 52, but her milkshake can still bring all the boys to the yard.
---
Suzanne Somers is one with nature during this bath
April 12th, 2019 under Taking a bath. [ Comments:

none

]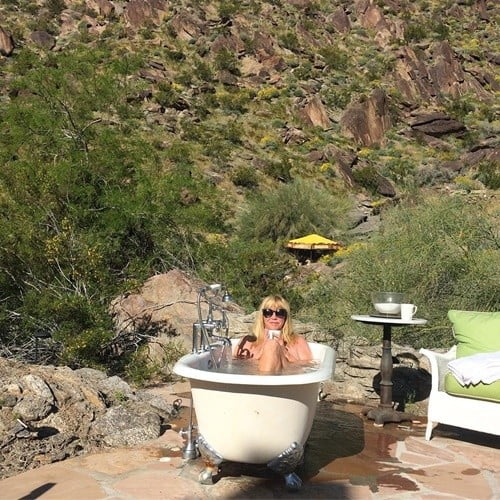 There used to be these commercials where women in stressful situations would ask for Calgon to take them away. They would take their baths with the bubble bath and be transported to calming places like a desert in Palm Springs.
Suzanne Somers might not have Calgon, but she has a real bathtub in her Palm Springs backyard. Which is a million times better than some cheap soap. That is unless a helicopter is flying over observing you.
Something I am sure the people in that chopper would not mind seeing because she looks good for 72 years young.
---
Rachel Bloom puts the crazy in Crazy Ex Girlfriend
January 10th, 2019 under Crazy Ex-Girlfriend, Taking a bath. [ Comments:

none

]

Almost every room in your house can become an office, but the one room that should not be is the bathroom. Don't tell that to Rachel Bloom because she turned her bubble bath into a workspace.

While it makes working more relaxing, she better hope she does not drop her laptop into the bathtub. If she does, then all of her writing will be gone and it will not be coming back. And can she get electrocuted?

Since she is most likely working on the series finale of Crazy Ex Girlfriend, she better not mess it up. Which also makes me wonder if she took her job into the bath because the network told her to clean up the script? Which I hope they didn't because I like it dirty!
---
What is The Real's Jeannie Mai selling here?
December 13th, 2018 under Taking a bath, The Real. [ Comments:

none

]

The Real's Jeannie Mai posted a photo of herself in a bathtub and there is a good reason for why she did so. She is selling something. Not herself, bad boys get your minds out of the gutter?

Can you guess what she is selling? Is it bubble bath? Shampoo? One of those books? White wine? An embossed glass?

If you guessed shampoo, then you win nothing. Why does she love it so much, she wrote, "Having my hair styled daily for TV has been rough on the health of my hair, so I've been looking for a shampoo that restores and builds my hair back to shiny, strong goals! Anybody use raw eggs as masks to recondition their hair back in the day Yup, that was me. Well now it doesn't have to be so literal! Egg Shampoo..all natural, protein packed to help hair growth, and smells yummy. My hair has grown 1 inch in one month! @bellaallnatural"

I guess you can say her hair went from fried to scrambled to sunny side up. That joke might not have been eggcellent, but her locks are!
---
Jennifer Finnigan can multitask in the bathtub
September 11th, 2018 under Jennifer Finnigan, Taking a bath. [ Comments:

none

]

Johnathan Silverman caught his wife taking a bath, but Jennifer Finnigan did not let Calgon take her away. As she explained, "Busted by 📸 @jonnysilverman at my work station. Yes, I learn lines AND live tweet in the bath 🤷🏼‍♀️ #busted #multitasking #bathwork 🛀."

When you are the mom of an 11-month-old girl, you take your baths whenever you can take one. When you do have the time to soak in the relaxation, that does not mean you just get to enjoy it. You also have to multitask. As she is doing here. She just was not expecting her husband to take a photo of her doing it.

I wonder how she multitasked him!
---