Jussie Smollett will not be in the last two episodes of Empire
February 22nd, 2019 under Empire, Jussie Smollett. [ Comments:

none

]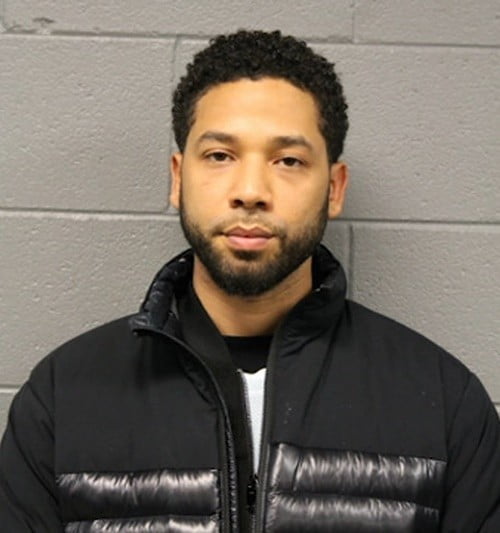 A day after Jussie Smollett turned himself in to police after being charged with falsifying a police report, Fox announced that he will not be in the last 2 episodes of Empire for season 5.
The show's executive producers Lee Daniels, Danny Strong, Brett Mahoney, Brian Grazer, Sanaa Hamri, Francie Calfo and Dennis Hammer released this statement about their decision, "The events of the past few weeks have been incredibly emotional for all of us. Jussie has been an important member of our EMPIRE family for the past five years and we care about him deeply. While these allegations are very disturbing, we are placing our trust in the legal system as the process plays out. We are also aware of the effects of this process on the cast and crew members who work on our show and to avoid further disruption on set, we have decided to remove the role of 'Jamal' from the final two episodes of the season."
Why just the last two episodes? The other 16 have already been filmed. How they will handle in his character in the 7 episodes that have not aired but have been shot, we do not know yet. With production almost wrapped, it will be very expensive to edit him out and reshoot scenes to fill time. Although, it might be a smart move on their part.
Empire will be back on Fox with new episodes on March 13th, so technically they can do it. But, it is a lot of expensive work.
Where is a broom when Cookie really needs it?
The ironic thing is that the reported motive for the attack was because he was "dissatisfied with his salary." Now, he will not be getting one at all.
---
Is Jussie Smollett being written off of Empire?
February 19th, 2019 under Empire, Jussie Smollett. [ Comments:

none

]

Right now Jussie Smollett is persona non grata, and that leaves Fox in a lurch. What do they do with his character on Empire?
Right not they are in production on the second to last episode of the season and they were expecting Jamal Lyon to be a big part of it. Not anymore according to TMZ. They say he was supposed to be in nine scenes with a musical number, but now he is down to four. Depending what happens next in his case, as in did he stage his attack, he might be completely written out. The site says his scenes are scheduled to be shot at the end of the week. That means they have a few days to make that decision if they have to.
Which means the rumor of him being written off the show was a possible motive might become true even though it was not at that time.
While it is easier to change things in the last two episodes because they have not been filmed, it will be harder to edit him of the seven episodes that have not aired and have already been filmed. If that is what they choose to do.
It will be interesting to see what they will do next if he is in fact arrested for faking what he said was a hate crime. All they can do is take it one day at a time.
---
Did Jussie Smollett pay to be attacked?
February 17th, 2019 under Empire, Jussie Smollett. [ Comments:

none

]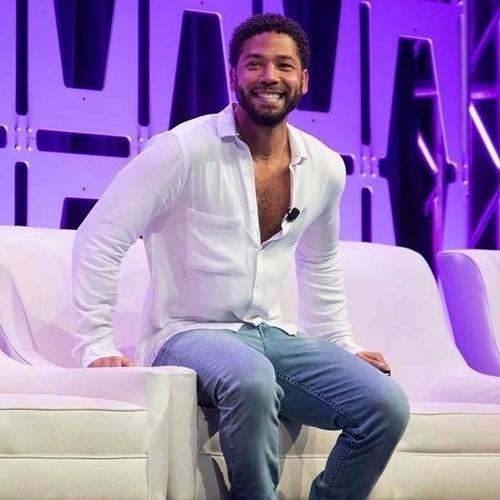 On January 29th, Jussie Smollett said he was attacked by two white men who said homophobic and racial things at him. Then on Valentine's Day, 2 African men were taken in for questioning about the attack. The very next day, they were released because of new evidence that they told the cops.
According to CBS Chicago, the brothers claim that the actor, who they know, paid them $3,500 upfront and he was going to pay them an additional $500 when they returned from Nigeria. They were taken in by the cops before he had a chance to pay them.
The station also says that they rehearsed the attack the days leading up to it, and bought the rope and a red hat at different stores in the area.
The Empire star's lawyer released this statement, "As a victim of a hate crime who has cooperated with the police investigation, Jussie Smollett is angered and devastated by recent reports that the perpetrators are individuals he is familiar with. He has now been further victimized by claims attributed to these alleged perpetrators that Jussie played a role in his own attack. Nothing is further from the truth and anyone claiming otherwise is lying.
"One of these purported suspects was Jussie's personal trainer who he hired to ready him physically for a music video. It is impossible to believe that this person could have played a role in the crime against Jussie or would falsely claim Jussie's complicity."
Meanwhile, Chicago PD's PIO Anthony Gugliemi tweeted, "Case Update: Due to new evidence as a result of today's interrogations, the individuals questioned by police in the Empire case have now been released without charging and detectives have additional investigative work to complete."
The big question is if he paid them, why did he do it? How would this help him? Some reports say he was going to be written off of Empire, but Fox denied that.
If he did orchestrate the attack, then you would think that Fox will have to kill his character off as soon as possible.
Talking about Fox, Brian Dunkleman had the best tweet on the matter. He wrote, "I should've pulled a Smollett in 2002." With everything going on we need that laugh.
---
UPDATED: Chicago PD release 2 'potential suspects' in the Jussie Smollett case
February 15th, 2019 under Empire, Jussie Smollett. [ Comments:

none

]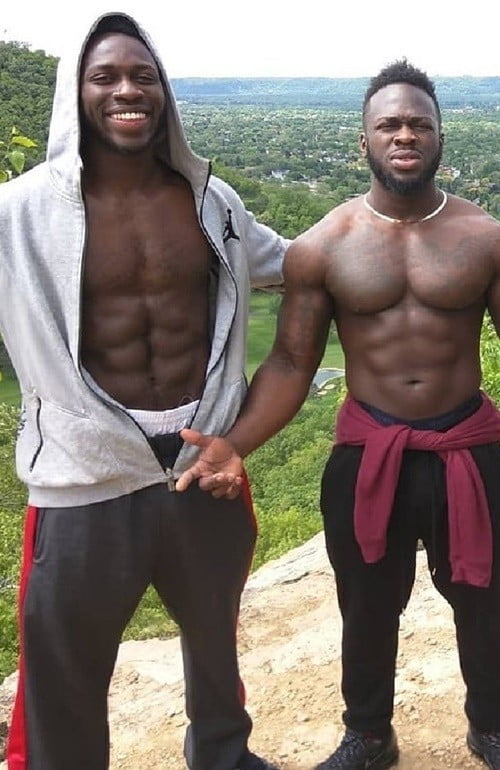 Yesterday, Chicago Police announced that they were questioning to two men who they believed were in the area during the attack on Jussie Smollett. Today, TMZ is reporting that those two men, Olabinjo and Abimbola Osundairo, were arrested as "potential suspects" of the attack on the Empire star.
While the two Nigerian brothers were in custody, police searched their home and removed several items they thought could be evidence.
Both men were extras on the set of the Fox show and have ties to the actor. At this time we do not know why they attacked him. There were reports yesterday saying the incident was staged and a hoax because Smollett was being written off of the drama, but police said that information was "unconfirmed" and they have "have no evidence to support" it. Fox denied that Smollett was being written off of the show.
UPDATE: Chicago PD PIO Anthony Gugliemi Tweeted, "Case Update: Due to new evidence as a result of today's interrogations, the individuals questioned by police in the Empire case have now been released without charging and detectives have additional investigative work to complete." No other information is available at this time.
---
Jussie Smollett opens up about the attack and the days since
February 14th, 2019 under Empire, Jussie Smollett. [ Comments:

none

]

Two weeks ago, Jussie Smollett was viciously attacked by two men who called him racial and homophobic names. Since then he has not said much about that hate crime, but today he sat down with Robin Roberts and described the attack and so much more.
He said he got home around 2a after a long flight and he was hungry. There was nothing in the fridge, so he went to Walgreens. They were closed, so he crossed the street to Subway and got something there. As he walking home, he heard someone scream, "Empire." Then the next thing he knew one of the guys punched him the face. The Empire star punched back. One guy poured a liquid substance on him while the other one kicked his back. As fast as it happened, they were gone. In fact, he did not know they put a rope around his neck until he saw it there. He says maybe the whole thing was 30 seconds, but it felt longer.
He explains that as a gay man, he was not sure what reaction there would be if he came forward. He did not want to appear weak. Eventually, he called. When they arrived they wanted to stay outside his apartment. He invited them in because he did not want his neighbors to be disturbed. That is when he told his story to them, and it has not changed according to police.
The big question is why did he not hand over his phone to the tech for a few hours. He explained, "Because I have private pictures and videos and numbers: my partner's number, my family's number, my castmate's number, my friends' numbers, my private emails, my private songs, my private voice memos."
Since the attack, he has had people support him and others call him a liar. He thinks if the attackers were anything but white, the latter would not be an issue.
On the attackers, he just wants them caught. He does not want them attacking anyone else. Plus, he feels he cannot move on with them still on the loose.
As he told that to Good Morning America, Chicago PD's PIO Anthony Guglielmi Tweeted, "Through s meticulous investigation, #ChicahoPolice detectives have identified the persons of interest in the area of the alleged attack of the Empire cast member. These individuals are not yet suspects but were in area of concern and are being questioned. Investigation continues." Then he added, "Important for media reporting: The people of interest are alleged to be in the area where a crime was reported. They are not considered suspects at this time as they are currently being questioned by detectives. We remain in communication with the alleged victim."
Hopefully, the case will be closed soon and we never hear of another story like this again. It is 2019, racism and homophobia are a thing of the past and needs to stay there.
UPDATE: TMZ says that one of the two men being questioned by police is an actor who appeared on Empire. The other man is someone who was traveling with that person of interest. We do not know if the actor was an extra, had a speaking role or anything else at this time.
What we do know is Smollett was back talking to cops today.
---