Dynasty's musical episode is wild beyond words
November 1st, 2019 under Dynasty. [ Comments:

none

]

I grew up in NYC with Broadway. Therefore anytime anyone does a musical episode, I must see it. Whether I watch the show or not. Well, I watch Dynasty and I love the primetime soap. So when The CW sent out a screener for tonight's episode at 9p, I had to watch it. I did not know it was a musical episode, so it was the surprise that kept on giving and giving. It is so magical, it will leave you speechless.
Fallon (Elizabeth Gillies) wants to win back Liam (Adam Huber) and she will do anything to get him back. Even risk getting arrested by trying to sneak into his bedroom to share something special with him. Sadly, his psycho mom will spoil her perfect plans.
Meanwhile back at Carrington manor, Adam (Sam Underwood) and Cristal (Daniella Alonso) are battling it out to run Blake's (Grant Show) vineyard and wine line. Cristal is going to throw an invite-only party and Adam is going to sabotage every way he can. Including causing a rift between the newlyweds. Will it work?
I will tell you he does something that winds up messing with Fallon and she hears people singing when they are really talking. Thus, the musical episode. The first song she hears will be Tears For Fears' Everybody Wants to Rule the World from her father and crazy brother. She will then sing Phil Collin's Against All Odds to Liam. Only to have Sam (Rafael de la Fuente) sing The Supremes' You Can't Hurry Love to Her. Finally, we get a group number to Talking Head's Burning Down the House.
After that, we find out what caused Fallon to have these delusions and someone will pay the price. Yet, we are the ones who get the rewards because this will be the trippiest hour of television this season.
Not everyone can sing, sorry, but they gave it their best effort. That makes this episode even more special than Glee. We knew those people could sing, while these actors are just having a huge blast going all out to make it the best episode possible. It truly is something to sing about. And I can't stop singing its praises and Burning Down the House.
Whether you are a fan of the show or not, you will want to check it out. It is pretty much a standalone episode, so everyone can enjoy its wackiness. Maybe the newbies will come to love it like I do and continue watching it every week. Please do, I do not want this show to ever go away.
---
Dynasty gets its third Alexis!
October 28th, 2019 under Dynasty. [ Comments:

none

]

Dynasty, my must-watch show every week, is in its third season. First, they had three Cristals on the soapy drama and now they just announced their third Alexis.
Primetime Soap Queen Nicollette Sheridan was given the iconic role. She left the role to take care of her dying her mother. She was replaced by Elizabeth Gillies, her TV daughter on the show. Now, Gilles' daddy's girlfriend from Sex & Drugs & Rock & Roll will be playing her actual mom. Makes sense? It will.
If Fallon has even half the relationship with Elaine Hendrix on Dynasty that they had on their first show, the CW show just got even sexier. And I am loving it the way it is. Although, I cannot wait for the fourth Cristal!
This is by far my favorite casting the show has done to date. Don't believe me, here is what Gilles had to say about it, "Words can't express how excited I am about our new Alexis!! Beyond thrilled to be back on set with @elaine4animals. Can't think of anyone better to fill this role. We're getting the band back together, Elaine!✨ #Dynasty" If they truly want to bring the band together, then they really need to find a way to bring Denis Leary on as a guest star. Maybe he can be Alexis' new man! Who needs Sex & Drugs & Rock & Roll with all of that?
---
Dynasty is back better than ever!
October 11th, 2019 under Dynasty, The CW. [ Comments:

none

]

Last season when Dynasty left off, they left us with several cliffhangers. Crystal and Blake (Grant Show) got married. As they were saying their I do's, Fallon (Elizabeth Gillies) interrupted their ceremony and told them she sold her publishing company to Kirby (Maddison Brown) for a $1. Kirby, in turn, was going to sell it back to her. However, Kirby said she was not going to sell it back. Then her father, Anders (Alan Dale) told Blake he was quitting to work with Sammy Jo (Rafael de la Fuente) at the hotel he just bought.
Wait, there is more. Adam (Sam Underwood) decided to do something nice for his sister and sent divers into the lake to find her engagement ring from Liam (Adam Hube) that she dropped in there. Instead, they found two bodies including Fallon's teenage friend who she might have killed when they were 16. Is there a third body in the Carrington water since Adam drugged Liam who fell into the pool?
There is one more dead person, who is not really dead and that is Jeff (Sam Adegoke). His mother, Dominique Deveraux (Michael Michele), and his sister, Monica (Wakeema Hollis) sent him to a secret location so that they can frame Adam for his murder.
That was just the last five minutes of the episode. Tonight at 9p on Thw CW, the episode takes part shortly afterward and the press is covering the crazy Carringtons. That and we get our third Cristal (Daniella Alonso). Hopefully, she will last a whole season like the other 2 because this is getting confusing.
When it comes to what else happens tonight, I am not going to tell you. There are so many surprises, you are going to have to watch it a few times to remember them all. I am on my third viewing and I saw two things I missed. Therefore, you don't want to miss this episode because it is so so so good. This what nighttime soaps are all about!
It has gotten so much better since the first season, it is one of my favorite shows on television now. If you need something enjoyable to watch, this is the show for you. It is mindless fun and we need that on Fridays!
---
Dynasty gets another new Cristal
July 30th, 2019 under Dynasty, The CW. [ Comments:

1

]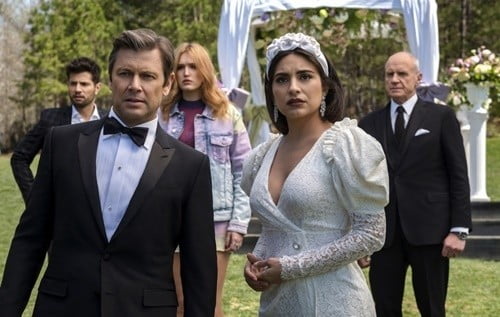 Dynasty is about to begin its third season, and they are getting their third Cristal, their second Cristal Jennings.
Confused? For season 1, Nathalie Kelley played Cristal Flores Carrington. The actress was asked not to return for season 2 and was killed off. She was replaced by Ana Brenda Contreras who starred as Cristal Jennings. She claimed her friend Cristal took her name for a new identity.
Now, Deadline is reporting that Contreras is out and Daniella Alonso is in. Showrunner Josh Reims told the trade, "Unfortunately, Ana Brenda Contreras will not be returning for the third season of Dynasty due to personal reasons. We'd like to thank her for her contributions to the show and wish her all the best. We're excited to welcome Daniella Alonso who will step into the role of Cristal."
Contreras is the second actress to leave the nighttime soap for personal reasons. Nicollette Sheridan quit the show earlier this year to be with her dying mother. Elizabeth Gillies temporarily stepped into the role to play her character's mother.
Therefore, if you do the math that is 3 Cristals and 2 Alexises. Dynasty is more of a soap opera behind the scenes than in front of the camera. Although the final minutes of the season 2 finale were pretty close to perfection.
Season 3 debuts October 11th on The CW with a new Cristal and no Alexis.
---
Want to see the new Alexis Carrington on Dynasty?
April 22nd, 2019 under Dynasty, Nicollette Sheridan, The CW. [ Comments:

1

]

Back in February, The CW announced that Nicolette Sheridan was leaving the role of Alexis Carrington to be with her dying mother. Which left us wondering how Dynasty was going to handle her absence on the show.
A few episodes ago, her son with Blake, who was kidnapped when he was a toddler, finally came back home and you can say he has some mental issues. When he found out that his mother hired someone to impersonate him, he got very angry with his mother, understandably. Therefore, he forced her face first into the fire in her fireplace and held her down.
She did not die and she needed facial reconstrunction because of her injuries. On Friday, they took off the bandages and we found who will be playing the role of Alexis Carrinton from now on. To see who it is, then click here!
---