Liz Gilles had a wedding her Dynasty character dreams of having
September 17th, 2020 under Dynasty. [ Comments:

none

]

On August 8th, Elizabeth Gilles and Michael Corcoran finally said I do, three months after their original wedding date.

The Dynasty actress and her producer boyfriend were slated to get married on April 25th in Atlanta, but then the coronavirus pandemic happened. They decided to postpone their nuptials and reschedule them for a year later.

Gilles told Vogue, "Then, as time went on, we decided a big wedding was no longer something that made sense for us. The virus really put things into perspective. That being said, we did want to get married as long as it could be done in a safe and intimate setting with a group that we trusted."

In July, the couple decided that they wanted to get married a month later. With just weeks to plan, she found the perfect place in her home state of New Jersey. The betrothed couple bought an RV, packed up their dogs, and headed north. They spent two weeks in her childhood home until their big day arrived.

When it was time for her to walk down the aisle, her father was by her side. When they got to the end of the runway, he jumped in front of his daughter so that he could officiate the ceremony.

It was a beautiful, intimate affair between ten loved ones and their dogs. You didn't think they brought their babies up there and didn't have them be part of their big day.

It was a much smaller wedding then they planned on, but it is one they will never forget.

Congrats to the two! Fallon Carrington would be jealous.

---
The CW renews Dynasty and 12 other shows
January 7th, 2020 under Dynasty, The CW. [ Comments:

none

]

The CW announced today that they picked up all of their scripted shows, that are not ending or have premiered yet, for another season. Those shows are All American, Batwoman, Black Lightning, Charmed, DC's Legends of Tomorrow, Dynasty, The Flash, In The Dark, Legacies, Nancy Drew, Riverdale, Roswell, New Mexico" and Supergirl. The only show not on that list is Katy Keene. Even though the Riverdale spinoff does not debut until February 6th, the network asked for another 13 episodes.
Thirteen seems to be lucky their number today because they renewed 13 shows for next season and gave 13 more episodes to KK. I have a feeling it will be back for another season.
What is missing? Supernatural for the first time since the network launched in 2006. As is The Flash and The 100. All three shows are ending this season. Therefore, they only have a few slots for new shows in the fall. Wonder if it will be a DC Universe show or another Archie's Comics spinoff or maybe something original like Legacies. Oh wait, that was a spinoff from The Vampire Diaries. At least Dynasty is back, and that is all I care about!

---
Elaine Hendrix's Alexis on Dynasty looks like her daughter
December 4th, 2019 under Dynasty. [ Comments:

none

]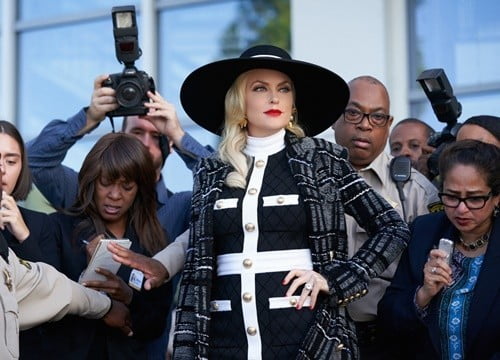 Elaine Hendrix is going to make her Dynasty debut this Friday at 9p, and today The CW gave us our first look at the third Alexis on the nighttime soap. The actress looks just like her TV daughter Elizabeth Gillies. Which is interesting because Gillies played her stepdaughter on Sex & Drugs & Rock & Roll. Gotta love soap operas, you go can go from playing a stepmom on one show to the actual mom on the next one.
Then again, Dynasty has been its own soap when the camera is not rolling. Hendrix is the third actress to play Alexis in as many seasons. Nicollette Sheridan originated the role, but quit to take care of her ailing mom. Gillies was the next one to take on the part, and now Hendrix got the job.
How long will she stay with the show? Only time will tell. What I want to know is, will she have a British accent like Joan Collins and Sheridan? I have a feeling we are not going to find out until 2020.
If you are not watching Dynasty, then you are missing out on the wildest scripted show on television. Each week, it gets crazier and crazier, and that is why it is the must-watch live show of the week for me. Make it yours too!

---
Dynasty's musical episode is wild beyond words
November 1st, 2019 under Dynasty. [ Comments:

none

]

I grew up in NYC with Broadway. Therefore anytime anyone does a musical episode, I must see it. Whether I watch the show or not. Well, I watch Dynasty and I love the primetime soap. So when The CW sent out a screener for tonight's episode at 9p, I had to watch it. I did not know it was a musical episode, so it was the surprise that kept on giving and giving. It is so magical, it will leave you speechless.
Fallon (Elizabeth Gillies) wants to win back Liam (Adam Huber) and she will do anything to get him back. Even risk getting arrested by trying to sneak into his bedroom to share something special with him. Sadly, his psycho mom will spoil her perfect plans.
Meanwhile back at Carrington manor, Adam (Sam Underwood) and Cristal (Daniella Alonso) are battling it out to run Blake's (Grant Show) vineyard and wine line. Cristal is going to throw an invite-only party and Adam is going to sabotage every way he can. Including causing a rift between the newlyweds. Will it work?
I will tell you he does something that winds up messing with Fallon and she hears people singing when they are really talking. Thus, the musical episode. The first song she hears will be Tears For Fears' Everybody Wants to Rule the World from her father and crazy brother. She will then sing Phil Collin's Against All Odds to Liam. Only to have Sam (Rafael de la Fuente) sing The Supremes' You Can't Hurry Love to Her. Finally, we get a group number to Talking Head's Burning Down the House.
After that, we find out what caused Fallon to have these delusions and someone will pay the price. Yet, we are the ones who get the rewards because this will be the trippiest hour of television this season.
Not everyone can sing, sorry, but they gave it their best effort. That makes this episode even more special than Glee. We knew those people could sing, while these actors are just having a huge blast going all out to make it the best episode possible. It truly is something to sing about. And I can't stop singing its praises and Burning Down the House.
Whether you are a fan of the show or not, you will want to check it out. It is pretty much a standalone episode, so everyone can enjoy its wackiness. Maybe the newbies will come to love it like I do and continue watching it every week. Please do, I do not want this show to ever go away.

---
Dynasty gets its third Alexis!
October 28th, 2019 under Dynasty. [ Comments:

none

]

Dynasty, my must-watch show every week, is in its third season. First, they had three Cristals on the soapy drama and now they just announced their third Alexis.
Primetime Soap Queen Nicollette Sheridan was given the iconic role. She left the role to take care of her dying her mother. She was replaced by Elizabeth Gillies, her TV daughter on the show. Now, Gilles' daddy's girlfriend from Sex & Drugs & Rock & Roll will be playing her actual mom. Makes sense? It will.
If Fallon has even half the relationship with Elaine Hendrix on Dynasty that they had on their first show, the CW show just got even sexier. And I am loving it the way it is. Although, I cannot wait for the fourth Cristal!
This is by far my favorite casting the show has done to date. Don't believe me, here is what Gilles had to say about it, "Words can't express how excited I am about our new Alexis!! Beyond thrilled to be back on set with @elaine4animals. Can't think of anyone better to fill this role. We're getting the band back together, Elaine!✨ #Dynasty" If they truly want to bring the band together, then they really need to find a way to bring Denis Leary on as a guest star. Maybe he can be Alexis' new man! Who needs Sex & Drugs & Rock & Roll with all of that?

---