Is Joan Collins really 86?
July 16th, 2019 under Are they really their age?, Joan Collins. [ Comments:

3

]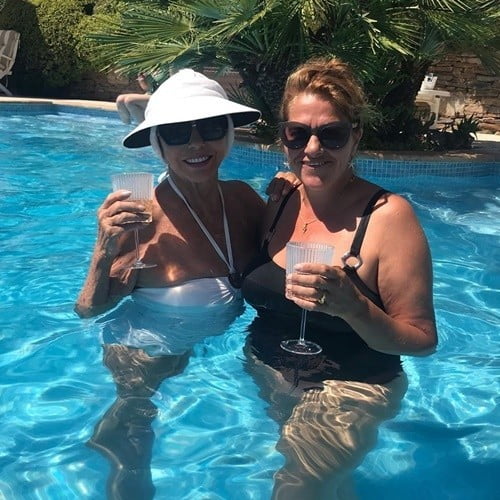 It was a hot day, so Joan Collins and her friend, Tracey Emin, went for a dip. The legendary actress wore a white one-piece bathing suit in the pool, showing off her body. Can you believe that she is 86? That does not look like a woman who has grandchildren. She looks like a woman who can control any dynasty she wants.
---
Can Simon Cowell sing?
May 28th, 2019 under Joan Collins, Simon Cowell. [ Comments:

none

]

For almost 2 decades, we have heard Simon Cowell harshly critique singers all over the world, but can the King of Mean sing himself? Something, we surprisingly did not know until now.
Thanks to Joan Collins inviting him to her 86th birthday party, we now know the answer. Let's just say there is a reason he produces singers and is not one himself. I mean, if you can't sing the most recognized English song in the world, then you just can't sing. Dawg! He makes William Hung sound like Ricky Martin.
Now, let's focus on Joan. Is she really 86 because she looks just like she did on Dynasty?
---
Joan Collins and her husband treated for smoke inhalation after flat fire
April 14th, 2019 under Joan Collins. [ Comments:

none

]

Joan Collins and her husband, Percy, had a scary day yesterday when their flat caught on fire. The Dame detailed what happened and thanked the first responders.
She wrote, "THANK U from the bottom of my ❤️ to the marvelous @LondonFire who attended to the terrifying fire yesterday in our flat. #threealarmfire My hero Percy had already doused the flames consuming the entire wall with handheld extinguisher (#donttakethisrisk). #gratitude #firefighters" Then she added, "And thanks also to the @NHSEnglandLDN #nhs #emt #Ambulance crew who took care of our smoke inhalation and comforted me. And the wonderful @metpoliceuk who kept the street closed and everyone safe. #gratitude"
As you can see that part of the flat is gone and it can be replaced, but (especially her) and her husband cannot be. Thankfully, they are OK! Which is a good thing because I am still hoping for The CW to cast her Alexis Carrington on their Dynasty to replace Nicolette Sheridan.
---
Did Joan Collins diss the new Alexis?
April 5th, 2018 under Joan Collins, Nicollette Sheridan. [ Comments:

none

]

Joan Collins, the one and only Alexis Carrington, took to Twitter today to do a very Alexis thing today. She tweeted a photo of her Barbie doll from her Dynasty days with a quote from her character that reads, "That sounds like a challenge and I adore a challenge." Then she captioned that photo with, "Here she is, the original iconic #alexis #TBThursday #ThrowbackThursday #OG #tbt."

I don't know about you, but that seems like a slam towards Nicolette Sheridan. Can anyone say she is wrong? Sheridan is good at playing a bitch as seen on Paper Dolls and Desperate Housewives, but no one will ever come close to Joan Collins. Collins will always be the best at it and no one should try to top her because they can't.
---
A wet dream for fans of '80s Nighttime Soaps!
January 3rd, 2018 under Donna Mills, Joan Collins, Wet dream. [ Comments:

1

]

Back in the '80s, Dynasty and Knots Landing were two of the biggest shows on television, but yet never the two should meet. That was until 2018 when finally Alexis Carrington Colby and Abby Cunningham Ewing Sumner Fairgate were brought together by a common love. Donna Mills and Joan Collins both share a love for stylist Rene Horsch.

You know what seeing them together, makes you wonder why a network has not brought all the greats from Dynasty, Knots Landing and Dallas together for one epic Nighttime Soap. Could you imagine the ratings?
---