Joan Collins actually washes the windows
March 31st, 2020 under Joan Collins. [ Comments:

none

]

Desperate times call for desperate measures. Case in point, Joan Collins, the legendary diva, washed her own windows. If her alter-ego Alexis Carrington was a real person, she would smack some sense into Collins. The Dynasty character would be like, we are too good to do windows. That is the help is for.
---
Four of TV's strongest women: Lindsay Wagner, Linda Gray, Joan Collins and Jane Seymour
February 7th, 2020 under Dallas, Jane Seymour, Joan Collins. [ Comments:

none

]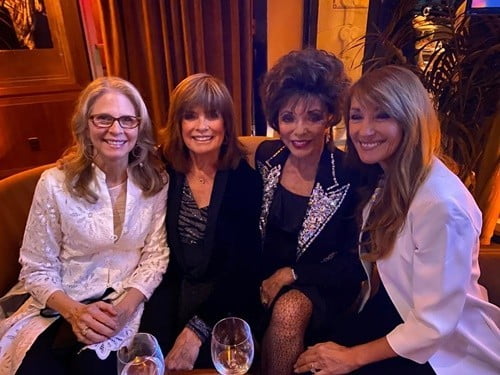 Back in the '70s, Lindsay Wagner was the Bionic Woman. While she was the first of this bunch, her female empowerment was not alone for too long. She soon would be joined by Linday Gray on Dallas, Joan Collins on Dynasty and Jane Seymour on Dr. Quinn Medicine Woman.
These four women helped shape a generation of little girls to grow up to be whatever she wants to be. I have two words to say to all of them, and they are thank you. I learned through all of them that women can wear the pants in the relationship too, and for that, I am grateful.
Now, let's talk about how fabulous they all look. Women can be tough and beautiful at the same time. Can you believe that their ages range from 68-86 years old? They are all so youthful looking. You can say that strength lets their beauty shine through, and helps them to remain as timeless as the shows they were on.
---
Can you spot the real Joan Collins?
January 27th, 2020 under Joan Collins. [ Comments:

none

]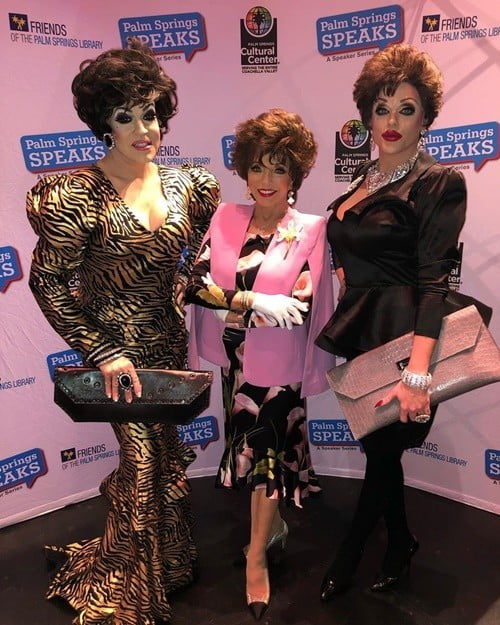 Joan Collins went to Palm Springs this weekend and she found herself. Not as in. she did some deep soul searching. But as in, two Drag Queens, Morgan McMichaels and Ethylina Canne, dressed as her iconic character Alexis Carrington.
Let's be honest, dahlings. If you are going to dress in drag as any '80s television star, then who else is there to go as but the Dynasty vixen. Especially when the Queen B, herself, is going to be at the same society party as you?
When it comes to who is tucked and who isn't, I cannot, nor would I tell.
---
Is Joan Collins really 86?
July 16th, 2019 under Are they really their age?, Joan Collins. [ Comments:

3

]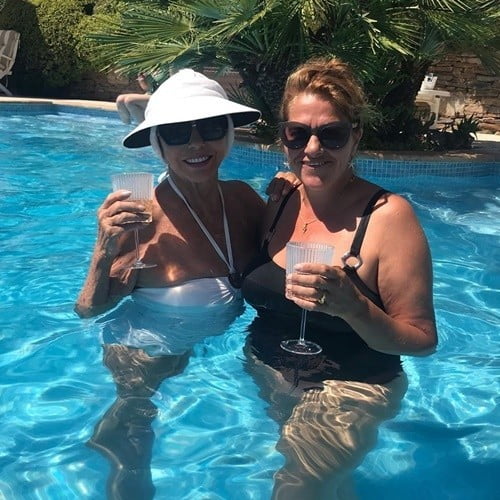 It was a hot day, so Joan Collins and her friend, Tracey Emin, went for a dip. The legendary actress wore a white one-piece bathing suit in the pool, showing off her body. Can you believe that she is 86? That does not look like a woman who has grandchildren. She looks like a woman who can control any dynasty she wants.
---
Can Simon Cowell sing?
May 28th, 2019 under Joan Collins, Simon Cowell. [ Comments:

none

]

For almost 2 decades, we have heard Simon Cowell harshly critique singers all over the world, but can the King of Mean sing himself? Something, we surprisingly did not know until now.
Thanks to Joan Collins inviting him to her 86th birthday party, we now know the answer. Let's just say there is a reason he produces singers and is not one himself. I mean, if you can't sing the most recognized English song in the world, then you just can't sing. Dawg! He makes William Hung sound like Ricky Martin.
Now, let's focus on Joan. Is she really 86 because she looks just like she did on Dynasty?
---