Dynasty gets another new Cristal
July 30th, 2019 under Dynasty, The CW. [ Comments:

1

]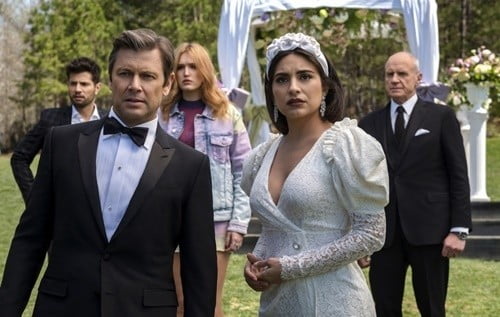 Dynasty is about to begin its third season, and they are getting their third Cristal, their second Cristal Jennings.
Confused? For season 1, Nathalie Kelley played Cristal Flores Carrington. The actress was asked not to return for season 2 and was killed off. She was replaced by Ana Brenda Contreras who starred as Cristal Jennings. She claimed her friend Cristal took her name for a new identity.
Now, Deadline is reporting that Contreras is out and Daniella Alonso is in. Showrunner Josh Reims told the trade, "Unfortunately, Ana Brenda Contreras will not be returning for the third season of Dynasty due to personal reasons. We'd like to thank her for her contributions to the show and wish her all the best. We're excited to welcome Daniella Alonso who will step into the role of Cristal."
Contreras is the second actress to leave the nighttime soap for personal reasons. Nicollette Sheridan quit the show earlier this year to be with her dying mother. Elizabeth Gillies temporarily stepped into the role to play her character's mother.
Therefore, if you do the math that is 3 Cristals and 2 Alexises. Dynasty is more of a soap opera behind the scenes than in front of the camera. Although the final minutes of the season 2 finale were pretty close to perfection.
Season 3 debuts October 11th on The CW with a new Cristal and no Alexis.
---
Want to see the new Alexis Carrington on Dynasty?
April 22nd, 2019 under Dynasty, Nicollette Sheridan, The CW. [ Comments:

1

]

Back in February, The CW announced that Nicolette Sheridan was leaving the role of Alexis Carrington to be with her dying mother. Which left us wondering how Dynasty was going to handle her absence on the show.
A few episodes ago, her son with Blake, who was kidnapped when he was a toddler, finally came back home and you can say he has some mental issues. When he found out that his mother hired someone to impersonate him, he got very angry with his mother, understandably. Therefore, he forced her face first into the fire in her fireplace and held her down.
She did not die and she needed facial reconstrunction because of her injuries. On Friday, they took off the bandages and we found who will be playing the role of Alexis Carrinton from now on. To see who it is, then click here!
---
Maybe Dynasty will recast Alexis Carrington with Joan Collins?
February 26th, 2019 under Dynasty, Nicollette Sheridan, The CW. [ Comments:

1

]

Last season, Nicollette Sheridan joined The CW's remake of Dynasty as Alexis Carrington and now she is leaving the show. The network announced the news yesterday and said, "Nicollette Sheridan will be leaving Dynasty in order to focus on some personal family responsibilities. She was a valuable asset to the show and we wish her continued success in the future."
Today she released a statement explaining what are those "personal family responsibilities." She said, "Working on the Dynasty reboot and reprising the iconic role of Alexis has been thoroughly enjoyable, but the chance to spend precious time with my terminally ill mother is more important to me right now." Then she added, "I am profoundly grateful to Mark Pedowitz (The CW) and David Stapf (CBS) for graciously allowing me to return to Los Angeles to be with her, and I wish them and everyone associated with the show nothing but continued success. I am hopeful that my fans will embrace my successor with as much passion as they embraced me."
According to TV Line, they are looking to recast the role. Who better than Joan Collins? If not her, someone else from the original show. How about Emma Samms, Pamela Sue Martin, Catherine Oxenberg or Leanne Hunley. How hot would that be?
When it comes to Alexis, her character has been pretty useless this season. Hopefully, with the recast, it will reignite the role for season 3. In case you missed it, the show was picked up for another season last month.
When it comes to Sheridan, she is doing the right thing. Family comes first.
---
The CW picked up Dynasty, Supernatural and 8 other shows
January 31st, 2019 under Dynasty, Supernatural, The CW. [ Comments:

none

]

The CW did their annual early pick ups and they picked up everything that is not ending this season or All American. In other words, Arrow, Black Lightning, Charmed, DC's Legends of Tomorrow, Dynasty, The Flash, Legacies, Riverdale, Supergirl and Supernatural and will all be back on the lineup next season.
Since I watch Dynasty, I am shocked and thrilled it will be back for more catfights. Talking about fights, Sam and Dean will be fighting demons for season 15. Can Jensen Ackles and Jared Padalecki still do that? I mean they have been doing the show for so long, aren't they grandfathers using canes wearing medic alert bracelets by now? Which makes me feel old because I have been watching since the pilot. Don't believe me. Here is what Misha Collins said about the news, "Season 15 is official. Time for hip replacements. #Supernatural"
Another show awaiting its fate is Roswell. Since it is only been on a few weeks, it makes sense that they did not pick it up with this batch. I just hope they renew it by May. I was not expecting to like it, but turns out I do.
---
Is Dynasty going over the rainbow?
September 14th, 2018 under Dynasty, The CW. [ Comments:

none

]

We know that Dynasty is going through some major changes this season. The biggest one being that Cristal is dead and yet alive. But it looks like there might be another one?
Nicollette Sheridan shared a video of her TV son (James Mackay) and his on-screen husband (Rafael de la Fuente) singing Over the Rainbow. Which makes me wonder if the newlyweds will be wedding singers for the upcoming season. I would love that storyline. It is just what the primetime soap opera needs. Don't you agree? Especially because they sound so perfect together.
Dynasty is back on The CW October 12th.
---