What is, all singers with a ponytail look alike?
April 29th, 2020 under Ariana Grande, Jeopardy, The Jacksons. [ Comments:

none

]

Tonight on Jeopardy, Alex Trebek answered an easy question, or so he thought. The host wanted to know, "As the recipient of the 2018 Icon Award, she took 'Control' & took the stage in her first live TV performance in nearly a decade." If you still don't know who that is, then the game show made it even easier by showing some video of the female singer at that awards show.
At this point, everyone is like Janet Jackson. Well, everyone but Alwin. He thought it was Ariana Grande. The contestant is a nasty ponytailist. He thinks everyone with long ponytails look alike, and we don't.

---
Ariana Grande goes curly
March 30th, 2020 under Ariana Grande, Uncategorized. [ Comments:

none

]

We are used to seeing Ariana Grande with her long straight hair in a ponytail. However, today she decided to let her hair down and go natural.

Did you know she has naturally curly hair? The singer does, and I think she looks so much better. She should keep it. Then again, I am biased becase I am curly girl too.

What do you think?

---
Ariana Grande's new perfume is made with hair from her ponytail?
September 19th, 2019 under Ariana Grande. [ Comments:

none

]

Ariana Grande has four popular perfumes on the market and she is adding a fifth one to the line. Ulta is exclusively selling her newest fragrance Thank You, Next. It is named after her hit single about her exes.
What does it smell like? It is described as, "juicy notes of sparkling white pear and wild raspberry that soften with a heart of creamy coconut and delicate pink rose petals. Divine velvety musk infuses classic Ari sass, while macaroon sugar adds playful femininity." It actually sounds like it smells like the next best thing, thank you.
To promote her newest Eau de Parfum she came up with an ad that is as cute as she is. It also reveals her secret ingredient to make it swell like a dick magnet! This way, us ladies can spray it on and say thank you, next to as many boys as possible.

---
Don't call Ariana Grande, Miley Cyrus and Lana Del Rey angels
September 13th, 2019 under Ariana Grande, Miley Cyrus. [ Comments:

none

]

Back in 2001, Christina Aguilera, Mýa, Pink and Lil' Kim recorded Lady Marmalade for the Moulin Rogue soundtrack. The collaboration of four artists, who you would not picture recording together, created one of the greatest soundtrack songs of this century.
The Charlie's Angels remake is trying to do the same thing with Ariana Grande, Miley Cyrus and Lana Del Rey. The three singers came together to sing Don't Call Me Angel for the movie's album.
Is going to be this decade's Lady Marmalade? Maybe to their fan base, but the rest of us will fall asleep listening to the snoozer. It is more like tinnitus than an earworm. They would have been better off doing a cover of Angel in the Morning because that is the tune stuck in my head right now and not the one the trio.
Is it ringing in your ears or causing them to bleed?

---
Ariana Grande looks different without her ponytail and eyeliner
July 9th, 2019 under Ariana Grande. [ Comments:

none

]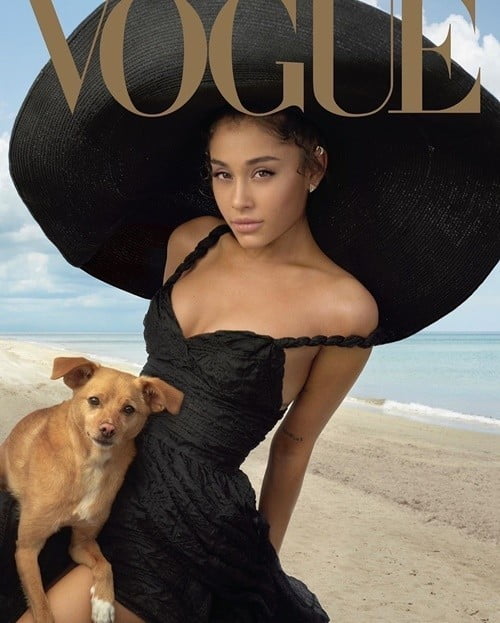 Ariana Grande posed for the cover of Vogue and she was missing things from her signature look. She wore a huge black sun hat over her notorious ponytail. However, that is not why the singer looks so different, she is also not wearing her thick black eyeliner. Who knew the cat eyes make such a difference, but on her they do.
I almost didn't recognize her. But that is Annie Leibovitz thing. She finds a way to make her subjects shine, and that is definitely what she did here. The iconic photographer also turned the camera on Grande's best friend. Grande had this to say about the shoot, "my favorite part of all of this is how much Annie loved shooting Toulouse and wanted him in the shot… i was like 'am i doing this right? i'm not a model at all, is this okay?' and she was like 'omg yea you're actually done but if i could have a moment more of Toulouse's time'."
You cannot have a cover without a story. She talks about how her life has changed since the Manchester bombing that left 23 of her concertgoers dead in May of 2017. When asked about it, she humbly says, "It's not my trauma." Then she continued with tears in her eyes, "It's those families'. It's their losses, and so it's hard to just let it all out without thinking about them reading this and reopening the memory for them."
Then she paused to add, "I'm proud that we were able to raise a lot of money with the intention of giving people a feeling of love or unity, but at the end of the day, it didn't bring anyone back. Everyone was like, Wow, look at this amazing thing, and I was like, What the f*ck are you guys talking about? We did the best we could, but on a totally real level we did nothing. I'm sorry. I have a lot to say that could probably help people that I do want to share, but I have a lot that I still need to process myself and will probably never be ready to talk about. For a long time I didn't want to talk to anyone about anything, because I didn't want to think about anything. I kind of just wanted to bury myself in work and not focus on the real stuff, because I couldn't believe it was real. I loved going back into the studio with Pharrell because he just has this magical outlook on everything. He truly believes that the light is coming. And I'm like, Bruh, is it, though?"
A little over a year later, her ex-boyfriend Mac Miller died from an accidental drug overdose. At the time she was having a whirlwind relationship with Pete Davidson, that ended a few months after that. You can understand why she cannot see the light, just yet.
Over the weekend, my friends bashed her and I would not allow it. Before Machester, she was a brat. Afterward, she grew up and she is becoming a good woman. She is still processing everything she has gone through in the last two years. Can you blame her for needing more time to heal? It took me years to get over several deaths including my grandmother, our first cat and nearly myself in a short amount of time, and even I cannot imagine what she is going through.
She is trying to make a difference. I think in time she will. She is still mending, and luckily she has a support system to get her through it.

---