Ariana Grande looks different without her ponytail and eyeliner
July 9th, 2019 under Ariana Grande. [ Comments:

none

]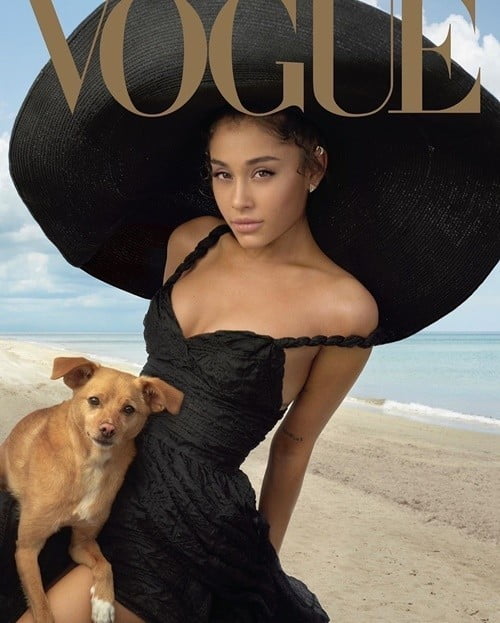 Ariana Grande posed for the cover of Vogue and she was missing things from her signature look. She wore a huge black sun hat over her notorious ponytail. However, that is not why the singer looks so different, she is also not wearing her thick black eyeliner. Who knew the cat eyes make such a difference, but on her they do.
I almost didn't recognize her. But that is Annie Leibovitz thing. She finds a way to make her subjects shine, and that is definitely what she did here. The iconic photographer also turned the camera on Grande's best friend. Grande had this to say about the shoot, "my favorite part of all of this is how much Annie loved shooting Toulouse and wanted him in the shot… i was like 'am i doing this right? i'm not a model at all, is this okay?' and she was like 'omg yea you're actually done but if i could have a moment more of Toulouse's time'."
You cannot have a cover without a story. She talks about how her life has changed since the Manchester bombing that left 23 of her concertgoers dead in May of 2017. When asked about it, she humbly says, "It's not my trauma." Then she continued with tears in her eyes, "It's those families'. It's their losses, and so it's hard to just let it all out without thinking about them reading this and reopening the memory for them."
Then she paused to add, "I'm proud that we were able to raise a lot of money with the intention of giving people a feeling of love or unity, but at the end of the day, it didn't bring anyone back. Everyone was like, Wow, look at this amazing thing, and I was like, What the f*ck are you guys talking about? We did the best we could, but on a totally real level we did nothing. I'm sorry. I have a lot to say that could probably help people that I do want to share, but I have a lot that I still need to process myself and will probably never be ready to talk about. For a long time I didn't want to talk to anyone about anything, because I didn't want to think about anything. I kind of just wanted to bury myself in work and not focus on the real stuff, because I couldn't believe it was real. I loved going back into the studio with Pharrell because he just has this magical outlook on everything. He truly believes that the light is coming. And I'm like, Bruh, is it, though?"
A little over a year later, her ex-boyfriend Mac Miller died from an accidental drug overdose. At the time she was having a whirlwind relationship with Pete Davidson, that ended a few months after that. You can understand why she cannot see the light, just yet.
Over the weekend, my friends bashed her and I would not allow it. Before Machester, she was a brat. Afterward, she grew up and she is becoming a good woman. She is still processing everything she has gone through in the last two years. Can you blame her for needing more time to heal? It took me years to get over several deaths including my grandmother, our first cat and nearly myself in a short amount of time, and even I cannot imagine what she is going through.
She is trying to make a difference. I think in time she will. She is still mending, and luckily she has a support system to get her through it.
---
Justin Timberlake looks different than I remembered with *NSYNC
April 15th, 2019 under Ariana Grande, Joey Fatone, Lance Bass. [ Comments:

none

]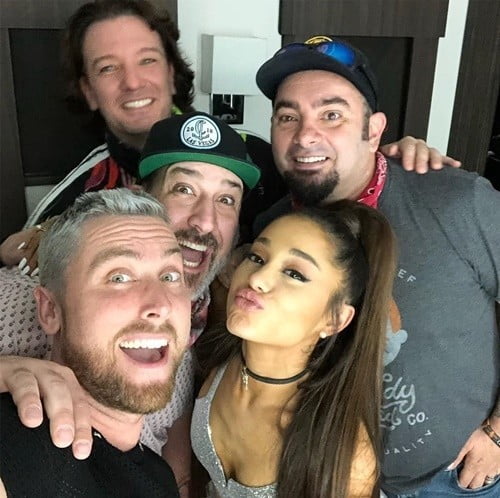 *NSYNC or should I say *SYNC (because their band name is made up from the last letters of the first names) reunited to sing Tearing Up My Heart with Ariana Grande at Coachella yesterday. Justin Timberlake was wrapping up his tour in Connecticut and I assume that is why he is not there. However, he sent a message to his bandmates today. He wrote, "You guys killed it last night 🙌"
Even with the sweet words, I wonder if this is JC Chasez, Chris Kirkpatrick, Joey Fatone, and Lance Bass's way of testing out the waters of doing a reunion tour without Timberlake like the Spice Girls are doing one without Victoria Beckham.
Would you go to see *SYNC if they hit the road together?
To get a glimpse of what that would be like and see their performance from last night, then click here!
---
BTWF: Ariana Grande home video
January 2nd, 2019 under Ariana Grande, Before They Were Famous. [ Comments:

none

]

Before we belting out Ariana Grande songs in our cars, she was singing along with Celine Dion in her parents' automobile. How precious is the 4-year-old future singer singing back in 1997?
---
Ariana Grande has a message for her exes
November 4th, 2018 under Ariana Grande. [ Comments:

none

]

It has been about a month since Ariana Grande and Pete Davidson ended their engagement. While you and I cry while eating banana splits for every meal after a split, the singer is not like us. She wrote a song for several of her exes and she had three words for them.
Those words are "Thank U, Next." Mine would be like, "F*ck you, D!ck!" Shockingly, she is much more mature than me. Which is a good thing? I guess.
---
At least Pete Davidson got a song named after him by dating Ariana Grande
October 14th, 2018 under Ariana Grande. [ Comments:

none

]

Ariana Grande and Pete Davidson had a whirlwind relationship that turned into a quickie engagement. Now, four months after she said yes, they are saying no.

According to TMZ, the couple have called it quits this weekend when they realized it was just not the right time for their relationship to take off. Yet, they still love each other, just not romantically enough at this time. Maybe in the future.

The singer has been through a lot in the last two years. A concert of hers in Manchester ended in a terrorist attack with several fans being killed and injured. Then last month her ex-long time boyfriend, Mac Miller, died of a drug overdose. Something she reportedly is taking very hard.

While their engagement is off, they still have the tattoos they got for each other. Unless they get them removed. Which is what I do. Well, actually I would not get them for this very reason.
---