BTWF: Gabrielle Macht in Why Would I Lie?
February 10th, 2021 under Before They Were Famous, Suits, Treat Williams. [ Comments: none ]

Before Gabrielle Macht has mommy issues on Suits, he really had mommy problems in Why Would I Lie. How cute was the 7-year-old in that 1980 movie?
Treat Williams, who starred in the movie, shared a photo of him on the set with Macht back when they were filming. To see the two of them together, then click here!

---
Dolly Parton is bringing a little bah humbug to Netflix
October 22nd, 2020 under Dolly Parton, Jenifer Lewis, Netflix, Treat Williams. [ Comments: none ]

Dolly Parton has become a television movie staple over the last few Christmases. She has had telemovies on NBC, Hallmark, and Netflix. This year's present is called Christmas on the Square. The musical will debut November 22nd on Netflix, and it stars the lovable legend as an Angel, Christine Baranski as a Scrooge, Treat Williams as her ex-sweetheart, and Jenifer Lewis as her friend.
While it is not a Christmas Carol per se, it has some similarities to the Mark Twain classic, and that is OK. "A rich and nasty woman, Regina Fuller, returns to her small hometown after her father's death to evict everyone and sell the land to a mall developer – right before Christmas. However, after listening to stories of the local townsfolk, reconnecting with an old love, and accepting the guidance of an actual angel, Regina starts to have a change of heart. This is the story about family, love, and how a small town's Christmas spirit can warm even the coldest of hearts."
The holiday film includes 14 original songs from Miss Dolly. Debbie Allen choreographed the dance numbers.
Between this movie and Dolly's Christmas album, the season is going to be so bright with joy that even 2020 cannot put it out. Well, unless 2020 gives Santa Claus COVID-19 and kills him. Which, at this rate, would not totally surprise me.
As sad as I will be about old Saint Nick going to the big North Pole in the sky, I will still be full of happiness because I will be watching Christmas on the Square over and over and over again. How can you watch anything from Dolly and not feel happy after it is over?

---
A Hair (the movie) reunion!
August 26th, 2019 under Reunions, Treat Williams. [ Comments: none ]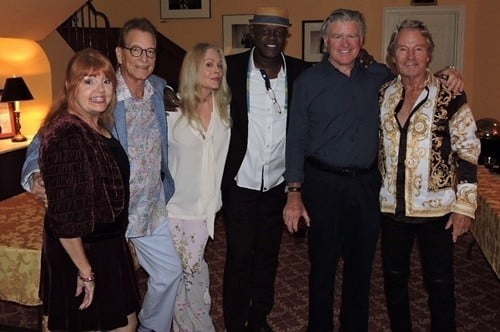 Back in March, Hair (the movie) turned the big 4-0. Last week, several of the film's co-stars met up the Avon Theater in Connecticut to talk about the dawning of the Age of Aquarius.
Annie Golden (Jeannie), Don Dacus (Woof), Beverly d'Angelo (Shelia), Dorsey Wright (Hud), Treat Williams (Berger), John Savage (Claude) still look groovy. However, Dacus, Wright and Williams still don't have that long beautiful hair. What is even weirder is that Savage has the longest locks of the men, I guess Gd still believes in Claude's hair.
Even though Ellen Foley (Meat Loaf's Paradise in the Dashboard Life, Night Court) and Charlayne Woodard (Pose) had smaller roles in the film, I wish they were there too. As we know Nell Carter, Richard Bright and Charlotte Rae were not available because they are no longer with us.
When it comes to Hair, it is tied with All That Jazz, Annie and Little Shop of Horrors as my favorite musicals. Since it is the one I saw first, it was my favorite one first. It had such an impact on me when I was little girl, I still have the same crush on Williams as I did then. Seeing them together again makes me want to watch the film again for the millionth time again.
Who doesn't love Hair?

---
Blue Bloods gets a Treat for their 200th dinner scene
July 24th, 2019 under NKOTB, Treat Williams. [ Comments: none ]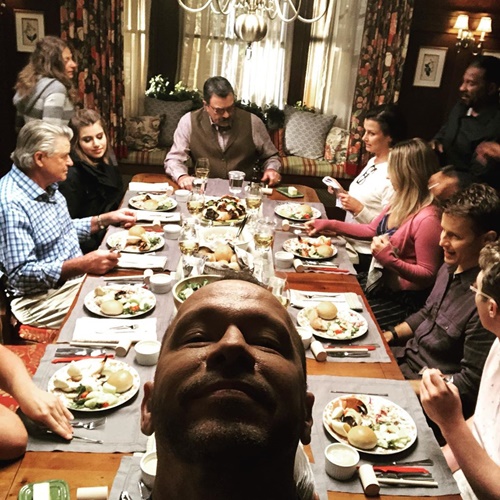 Blue Bloods season premiere will be its 200th episode and they are changing things up at the dinner table for the milestone. Treat Williams, who was Tom Selleck's old partner, is for some reason breaking bread with the Reagans.
We don't know why he is there and grandpa (Len Cariou) is not, but Donnie Wahlberg said this about the scene, "Shooting Family Dinner Scene number 200 today on the set of @bluebloods_cbs! Hard to believe we've been doing this for 10 seasons! #Blessed #Thankful #BlueBloods200
💙🙌🏼🙏🏼👍🏼🚓👮🏼‍♂️"
Ten seasons on Friday nights and it is still one of the most-watched shows on broadcast television. For the obvious reason, it is a really enjoyable show and I don't like police procedurals.
Blue Bloods is back with new episodes September 27th on CBS!

---
Treat Williams or Tree Williams?
June 18th, 2018 under Treat Williams. [ Comments: none ]

Treat Williams went from starring in Everwood to becoming forever with wood. In other words, he saw a hollowed tree and climbed right in. Proving man and nature are one. It really is the dawning of the age of Aquarius.

---