A Hair (the movie) reunion!
August 26th, 2019 under Reunions, Treat Williams. [ Comments:

none

]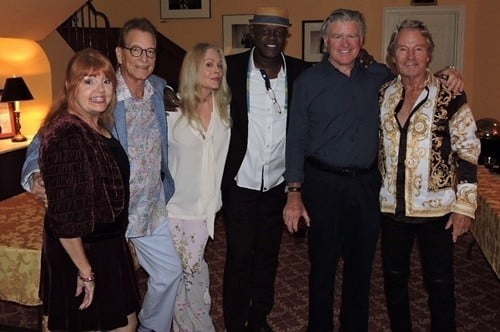 Back in March, Hair (the movie) turned the big 4-0. Last week, several of the film's co-stars met up the Avon Theater in Connecticut to talk about the dawning of the Age of Aquarius.
Annie Golden (Jeannie), Don Dacus (Woof), Beverly d'Angelo (Shelia), Dorsey Wright (Hud), Treat Williams (Berger), John Savage (Claude) still look groovy. However, Dacus, Wright and Williams still don't have that long beautiful hair. What is even weirder is that Savage has the longest locks of the men, I guess Gd still believes in Claude's hair.
Even though Ellen Foley (Meat Loaf's Paradise in the Dashboard Life, Night Court) and Charlayne Woodard (Pose) had smaller roles in the film, I wish they were there too. As we know Nell Carter, Richard Bright and Charlotte Rae were not available because they are no longer with us.
When it comes to Hair, it is tied with All That Jazz, Annie and Little Shop of Horrors as my favorite musicals. Since it is the one I saw first, it was my favorite one first. It had such an impact on me when I was little girl, I still have the same crush on Williams as I did then. Seeing them together again makes me want to watch the film again for the millionth time again.
Who doesn't love Hair?

---
Blue Bloods gets a Treat for their 200th dinner scene
July 24th, 2019 under NKOTB, Treat Williams. [ Comments:

none

]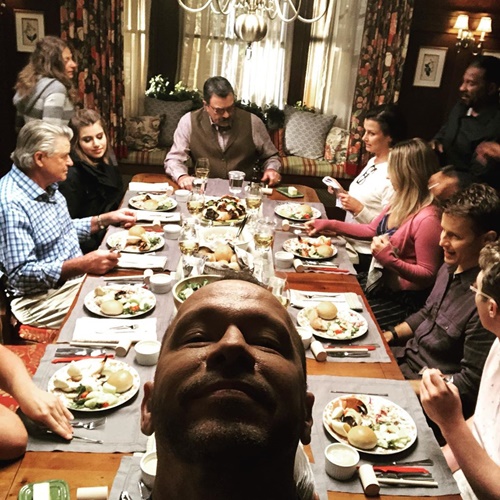 Blue Bloods season premiere will be its 200th episode and they are changing things up at the dinner table for the milestone. Treat Williams, who was Tom Selleck's old partner, is for some reason breaking bread with the Reagans.
We don't know why he is there and grandpa (Len Cariou) is not, but Donnie Wahlberg said this about the scene, "Shooting Family Dinner Scene number 200 today on the set of @bluebloods_cbs! Hard to believe we've been doing this for 10 seasons! #Blessed #Thankful #BlueBloods200
💙🙌🏼🙏🏼👍🏼🚓👮🏼‍♂️"
Ten seasons on Friday nights and it is still one of the most-watched shows on broadcast television. For the obvious reason, it is a really enjoyable show and I don't like police procedurals.
Blue Bloods is back with new episodes September 27th on CBS!

---
Treat Williams or Tree Williams?
June 18th, 2018 under Treat Williams. [ Comments:

none

]

Treat Williams went from starring in Everwood to becoming forever with wood. In other words, he saw a hollowed tree and climbed right in. Proving man and nature are one. It really is the dawning of the age of Aquarius.

---
Chesapeake Shores is back to warm our hearts tonight!
August 6th, 2017 under Hallmark, Treat Williams. [ Comments:

none

]

Last Summer, we feel in love with Chesapeake Shores and tonight at 9p it is back on Hallmark Channel. The family drama is as beautiful as the locale it is filmed in and the writing and acting is a pure treat for the whole family to enjoy together.
The episode starts off Abby (Meghan Ory) bailing her ex and one true love Trace (Jesse Metcalfe) out of jail. Not only does he have to deal with his father's heart attack, he also been summoned back to Nashville to face the judge for the crime that he committed there. As the episodes go on, we will find out more about the crash that his changed his life and his friend's life forever.
The show is not only about him, it is also about Abby and her family. We see the O'Brien family eating a meal together. Abby gets called into work, so she cannot take her daughters shopping. Her father (Treat Williams) offers to do it for her which lets him spend some time with his granddaughters. Now that they are back in Chesapeake Shores, he wants to spend as much time with them.
Also back in their picturesque community is the Abby's mom (Barbara Niven). Her return is not welcomed by all of her five children and her ex-husband Mick. Her youngest daughter, Jess (Laci J. Mailey), hates her mother's return the most. Something she does not need now that her bed and breakfast is finally open and overbooked.
So overbooked, she kicks her older sister, Bree (Emilie Ullerup) out of her room. Jess was just assuming she was going to Chicago to work on the play that she wrote. That production is not going as smoothly as she hoped and now she has some decisions to make.
Like his daughters, Mick is also having family problems. His brother (Gregory Harrison) is back and he is causing problems for Mick's properties which will put in a wrench in Mick's project with Trace.
Next week, we learn more about Mick's sons Kevin (Brendan Penny) and Andrew (Andrew Francis). Plus we get more sage advice from the O'Brien matriarch (Diane Ladd).
Family is complicated, and for the O'Briens they are not immune from complications. But as long as they have each other, everything will be alright and we have a perfect show to watch every Sunday this Summer.

---
Chesapeake Shores is summer treat that we can all enjoy as a family
August 14th, 2016 under Hallmark, Treat Williams. [ Comments:

none

]

Chesapeake Shores debuts at 9p on Hallmark Channel and it is a touching series that we have been longing for. We just did not know it until now.
Abby (Meghan Ory) is a very busy top financial analyst in a prestigious NYC investment firm. She is also divorced with twin daughters who are 8 years old. Because of her job, she does not have a lot of time for them and their nanny is raising them.
Then one day her younger sister Jess (Laci J. Mailey) calls her and begs her big sis to come back home to Chesapeake Shores. After much convincing, she packs up the girls for a long weekend trip to her beautiful home near Baltimore.
As soon as she gets her home her grandmother (Diane Ladd), who helped to raise her, greets at her the house. Then Jess comes out, but does not tell her big sister why she needed her to come home immediately. Then next day Abby finds out Jess bought a house to turn into a Bed & Breakfast, but it is falling apart and she is behind on payments. Jess asks her to help convince to the bank to give her an extension.
When they get to the bank, Abby sees her ex-fiancé', who she left and never told him she was leaving for NYC. Even though Trace (Jesse Metcalfe) and her have their tension over that, you can tell that they still have a connection.
Another person Abby needs to connect to is her workaholic father (Treat Williams), who came back from a job in Boston to see his oldest daughter. The two of them love each other, but Abby still blames for causing her mom to leave and he was barely there when she was growing up.
Even though, she is getting close to her family again, it is time for her to go back to the city. Plans change when her grandmother suddenly collapses, and she decides to extend her trip.
The longer she stays in Chesapeake Shores, the more she thinks it would be better place for her to be now. Especially, since her nanny suddenly quit and ex-husband wants custody of the twins. Along with the fact that the head of the Baltimore office, offers her a job if she wants it.
Will she stay at her home with her family or go back to NYC to her job? You can assume from the title, she stays. Therefore, the series will follow her adjusting to being back home with her grandmother, her father, her two sisters and two brothers, her ex-boyfriend and most importantly her girls.
If the series is anything like the two-hour premiere tonight, I cannot wait to see the rest of the episodes. Chesapeake Shores is a show that is all heart, something that seems to missing from so many television shows these days. We all need a break from reality for a show that is all about the closeness of family being a family. Along with a cast that you can tell genuinely like each other, you would almost think that they are related. Something I think comes with working with Treat Williams, he brings a compassion that very few actors possess as much as he does. In addition, having Diane Ladd as the matriarch is the glue that keeps the whole cast connected.

---