Naomi Watts and Billy Crudup are 'hitched'
June 11th, 2023 under Naomi Watts. [ Comments: none ]
Naomi Watts and Billy Crudup did something they never had before in their 54 years on the earth. They got married! The two tied the knot on Friday at a NYC courthouse.
The bride wore an Oscar de la Renta Sweetheart Water Lilly Guipure dress with flowers from a deli.
Mr. & Mrs. Crudup met in 2017 on the set of Gypsy and started dating shortly afterward.
Watts has two sons, Sasha, 15, and Kai, 14, with Liev Schreiber. Crudup has a son, William, 19, with Mary-Louise Parker.

---
Naomi Watts shows what glamour was like before and during the coronavirus pandemic
August 20th, 2020 under Naomi Watts. [ Comments: none ]

Remember in 2019, when ladies used to pretty themselves up? Well, COVID-19 made that so last year. Now, we are lucky if we wear pants that have a zipper on them. Remember those?

Naomi Watts perfectly demonstrated the point when she shared a photo she did for Glamour magazine back in the normal days. Then she recreated it today for our current crazy time. As you can see, we live in a much different world where the Material Girl is a thing of the past like Marilyn Monroe.

---
Naomi Watts is dressing trashy
May 27th, 2020 under Naomi Watts. [ Comments: none ]

Due to the coronavirus pandemic stay at home orders, celebrities are not doing their fashionable photoshoots. However, Naomi Watts found a way to do one.

The only difference is her little black dress went from couture to trash. As in literal garbage. No matter what she wears, she still looks like a cover girl.

---
Did Naomi Watts get the best Mother's Day present?
May 13th, 2019 under Naomi Watts. [ Comments: none ]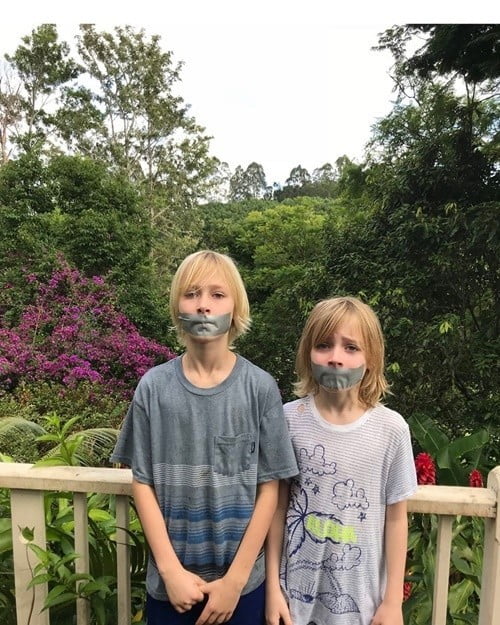 I thought that what every mother would want on Mother's Day is to stay in bed all day like Tiffani Amber Thiessen, but I was proven wrong. Naomi Watts got the best present! Her sons, Sasha, 11, and Sammy, 10, put duct tape over the mouths so their mom could enjoy a day of silence.
In fact, this is such a brilliant inexpensive idea, I would not be surprised if more kids get this for their parents as gifts for their birthdays, anniversaries, Father's Day, Christmas, Saturdays, Sundays and I did something bad so I am trying to win you over day.

---
Has Naomi Watts moved on from Liev Schreiber?
July 6th, 2017 under Liev Schreiber, Naomi Watts. [ Comments: none ]

It has been around a year since Naomi Watts and Liev Schreiber ended their relationship and the actress was photographed kissing someone else with a long tongue and an even longer neck. That is because that someone is a giraffe.

Hey, if you are staying at Giraffe Manor in Nairobi, Kenya, you have to enjoy the surroundings and let them know you are enjoying it. Granted that is enjoying it a little too much for my taste. I love giraffes, but I would be grossed out by kissing one. Although, it is a really beautiful shot and an experience I am sure she will never forget.

---