Naomi Watts is dressing trashy
May 27th, 2020 under Naomi Watts. [ Comments:

none

]

Due to the coronavirus pandemic stay at home orders, celebrities are not doing their fashionable photoshoots. However, Naomi Watts found a way to do one.

The only difference is her little black dress went from couture to trash. As in literal garbage. No matter what she wears, she still looks like a cover girl.
---
Did Naomi Watts get the best Mother's Day present?
May 13th, 2019 under Naomi Watts. [ Comments:

none

]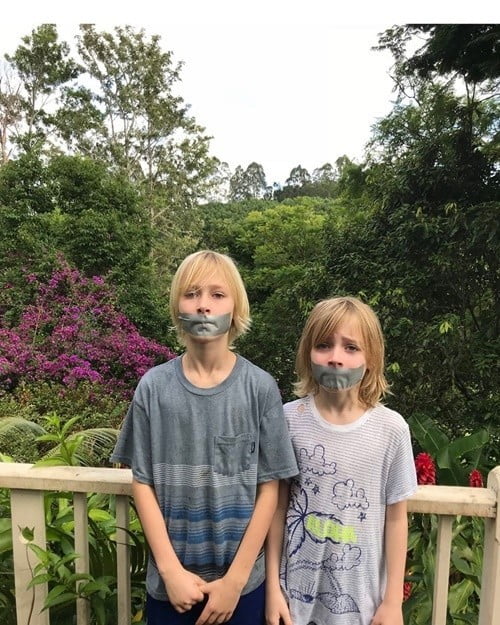 I thought that what every mother would want on Mother's Day is to stay in bed all day like Tiffani Amber Thiessen, but I was proven wrong. Naomi Watts got the best present! Her sons, Sasha, 11, and Sammy, 10, put duct tape over the mouths so their mom could enjoy a day of silence.
In fact, this is such a brilliant inexpensive idea, I would not be surprised if more kids get this for their parents as gifts for their birthdays, anniversaries, Father's Day, Christmas, Saturdays, Sundays and I did something bad so I am trying to win you over day.
---
Has Naomi Watts moved on from Liev Schreiber?
July 6th, 2017 under Liev Schreiber, Naomi Watts. [ Comments:

none

]

It has been around a year since Naomi Watts and Liev Schreiber ended their relationship and the actress was photographed kissing someone else with a long tongue and an even longer neck. That is because that someone is a giraffe.

Hey, if you are staying at Giraffe Manor in Nairobi, Kenya, you have to enjoy the surroundings and let them know you are enjoying it. Granted that is enjoying it a little too much for my taste. I love giraffes, but I would be grossed out by kissing one. Although, it is a really beautiful shot and an experience I am sure she will never forget.
---
BTWF ads: Naomi Watts for Cadbury Crunchie!
September 26th, 2016 under Before They Were Famous, Naomi Watts. [ Comments:

none

]

Before Naomi Watts declared I Heart Huckabees, she loved Cadbury Crunchie bars. She looks the same now as she did when was 19 in that 1988 ad.
---
Liev Schreiber Ray Donovan's his relationship with Naomi Watts
September 26th, 2016 under Liev Schreiber, Naomi Watts. [ Comments:

none

]

Last week, Liev Scheiber took his oldest son to the Emmys, and now we know why. The star of Ray Donovan split from Sasha's mother, Naomi Watts, after dating for 11 years and having two sons together, Sasha and Sammy.
The former couple released this statement to ETonline.com, "Over the past few months we've come to the conclusion that the best way forward for us as a family is to separate as a couple. It is with great love, respect, and friendship in our hearts that we look forward to raising our children together and exploring this new phase of our relationship," adding, "While we appreciate your curiosity and support, we ask the press to be mindful of our children and respect their right to privacy."
Dear Hollywood Couples, Stop splitting, we, the people, need a break and need to believe in love!
---