Jon Cryer did not lose his virginity to Demi Moore during their no small affair
September 25th, 2019 under Demi Moore, Jon Cryer. [ Comments: none ]

Back when Jon Cryer and Demi Moore filmed the 1984 movie No Small Affair, they actually had an affair. The actress talked about it in her book, and she always felt that it was no small affair for her co-star.
According to Page Six, she says that she took his virginity and "It pains me to think of how callous I was with his feelings — that I stole what could have been such an important and beautiful moment from him."
The actor wanted to clear things up, so he took to social media to explain his side of the story. He wrote, "Well, the good thing about this is she doesn't have to feel bad about it anymore, because while I'm sure she was totally justified making that assumption based on my my skill level (and the stunned look on my face at the time), I had actually lost my virginity in high school." Then he added, "But she's right the other part, I was over the moon for her during a very troubled time in her life. I have nothing but affection for her and not a regret in the world."
What is there for him regret? Well, maybe that awkward conversation he must have had with Ashton Kutcher, who was married to Moore at the time, when the two of them worked together on Two and a Half Men. Does Cryer go, "Hi, I am Jon and I f*cked your wife when you were a toddler? You were learning how to hold your peepee and I was learning what its really used for"?

---
BTWF: Demi Moore in Choices
September 19th, 2019 under Before They Were Famous, Demi Moore. [ Comments: none ]

Before Demi Moore was dating Rob Lowe in About Last Night, she was dating someone else in Choices. She looks the same now as she did when she 18 in that 1981 movie.

---
Proof Demi Moore and Courteney Cox are not the same person
September 19th, 2019 under Courteney Cox, Demi Moore, Not The Same Person. [ Comments: 1 ]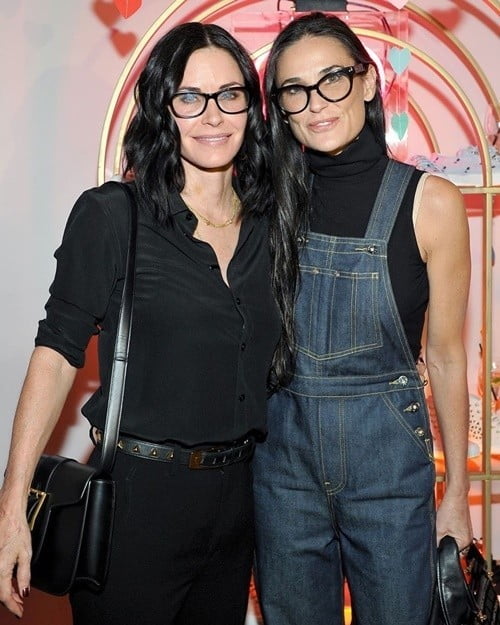 Demi Moore, 56, and Courteney Cox, 55, posed for this photo together and GI Jane wrote, "Who's who 👯‍♀️" I never realized until now how much they look alike. Now I cannot tell which one was on Friends and which one was in Ghost.
Can you answer Moore's question?

---
Demi Moore reveals how realistic her fake baby bump was in Seventh Sign
June 7th, 2019 under Demi Moore. [ Comments: none ]

Just before Demi Moore got pregnant with Rumer Willis, she was very pregnant with the child that was going to save the World in Seventh Sign. Since they had to make it appear as though she was really with child, they gave her a prosthetic belly. Not only that they made her nipples look real too. Which is weird because we did not see them in the film. It just goes to show how far Hollywood is willing to go to make things look as real as possible. Even we don't see every little detail.
If you have never seen the Seventh Sign, it is a must watch ASAP. It was one of my favorite movies growing up. It still gives me chills just thinking about it.

---
Demi Moore works out for the first time in 4 years
May 28th, 2019 under Demi Moore. [ Comments: none ]

There was a time that Demi Moore was as known for her body as much as her acting. That was then, now she does not feel the need to be as physically fit. That was until she looked at herself in the mirror and said, "Mirror, mirror, on the wall, can make working out a ball?"
And poof, she got a mirror that makes working out a ball because it is your exercise instructor. At first, she just watched it. Then she tried it out. For someone who claims that she has not worked out in four years, she did pretty well. I feel like I worked out with her just watching her do aerobics.
When it comes to the mirror, it is a real thing. It will just cost you more than a gym membership. However, the plus side is you do not have to go there to listen to some skinny bitch tell you what to do. You can have that in the comfort of your own home.

---