Who looks better bald: Sean Hayes or Eric McCormack?
November 8th, 2019 under Better than..., Sean Hayes. [ Comments: none ]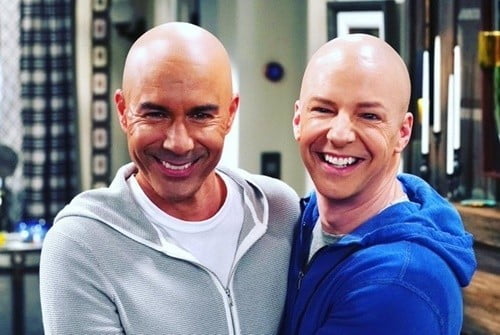 Yesterday on Will & Grace, Will (Eric McCormack) convinced Jack (Sean Hayes) to go bald because he said he was going to do the same. Therefore, at the end of the episode, we got to see both actors shiny chromes. Now that you have seen them without any hair, who do you think looks better? I say they both are hot as hell, although McCormack reminds me of the late sexy Telly Savalas.
Did they really go under the razor? Nope, they each spent two hours in the makeup chair to achieve that hairless style that took less than three minutes to remove.

---
Which late night show did the wrongest animal sketch yesterday
January 25th, 2019 under Animals, Better than..., Conan O'Brien, Jimmy Fallon, Jimmy Kimmel. [ Comments: none ]



Late night, literally, went to the dogs, and squirrels and chickens yesterday. That is because three of the talk shows did bits with those animals.
Jimmy Kimmel Live did a commercial advertising AirBuds aka pot for dogs. They found viral videos of dogs doing funny things and mashed them all together for the ad. I don't have to smoke some marijuana to laugh uncontrollably to that.
Over on Conan, O'Brien opended up his studio to the fat squirrels who are not being taken care of at the national parks because of the shutdown. This bit is so stupid that is absolutely brilliant. That is why I love this TBS host, he is not afraid to make a schmuck of himself.
Finally, Jimmy Fallon and Backstreet Boys dressed up as chickens and clucked their through Everybody on The Tonight Show. What can you say that? How about it, I Want It That Way from now on!
Now, that you have watched all this videos, which one made you howl at the moon?

---
Who looks better with their arm in a sling: Donny Osmond or Josh Duhamel?
January 9th, 2019 under Better than..., Josh Duhamel, The Osmonds. [ Comments: none ]

On January 4th, Donny Osmond had surgery on his right shoulder. While Josh Duhamel's left elbow went under the knife yesterday. Now both of them are stuck wearing a sling while their arms get better.

And talking about better, who do you think looks better with their newest fashion accessory? The guy we have Puppy Love for or the actor we want to win a date with?
I say it is a tie. As in, I think they should meet up and be tied together like in a three-legged race and help each other out. Duhamel could be Osmond's right-hand man and Donny could do whatever is left.

---
Who is the sexier bald man: Bruce Willis or Michael Chiklis?
September 17th, 2018 under Better than..., Bruce Springsteen, Michael Chiklis. [ Comments: none ]

Bruce Willis and Michael Chiklis are filming 10 Minutes Gone in Ohio and the latter shared a photo of the two chrome tops. Normally, I do not find bald men good looking, but I cannot stop staring at these two very sexy men. So much so, I cannot decide who is hotter. Can you?

---
Who wore the ugliest Christmas sweater: Dean McDermott or Terry Crews?
December 26th, 2017 under Aaron/Candy/Tori Spelling, Better than..., Terry Crews. [ Comments: none ]

Ugly Christmas sweaters have become as much of a holiday tradition as giving gifts themselves. Several celebrities wore them over the season and yesterday I found my best and worst.

Dean McDermott wore one with Santa Claus having a plumber's butt. While Terry Crews was wearing one that I can see a grandmother wearing to a Church function. Therefore, I love McDermott's because Kris Kringle has a cute butt. When it comes to Crews well it suits him, but not for me. What do you think?

---