Does Jared Padalecki look better before or after?
December 2nd, 2021 under Better than..., Supernatural. [ Comments: none ]
Now that Jared Padalecki has wrapped production on Walker for a while, he decided to get a haircut.
So do you think he looks better before or after the scissors did their magic? This is the rare occasion that I am going to say he looked better with the longer hair than the shorter do.

---
Who wore it better: Brooke Shields or her daughter?
June 7th, 2021 under Better than..., Brooke Shields. [ Comments: none ]
Back in 1998, Brooke Shields was the lady in red at the Golden Globes when she was nominated for Suddenly Susan. Now 23 years later, her daughter, Rowan, was the Queen of the ball at her prom in that same dress.
When it comes to who wore better, who cares? They are both absolutely beautiful in it.

---
Does Trisha Yearwood look better before or after?
April 7th, 2021 under Better than..., Garth Brooks and Trisha Yearwood. [ Comments: none ]
Trisha Yearwood did a photoshoot for an unknown and exciting reason, and she shared a photo with her fans. They loved the look and made sure to tell her that.
"Thanks for all the sweet responses. The selfie I posted earlier was after a photo shoot, so glam goddess Glenda had done hair and makeup for me, I had great lighting, and a filter," Yearwood wrote. "It's important for you to know that I have dream days like that, and I also have really 'real' days like tonight…this is me, after a hard workout with my trainer, no glam, no lighting, no filter. Love you guys!!"
I think the singer looks gorgeous with or without all the glam. As long as you are comfortable in your skin, you look beautiful no matter what. And she is very comfortable.

---
Who did a better formal Friday, P!nk or Justin Theroux?
April 11th, 2020 under Better than..., Justin Theroux, Pink. [ Comments: none ]

Since we cannot go out, some celebrities came up with creaitives ways to make their Friday nights feel like a Friday night.

P!nk and her husband had a black-tie affair at home. Carey Hart got the black-tie part correct, he just thought the shirt and jacket were optional.

Justin Theroux is single, so he dressed up for dinner in with his dog. Kuna, like Hart, got the black-tie part right.

Which couple did a better job of having a Friday night affair? I say it is tie like the black ties.

---
Who has a better tush: Salma Hayek or Tiffany Haddish?
January 10th, 2020 under Andy Cohen, Better than..., Salma Hayek, Tiffany Haddish. [ Comments: none ]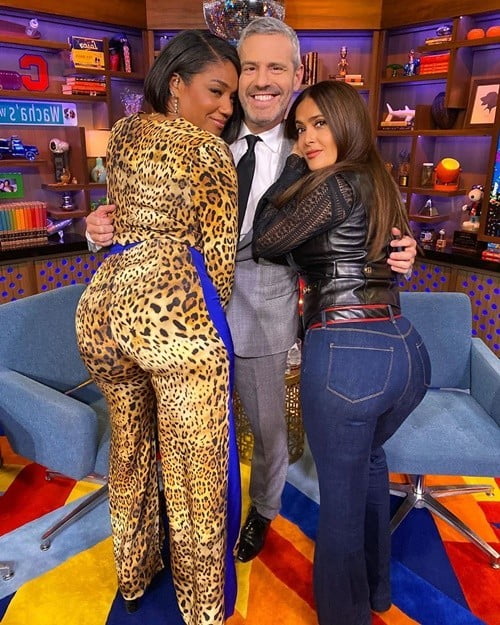 Salma Hayek or Tiffany Haddish are promoting their film Like a Boss and they took their act to Watch What Happens Live. To promote the episode, they posed with Andy Cohen and their a$$ets out. Which makes you wonder which actress has the better butt? Bottoms up, I say it is a tie.

---