Who has a better tush: Salma Hayek or Tiffany Haddish?
January 10th, 2020 under Andy Cohen, Better than..., Salma Hayek, Tiffany Haddish. [ Comments:

none

]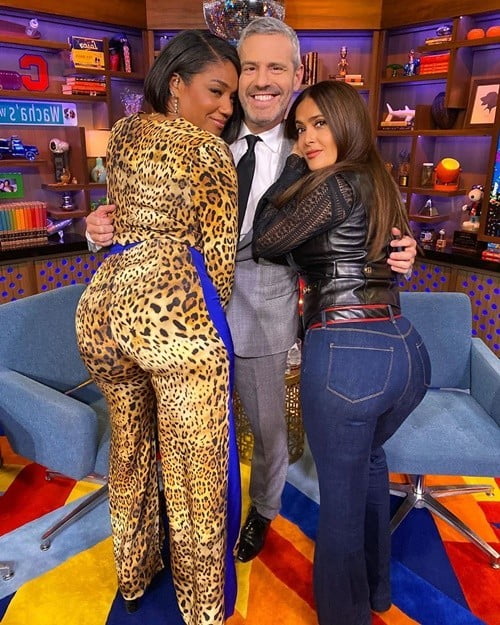 Salma Hayek or Tiffany Haddish are promoting their film Like a Boss and they took their act to Watch What Happens Live. To promote the episode, they posed with Andy Cohen and their a$$ets out. Which makes you wonder which actress has the better butt? Bottoms up, I say it is a tie.
---
Us scares Lupita Nyong'o and Tiffany Haddish
October 31st, 2019 under Ellen DeGeneres, Tiffany Haddish. [ Comments:

none

]


This year at Universal's Halloween Horror Nights, one of the spooky mazes is based on the movie Us. It is so scary that Ellen DeGeneres sent her producer Andy through it with Tiffany Haddish. How did they do? It was like another horror movie for them and that one is Scream. That is all they did.
They were not alone, even Lupita Nyong'o was scared of it. She also couldn't stop screaming as she tried it out the maze based on her feature. Eventually, she did stop screeching and that is when she made other people screech when she dressed up as her character from the horror film. Boo!
---
It's Salma Hayek vs Tiffany Haddish in Like a Boss
September 12th, 2019 under Billy Porter, Salma Hayek, Tiffany Haddish. [ Comments:

none

]

We know that Tiffany Haddish can be over the top high-larious. However, we are going to find out if Salma Hayek can match her in their new movie Like a Boss that comes out January 10th.
The film is described as, "Best friends Mia and Mel (Haddish and Rose Byrne) are living their best lives running their own cosmetics company they've built from the ground up. Unfortunately, they're in over their heads financially, and the prospect of a big buyout offer from a notorious titan of the cosmetics industry Claire Luna (Hayek) proves too tempting to pass up, putting Mel and Mia's lifelong friendship in jeopardy. The beauty business is about to get ugly."
Those are just a bunch of words, the trailer speaks volumes about how funny it is going to be. Plus, there are two very important reasons to see this film. They are Billy and Porter. He is a reason enough to see anything he is in. Pray tell.
---
Tiffany Haddish shares a photo in bed with her girlfriend!
October 15th, 2018 under Tiffany Haddish. [ Comments:

none

]

Last month, Tiffany Haddish got a new girlfriend and this weekend they made their love for each other Instagram official. Actually, they were already Instagram official, but that was just the first week when she got her hands on Emmy. Now, they are serious. But who wouldn't be getting serious with their first big award?

I just hope she is careful with Emmy because she got some mighty pointy wings that look like they will hurt. That is a prick you do not want to mess with.
---
Tiffany Haddish auditioned for Flavor of Love
September 28th, 2018 under Kevin Hart, Tiffany Haddish. [ Comments:

none

]

We saw a lot of interesting characters on Flavor of Love and one of the women almost vying for Flavor Flav's love was Tiffany Haddish.
The actress made the confession when she and Kevin Hart answered the Web's Most Searched Questions for Wired. Someone asked if she was New York from the reality show? She was like, "Hell no, I got all my real t!tt!es and a$$." Then she added, "You know I auditioned for that show, Flavor Flav. When I found out, it was Flavor Flav, you had to be in a house with, I was like, oh no, thank you." Do you blame her?
Actually, I do because imagine how awesome she would have been on the show? But then again, she might not have done The Carmichael Show had she been on the reality dating series. That would have been a huge loss for just 15 seconds of fame.
---