Tiffany Haddish shaved her head
July 8th, 2020 under Tiffany Haddish. [ Comments:

4

]

A lot of people are shaving their heads during the lockdown, and Tiffany Haddish is one of them. The actress has wanted to shave off her hair for a long time to see her scalp, and today she finally did it.
One by one, she cut off each dread, then it was time for the razor to do its work. Did she like what her scalp looks like? She loves it.
To the directors who might hate it, don't worry, she has plenty of wigs to cover her bald head.

---
The things that Tiffany Haddish likes to eat makes my stomach turn
February 19th, 2020 under Tiffany Haddish. [ Comments:

none

]

I love to eat weird combos of food, and I have met my match with Tiffany Haddish. She told Harper's Bazaar what she likes to eat, and even I was like hell no.
The comedian was so excited to tell them what her favorite snack is. She loves herself some dill pickles, and she adds a little something extra to them. Haddish takes a bite out of one and then sticks a Now Later, Jolly Rancher, or a peppermint candy inside. I think that sounds repugnant, but she says, "When I tell you, delicious flavors to savor. So damn good."
I will take her words for it. If that is not working for you, the actress also suggests dipping it in some Kool-Aid powder. Even Jim Jones would not do that to his followers. Too soon? Too ancient of a reference?
That is not her only favorite choice of a snack. Her other suggestion is to mix a bag of Doritos with one of Fritos and add two scoops of chili, some cheese, and jalapenos to it. That I am willing to try.
After listening to all of that, I so need a Tums. Especially because I just remembered I have all of the ingredients at home to make a Jolly Dill-aid. If you don't hear from me anytime soon, assume I am at the hospital getting my poor stomach pumped.

---
Who has a better tush: Salma Hayek or Tiffany Haddish?
January 10th, 2020 under Andy Cohen, Better than..., Salma Hayek, Tiffany Haddish. [ Comments:

none

]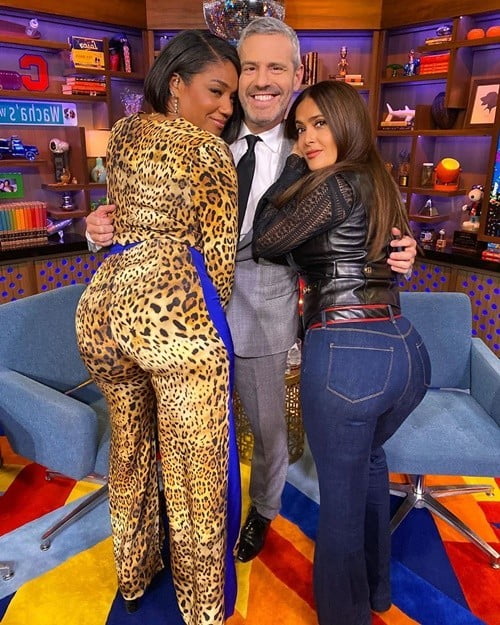 Salma Hayek or Tiffany Haddish are promoting their film Like a Boss and they took their act to Watch What Happens Live. To promote the episode, they posed with Andy Cohen and their a$$ets out. Which makes you wonder which actress has the better butt? Bottoms up, I say it is a tie.

---
Us scares Lupita Nyong'o and Tiffany Haddish
October 31st, 2019 under Ellen DeGeneres, Tiffany Haddish. [ Comments:

none

]


This year at Universal's Halloween Horror Nights, one of the spooky mazes is based on the movie Us. It is so scary that Ellen DeGeneres sent her producer Andy through it with Tiffany Haddish. How did they do? It was like another horror movie for them and that one is Scream. That is all they did.
They were not alone, even Lupita Nyong'o was scared of it. She also couldn't stop screaming as she tried it out the maze based on her feature. Eventually, she did stop screeching and that is when she made other people screech when she dressed up as her character from the horror film. Boo!

---
It's Salma Hayek vs Tiffany Haddish in Like a Boss
September 12th, 2019 under Billy Porter, Salma Hayek, Tiffany Haddish. [ Comments:

none

]

We know that Tiffany Haddish can be over the top high-larious. However, we are going to find out if Salma Hayek can match her in their new movie Like a Boss that comes out January 10th.
The film is described as, "Best friends Mia and Mel (Haddish and Rose Byrne) are living their best lives running their own cosmetics company they've built from the ground up. Unfortunately, they're in over their heads financially, and the prospect of a big buyout offer from a notorious titan of the cosmetics industry Claire Luna (Hayek) proves too tempting to pass up, putting Mel and Mia's lifelong friendship in jeopardy. The beauty business is about to get ugly."
Those are just a bunch of words, the trailer speaks volumes about how funny it is going to be. Plus, there are two very important reasons to see this film. They are Billy and Porter. He is a reason enough to see anything he is in. Pray tell.

---