P!nk deserves to take 2021 off too
December 22nd, 2020 under Pink. [ Comments:

6

]

Back in 2019, P!nk said she was taking off 2020. As we know, this year did not go as planned. In fact, for P!nk, it definitely did not go as planned.

"As if surviving covid wasn't enough for this poop sandwich of a year! Well, I got my stitches out from drying that wine glass, that went well. Then I recovered from my very first staph infection for no reason (cry for help?) (right knee was lonely?) so I thought I'd fracture my ankle," the singer wrote. "Later tonight I'm gonna climb inside a raw chicken and see if I can't check out what salmonella's like! 2020 is the gift that keeps on giving 👍🏽🤟🏾 I was actually running down the stairs trying to see the Christmas star! Ha! Turns out it's not until the 21st. Happy holidays everyone! Who wants a Negroni!"

Hopefully, she limped outside to check out the Christmas star and got to see it. Then she made a wish that nothing else happens to her for the rest of the year. I mean, what else can happen in the next 10 days? I know, don't ask because 2020.

---
Who did a better formal Friday, P!nk or Justin Theroux?
April 11th, 2020 under Better than..., Justin Theroux, Pink. [ Comments:

none

]

Since we cannot go out, some celebrities came up with creaitives ways to make their Friday nights feel like a Friday night.

P!nk and her husband had a black-tie affair at home. Carey Hart got the black-tie part correct, he just thought the shirt and jacket were optional.

Justin Theroux is single, so he dressed up for dinner in with his dog. Kuna, like Hart, got the black-tie part right.

Which couple did a better job of having a Friday night affair? I say it is tie like the black ties.

---
P!nk and her 3-year-old son tested positive for Coronavirus
April 4th, 2020 under Coronavirus, Pink. [ Comments:

none

]

P!nk revealed yesterday that she and her son, Jameson, that they both tested positive for Coronavirus.
Two weeks ago my three-year old son, Jameson, and I are were showing symptoms of COVID-19. Fortunately, our primary care physician had access to tests and I tested positive. My family was already sheltering at home and we continued to do so for the last two weeks following the instruction of our doctor. Just a few days ago we were re-tested and are now thankfully negative. It is an absolute travesty and failure of our government to not make testing more widely accessible. This illness is serious and real. People need to know that the illness affects the young and old, healthy and unhealthy, rich and poor, and we must make testing free and more widely accessible to protect our children, our families, our friends and our communities. In an effort to support the healthcare professionals who are battling on the frontlines every day, I am donating $500,000 to the Temple University Hospital Emergency Fund in Philadelphia in honor of my mother, Judy Moore, who worked there for 18 years in the Cardiomyopathy and Heart Transplant Center. Additionally, I am donating $500,000 to the City of Los Angeles Mayor's Emergency COVID-19 Crisis Fund. THANK YOU to all of our healthcare professionals and everyone in the world who are working so hard to protect our loved ones. You are our heroes! These next two weeks are crucial: please stay home. Please. Stay. Home.❤️
The singer did an Instagram live chat with Jen Pastiloff and talked more about her symptoms. She has bad asthma and was forced to use a nebulizer to deal with her breathing issues. That was then, and now they are both are on the mend.

---
The buzz about P!nk's new do
December 6th, 2019 under Pink. [ Comments:

5

]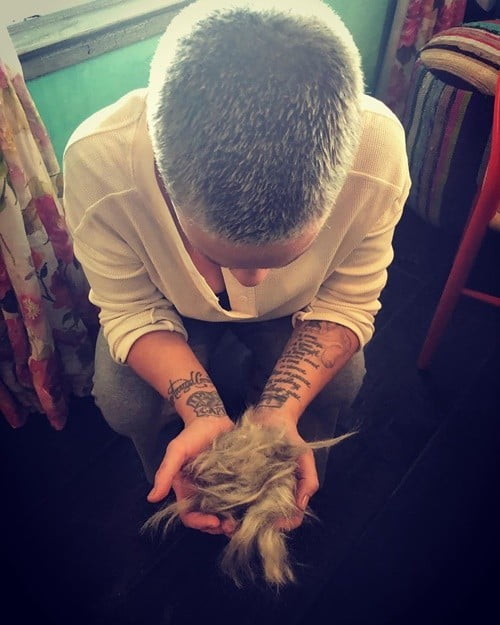 P!nk is about to take a year off from performing, so she decided to let some things go. Thing like her hairs because she buzzed it off.
If anyone can rock it, then it is the rocker. I bet you P!nk is dancing around her house because she feels free. So much so, the singer is most likely writing new tunes to go with her new look. Sadly, we probably won't hear them until she is done with her sabbatical.

---
P!nk's bronze statue is Lucille Ball bad
May 15th, 2019 under Lucille Ball, Pink. [ Comments:

none

]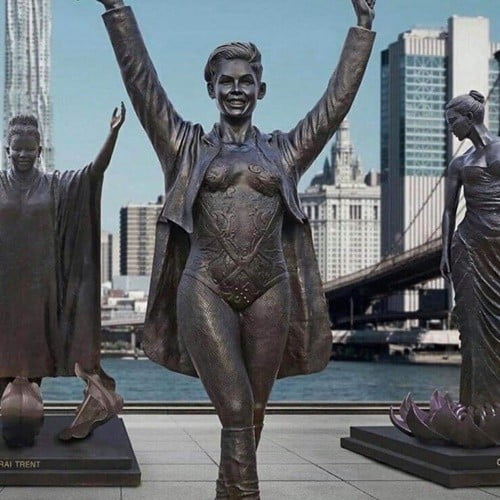 P!nk is such an extraordinary woman that she is one of the 10 women who is being featured in Statues for Equality in NYC. Which is a huge honor, until you see it.
Her drummer Mark Schulman shared a photo of it being displayed and it reminds me of when we all saw Lucille Ball's bronze statue in her hometown. As in it looks nothing like the singer. It looks more like Mayor Pete Buttigieg than the Rock star.
What do you think of it? Who do you think it looks like?
The other 9 women who are being honored by Gillie and Marc are Oprah Winfrey, Nicole Kidman, Jane Goodall, Cate Blanchett, Tererai Trent, Janet Mock, Tracy Dyson, Cheryl Strayed and Gabby Douglas. It will be interesting how they turned out.

---