Is Brooke Shields telling us she wants to do Blue Lagoon 2?
December 30th, 2019 under Are they really their age?, Brooke Shields. [ Comments:

1

]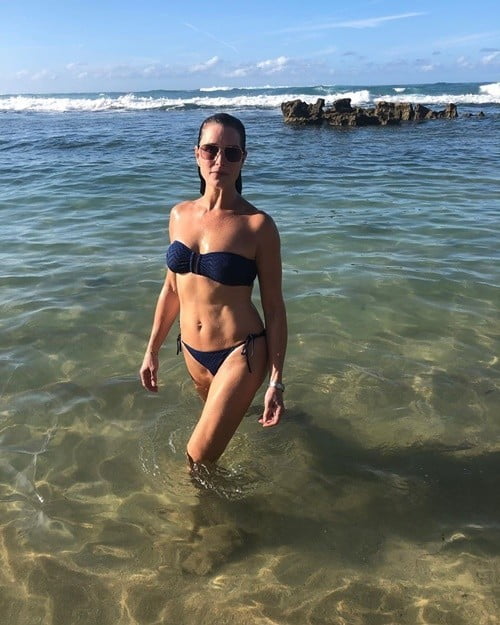 Back when Brooke Shields was just 14 years old, she made a little movie called Blue Lagoon about two teens who are deserted on an island. Now 40 years later, it appears as though she is finally ready to do a sequel. Looking at the 54-year-old in a bikini today, I think she could easily do it.
Although, she would have to grow out her hair to cover her up privates as she did in the first movie. Seriously, doesn't the actress look phenomenal? Can you believe the mother of 2 is in her mid-fifties? I don't.
---
Is Brooke Shields really 52?
May 21st, 2018 under Are they really their age?, Brooke Shields. [ Comments:

none

]

In 10 days, Brooke Shields is going to turn 53 years old, but you would never know it by looking at her.

The actress is one of the spokesmodels for Swimsuits for All Bodies' Power Suit line, therefore she modeled their red bikini. I should say red hot bikini because that is what it is on her body that looks just as toned now as when nothing came between her and her Calvin's in the '80s.

How can she be a mom of two in her 50's and still look like that? I need to know her secret.
---
What happens when Brooke Shields takes the cold plunge?
November 27th, 2017 under Brooke Shields. [ Comments:

none

]

For some reason Brooke Shields decided to take a dip in a freezing cold hot tub and you can tell she quickly regretted it as soon as she took her first step into the ice cold water. She made sounds she has not made since she dated Dean Cain. Too soon?
Seriously, don't you love the pretty girl's reaction to torture? Or is just me because I am a sadist?
BTW doesn't she looks freaking fantastic in a one-piece at 52? How is she that old?
---
Brooke Shields is up to no good on Law & Order: SVU
August 13th, 2017 under Brooke Shields, Dick Wolf. [ Comments:

none

]

The good news is that Brooke Shields is going to join Law & Order: SVU as a recurring character. The bad news is The Hollywood Reporter says she will "shake up Benson's (Mariska Hargitay) world." What that means we do not know, but the actress says she plays, "I play a very different character from any I have ever played."

Now I am even more curious what her character will add to the procedural when it returns to NBC on September 27th.
---
Brooke Shields is still very sexy in just her Calvins
June 30th, 2017 under Brooke Shields. [ Comments:

2

]

Back in 1980, Brooke Shields declared that nothing comes between her and her Calvins. Now 37 years later, the 52-year-old showed us that they are still inseparable. That's right the actress is once again modeling for Calvin Klein and she looks even better today than she did then. And this time she is wearing even less fabric than she had on back then. My hat is off to her because she looks fabulous in just their underwear. Don't you agree?
---