Justin Theroux reveals how the Tramp went from a shelter to Hollywood
August 26th, 2019 under Disney+, Justin Theroux. [ Comments:

none

]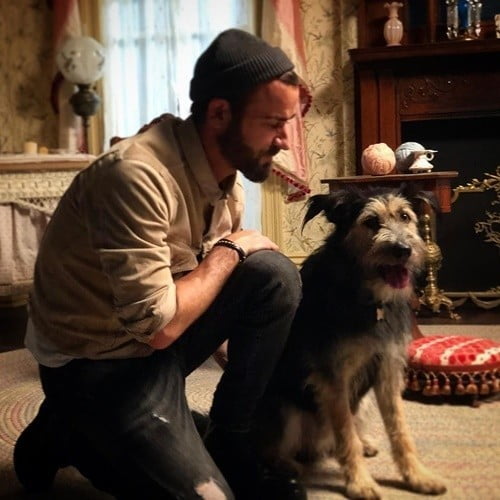 Over the weekend, we fell in love with Lady and The Tramp all over again. Today, we have more reason to arfdore the live-action film that is coming to Disney+ on November 12th. Justin Theroux shared Monty's (The Tramp) story and it is the perfect tail, I mean tale, for National Dog Holiday. A day, my cat thinks is far from purrfect.
Anyways, here is what Theroux wrote:
MEET MONTY!!!! 🐕 ❤️ Sometimes things work out perfectly. PLEASE scroll through for HIS VERY very cool story.. Monty was rescued from @halorescue … an amazing NO KILL shelter in Phoenix AZ 🙏🏼 … he was found by @disney who was looking for shelter animals to cast in LADY AND THE TRAMP! IN which there are TONS of rescue dogs. 🐾 Woohoo! Including, yours truly… KUMA who was given a really huge starring role (okay, it was teensy but don't tell her 😬). A huge thank you to @disney for giving not just Monty, but so many dogs a big break, not just in the movie, but a life outside of the shelter!
And a huge thank you @ladyandthetramp for letting me be Monty's voice, so he can show the world how amazing shelter animals really are.
#adoptdontshop
@ladyandthetramp
#DisneyPlus
#LadyAndTheTramp
@tessamaethompson my Lady! ❤️
I love when movies, like this and Pet Sematary, give rescue animals a second chance of life. One that is better than us people, who walk on two legs, can ever imagine. Thank you, Disney, for rescuing Monty and all of the other dogs.
My first cat was a stray and my other two are rescues. Therefore, I strongly believe is Adopt Don't Shop. Thank you to Seth and Rachel MacFarlane, and Heaven on Earth for letting me adopt my latest furbaby from Perry's Place.
---
Does Justin Theroux have a new bitch in his life?
February 19th, 2019 under Justin Theroux. [ Comments:

2

]

Ever since Justin Theroux split with Jennifer Aniston, I have not heard him being linked to anyone else. Looks like he is moving on because he was seen doing a Lady and the Tramp using a french fry with another girl. Before you have a pit in your belly, don't worry. That is because that female his pit bull, Kuma. She will give him unconditional love like all the of the other women who walk on two legs.
---
Jennifer Aniston is making like her movie The Break-Up with Justin Theroux
February 15th, 2018 under Divorce, Friends (cast), Justin Theroux. [ Comments:

none

]

When Jennifer Aniston showed up to Ellen DeGeneres' party without Justin Theroux this weekend, the rumors that they split started up again. Today the couple told the AP, that split "was mutual and lovingly made at the end of last year." Then they added, "Normally we would do this privately, but given that the gossip industry cannot resist an opportunity to speculate and invent, we wanted to convey the truth directly. Whatever else is printed about us that is not directly from us, is someone else's fictional narrative. Above all, we are determined to maintain the deep respect and love that we have for one another."

Therefore, we can stop guessing if she is pregnant and go back to will she get back together with Brad Pitt.

People says sources told the mag, their busy schedules caused problems in the marriage.

They were married on August 5, 2015, in a small private wedding at their Bel Air home.
---
Jennifer Aniston's TMI about Justin Theroux!
August 14th, 2017 under Friends (cast), Justin Theroux, TMI. [ Comments:

none

]

Jennifer Aniston does not really talk that much about her husband of two years Justin Theroux, but she revealed something very private about his private parts to Refinery 29. She told them, "he likes to dabble. He kind of manscapes [laughs], which I actually enjoy. I enjoy a nicely manscape-d partner." Now when we are picturing what is under those sweatpants, you know the ones, we know to picture it clean cut!
---
Justin Theroux shares a rare Selfie with Jennifer Aniston
August 6th, 2017 under Friends (cast), Justin Theroux. [ Comments:

none

]

Even though Justin Theroux and Jennifer Aniston have been married for two years, you rarely see them together. And it is even more rare to see her on his Instagram feed. Therefore when he does he share a photo of her kissing him without any makeup on, it is news. And it is also news that she looks better without any makeup on. What do you think?
---