When did Justin Timberlake turn into Kevin Smith?
September 22nd, 2021 under Justin Theroux, Kevin Smith. [ Comments: none ]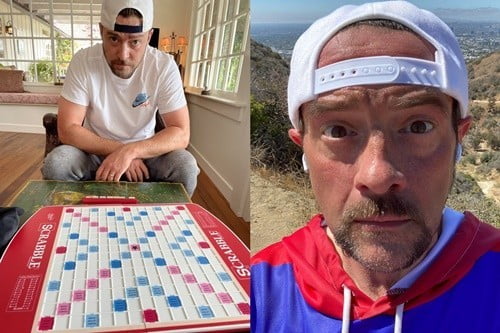 Jessica Biel posted a photo of her and her husband playing a mean game of Scrabble. When I saw the picture, I thought it was Kevin Smith as I was scrolling. Seriously, can you tell which one is which?
Now, I have to wonder, is that saying that the director got sexy when he lost the weight? Or does it say that the singer needs to bring his sexy back? So many questions, so little info?

---
Who did a better formal Friday, P!nk or Justin Theroux?
April 11th, 2020 under Better than..., Justin Theroux, Pink. [ Comments: none ]

Since we cannot go out, some celebrities came up with creaitives ways to make their Friday nights feel like a Friday night.

P!nk and her husband had a black-tie affair at home. Carey Hart got the black-tie part correct, he just thought the shirt and jacket were optional.

Justin Theroux is single, so he dressed up for dinner in with his dog. Kuna, like Hart, got the black-tie part right.

Which couple did a better job of having a Friday night affair? I say it is tie like the black ties.

---
Justin Bieber tells James Corden to swallow and not spit
February 21st, 2020 under James Corden, Justin Theroux. [ Comments: none ]

Justin Bieber continued his week of appearances on The Late Late Show yesterday by playing Spill Your Guts or Fill Your Guts with James Corden. He did a lot of spilling his guts, but not as in tea. The smell and taste of some of the food choices made him gag until the ant and scorpion covered yogurt made him spill it all which also included a shrimp and three chili smoothie. That yummy yum, that yummy yummy.
While he was not able to keep it down, the CBS host was not able to do it either. That is because he was not swallowing the delicacies; he was just spitting them out. When the Beebs realized what his competitor was doing, he told him to swallow. I wonder if that is the first time Bieber told someone to swallow and not spit? And that line was the whole reason for this post. It was worth it for me, and I hope for you too.

---
Justin Theroux reveals how the Tramp went from a shelter to Hollywood
August 26th, 2019 under Disney+, Justin Theroux. [ Comments: none ]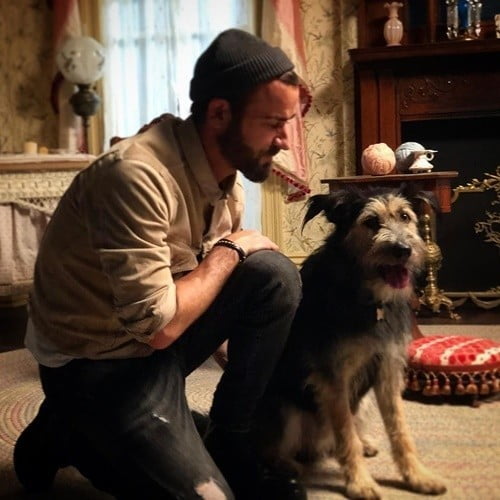 Over the weekend, we fell in love with Lady and The Tramp all over again. Today, we have more reason to arfdore the live-action film that is coming to Disney+ on November 12th. Justin Theroux shared Monty's (The Tramp) story and it is the perfect tail, I mean tale, for National Dog Holiday. A day, my cat thinks is far from purrfect.
Anyways, here is what Theroux wrote:
MEET MONTY!!!! 🐕 ❤️ Sometimes things work out perfectly. PLEASE scroll through for HIS VERY very cool story.. Monty was rescued from @halorescue … an amazing NO KILL shelter in Phoenix AZ 🙏🏼 … he was found by @disney who was looking for shelter animals to cast in LADY AND THE TRAMP! IN which there are TONS of rescue dogs. 🐾 Woohoo! Including, yours truly… KUMA who was given a really huge starring role (okay, it was teensy but don't tell her 😬). A huge thank you to @disney for giving not just Monty, but so many dogs a big break, not just in the movie, but a life outside of the shelter!
And a huge thank you @ladyandthetramp for letting me be Monty's voice, so he can show the world how amazing shelter animals really are.
#adoptdontshop
@ladyandthetramp
#DisneyPlus
#LadyAndTheTramp
@tessamaethompson my Lady! ❤️
I love when movies, like this and Pet Sematary, give rescue animals a second chance of life. One that is better than us people, who walk on two legs, can ever imagine. Thank you, Disney, for rescuing Monty and all of the other dogs.
My first cat was a stray and my other two are rescues. Therefore, I strongly believe is Adopt Don't Shop. Thank you to Seth and Rachel MacFarlane, and Heaven on Earth for letting me adopt my latest furbaby from Perry's Place.

---
Does Justin Theroux have a new bitch in his life?
February 19th, 2019 under Justin Theroux. [ Comments: 2 ]

Ever since Justin Theroux split with Jennifer Aniston, I have not heard him being linked to anyone else. Looks like he is moving on because he was seen doing a Lady and the Tramp using a french fry with another girl. Before you have a pit in your belly, don't worry. That is because that female his pit bull, Kuma. She will give him unconditional love like all the of the other women who walk on two legs.

---