Ashley Tisdale is having a girl
October 16th, 2020 under Ashley Tisdale. [ Comments: none ]

Last month, Ashley Tisdale announced that she is pregnant with her first child. Recently the actress and her husband, Christopher French, held a gender reveal party. The couple, who have been married for six years, are having a baby girl!

"This year has obviously been hard. For so many. Ups and downs, and an emotional roller coaster. I think this day was by far my favorite day EVER! I cried I was so happy," Tisdale said. "Ps for all you people going above and beyond for gender reveal parties. A cake with the color inside is JUST as rewarding as fireworks but SAFER! #SheSoFrench"

It might be safer, but it is not as exciting. However, if you really want to see fireworks, then forget about gender reveal parties. Have a paternity party with multiple partners!

---
Ashley Tisdale has something to sing about, she's pregnant!
September 17th, 2020 under Ashley Tisdale. [ Comments: none ]

Ashley Tisdale has a secret to tell. She and her husband, Christopher French, are expecting their first child together.

The couple, who just celebrated their sixth wedding anniversary as husband and wife, did not say anything with the baby bump photos, so we do not know how far along she is. I am going to assume from the size of her bump; she is at least five months.

I have to admit; she has been very good at hiding her expanding stomach. The actress has been posting dancing videos on TikTok, and her midsection was flat. Very sneaky mama-to-be.

---
Ashley Tisdale reveals she got her implants out
August 20th, 2020 under Ashley Tisdale. [ Comments: none ]

Did you know that Ashley Tisdale had breast implants? She did, but she had them removed. Now, she is explaining why she did it.
Years ago I underwent breast enhancement surgery. Prior to the surgery, I constantly felt my body was less than, and thought this change would make me feel more whole and more secure about myself. And for a short period of time…it did. But little by little I began struggling with minor health issues that just were not adding up—food sensitivities as well as gut issues (full story on @frenshe) that I thought could be caused by my implants. So, last winter I decided to undergo implant removal.
Tisdale then goes on to explain that she is so happy to finally be comfortable in her own skin. It was not easy for her to open about her journey because it is the most personal thing she has shared, but she wants to take you on her journey of "well-being and openly speak to health, beauty and everything in between."
At the end of the day, the only person's opinion who should matter is your own. No one else's matters.

---
BTWF: Ashley Tisdale on Young People's Report
December 19th, 2019 under Ashley Tisdale, Before They Were Famous. [ Comments: none ]

Before Ashley Tisdale was in High School Musical, she starred in Les Miserables and was interviewed by Young People's Report. How awwwdorable is the 12-year-old in that 1998 interview?

---
Ashley Tisdale calls out Kevin Smith for scratching up her car
June 9th, 2019 under Ashley Tisdale, Kevin Smith. [ Comments: none ]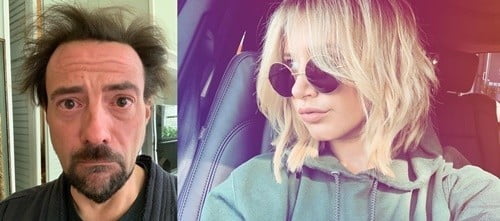 Did you know that Kevin Smith and Ashley Tisdale are neighbors? Well, they are and they are fighting it out on Twitter and then hugging it out in real life.
The actress wrote, "Thanks @ThatKevinSmith for scratching my mirror on my car and not stopping. Classy move neighbor!" He responded by saying, "Apologies – I drive like Cruella de Vil in the Hills! However, I *did* do a courtesy stop. Then when you pulled away first, I was like 'That's soooo Sharpay…'"
After people called her out for tweeting that and his tweet, she went over to his house to talk to him in person. He revealed what happened next, "So the incredibly sweet @ashleytisdale stopped by my house and tried to apologize. I assured her that *I'm* the one who was driving like a Wildcat. Also told her I'd sent my kid our Tweets. HQ's response: 'We saw Ashley in HighSchoolMusical Live!' Ashley was like 'Oh, maaan…'"
Too bad he didn't crash into her car before he wrapped Jay and Silent Bob because then maybe she could have been in it as an apology. Since that movie is done, I am sure she will be in his next one. That is if she is not busy filming Carol's Second Act as Patricia Heaton's daughter.

---