Maury Povich will tell men if they are the father for two more years!
February 28th, 2020 under Maury Povich, Talk Shows. [ Comments: none ]

Ladies, do you not know who is the father of your baby, and you want a free trip to NYC to find out who he is? Then you will be happy to know that NBC Universal renewed Maury Povich's show for two more seasons.
That brings the total to 24 seasons and over 1,000,000 DNA tests served.
Seriously, am I the one who did not know that Maury was still on the air?

---
You can't help Falling for Harry Styles
February 28th, 2020 under Harry Styles. [ Comments: none ]

Harry Styles released the music video for his new single today, and it gave me the same chills I got when I heard Adele's Hello for the first time.
Falling proves that Styles is more than a member of a boyband, he can actually belt out a ballad that grabs hold of your heart. I knew he was good at the pop stuff, but this a whole new appreciation of his voice for me. I am in awe.
Someone get me a lighter because it is the only way to listen to this tune. Imagine what it will be like when he performs Falling live? You will be able to hear a pin drop as strangers sway side to side.

---
Caption Bella Thorne!
February 28th, 2020 under Bella Thorne. [ Comments: none ]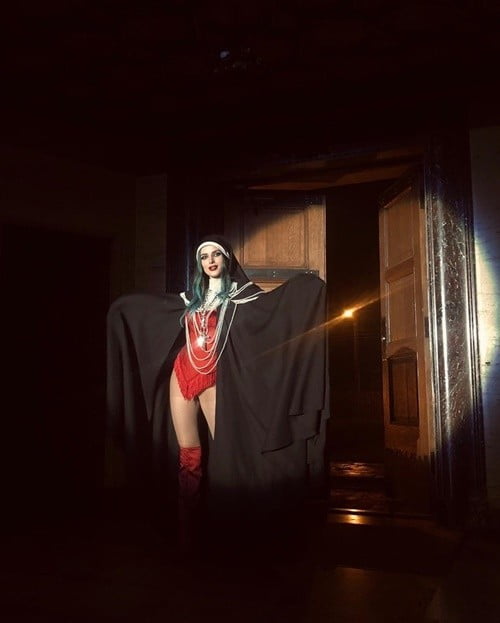 This photo of Bella Thorne on the set of her latest movie has caption me all over it, so go ahead and do it.

---
Jon Bon Jovi and TAFKAP Harry recreate The Beatles' Abbey Road walk
February 28th, 2020 under Bon Jovi, The Princes of England. [ Comments: none ]

via Daily Mail's Rebeeca English
Back in 1969, The Beatles made walking across the street look uber cool for the cover of their album Abbey Road. For the last 50 years, most people who visit that crosswalk try to recreate the band's infamous pose.
Today, that moment came to life again with Jon Bon Jovi, The Artist Formerly Known as Prince Harry (JBJ's nickname for him his new friend), and two members of the Invictus Games Choir.
The four of them were in Abbey Road Studios, recording a new version of Jovi's song Unbroken to raise money for TAFKAP Harry's charity Invictus Games. The sporting events "use the power of sport to inspire recovery, support rehabilitation, and generate a wider understanding and respect for wounded, injured and sick Servicemen and women." Jovi's tune is about shining "a spotlight on those veterans living with Post Traumatic Stress Injury (PTSI), to honor their service and acknowledge the strength of the Armed Forces community."
It is a beautiful combination that helps people who will need it. The Duke of Sussex shared a preview of their single, and their version will tug at your heartstrings because it is so powerful.
Sadly, Harry has not only stepped back from Royal duties, but he also stepped back from singing. He decided to leave that up to the professions. However, he did go into the recording studio with JBJ, it just want not meant to be. I guess he will not be singing for his supper if he needs the money. You know, because of his new status.
To hear a snippet of the upcoming song that comes out next month, then click here!

---
Popularity of Slot Games Explained with Five Simple Reasons
February 28th, 2020 under Uncategorized. [ Comments: none ]
In the mid to late 90's online casinos became a mobile activity and became the ultimate in convenience and with the prediction that by the end of 2019 half of the UK population will be gaming online. Gamers can sit anywhere in the world, be at a computer, on a tablet, a mobile phone and even access it via an app. There are no gaming consoles to purchase or even glitzy evening wear required to play, a player playing online slots can do so anytime and anywhere. We look at the top five simple reasons to play at Slotsracer.com and why online slot games have become so popular.
Convenience.
Primarily it is the convenience. It helps hugely and is more fun not to have to move from your sofa, your desk, a coffee shop for example whilst playing your online slot game. Location is no issue, an online slot player can sit anywhere with no restriction on time zones even in your pajamas playing. Players can leave the game and come back to it, have a quick spin at the coffee machine at the office or even sneakily at their desk.
Anyone can play.
Online gaming is now perceived as an interest for all genres across all demographics opening it up to busy execs who want to de-stress, teenagers, women and men and across all different walks in life. In country's where there may be a gambling restriction, playing online can combat this as can age restrictions, whilst remaining sensible, of course. Players of a certain age can still partake whereas they wouldn't be allowed access into a traditional land based casino.
Knowledge
Unlike traditional land based casinos where knowledge, skill and strategy is key, online slot games is the exact opposite. No one is watching you and trying to work out your next move so consequently it is easier to think about the next move. A lot of online slot games will come with some form of instructions too and therefore are easy to pick up.
Competition.
Online slot gaming is not restricted to individual activity and players can play against each albeit not necessarily sitting next to each other. Think of the traditional casino and the tension and the strategy involved, with online slot gaming there is no face to face contact and therefore no one can see body language which may give away your next move, realistically leaving you with more chance to hit that jackpot!
Cost
Don't be mistaken; there are big bucks to be earned playing online slots. On a progressive jackpot players can hit lucky and win millions. But the tension and pressure in a land based traditional casino is way more intense and serious than if a player is sitting at home playing an online slot and therefore may not feel the urge to continue betting and betting when they know they should quit. Online slots have a level of transparency too, a progressive jackpot will publicise what the next potential win could be and the return to player percentage is always widely available.

---