Which Meghan Markle looks more like Meghan Markle?
May 30th, 2019 under Lifetime, The Princes of England. [ Comments:

3

]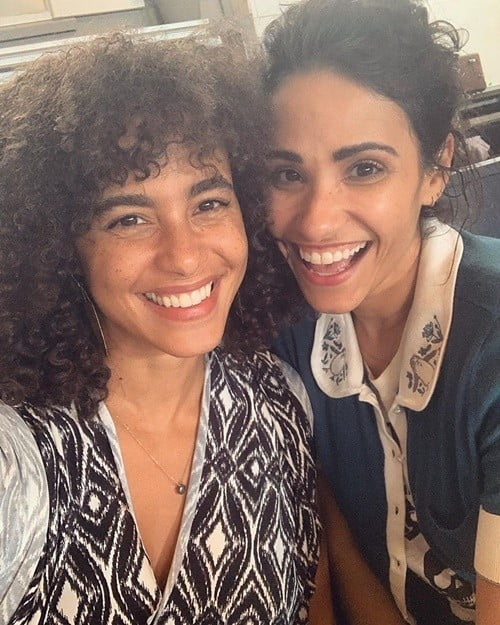 Parisa Fitz-Henley (curly hair) played Meghan Markle in the Lifetime movie Harry and Meghan: A Royal Romance, but Tiffany Smith (straight hair) played her in the followup Becoming Royal. Looking at the two actresses together, which one do you think looks more like the Duchess of Sussex?
In this photo, I don't see the resemblance as much, but in the movies I say Smith.
Was there any animosity between the two actresses? Fitz-Henley said, "Tiffany I'm so grateful for you, your sweetness, your grace and sisterhood! I love how much space there is for warmth — and silliness! — in this world and in this business! So excited for you! Can't wait to watch you shine as Meghan!!" She wrote that to Smith's, "Continuing the celebration of all things #BecomingRoyal. I am Thankful for SO many things that this experience has brought into my life. And high on that list is getting to know this queen! Love you lady @parisafitzhenley 💖✨"
Since both actresses get along, Lifetime needs to do a movie with both of them as the new mom. They are secret twins and the one who did not marry Prince Harry kills her sister so that she can become a princess. Or Markle goes crazy in the palace and creates an alter-ego that goes around doing evil things. How can she be in two places at once? Tune into split personality. Or Prince Harry accidentally kills his wife and they hire a look-alike to play her so no one knows the truth. You know, something more on the Lifetime brand.
---
Meghan Markle's job is Princess of the United Kingdom
May 17th, 2019 under The Princes of England. [ Comments:

none

]

The British press, including Rebecca English from Daily Mail, have been wanting to know where Meghan Markle had her baby and today we found out via the just-released birth certificate for Archie Harrison Mountbatten-Windsor. Since I am a Yankee (as in an American and not as in a fan of the team from my home borough The Bronx) who lives on the other side of the pond, I was more interested in the Duchess of Sussex's occupation that was listed on it. It says that her job is Princess of the United Kingdom.
Thus, she really is living a Hallmark movie life. Where the average American girl travels out of the country (Canada), meets a prince, they fall in love, get married and live happily ever after.
---
Prince Harry and Meghan Markle introduce us to Baby Sussex
May 8th, 2019 under The Princes of England. [ Comments:

none

]

On May 6th, Baby Sussex came into the world. Today, his proud parents, Prince Harry and Meghan Markle, introduced him to the world. While he does not have a name yet, he will be on more magazine covers later today than babies were born on the same day as him combined.
He is a beautiful baby boy. Motherhood is agreeing with his mother because I have never seen her look prettier than she did today. And I have watched Suits from day one.
BTW am I the only who heard her that she has picked up a little bit of British accent as she made to sure to thank everyone for all of their well wishes.
UPDATE: The Royal Family announced that Baby Sussex has a name and it is Archie Harrison Mountbatten-Windsor. According to Daily Mail's Rebecca English, he will not have a title and will go by Master Archie.
I love how happy Archie's great grandparents, Queen Elizabeth II and Prince Philip, are to meet their newest great-grandchild.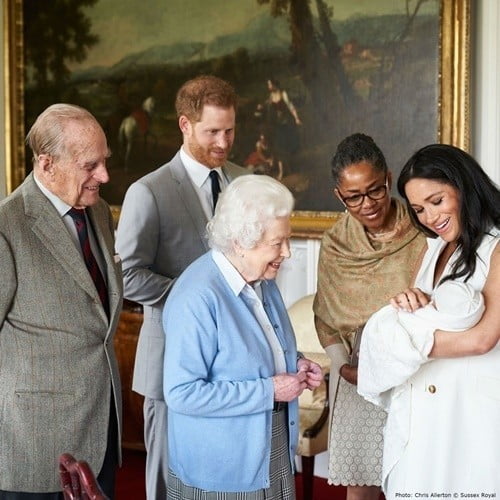 UPDATE 1: Emily Andrews from The Sun explained Master Archie's title better. She wrote, "Harry & Meghan have chosen not to use courtesy titles (such as Harry's Scottish title Earl of Dumbarton) so it'll be Master Archie Harrison Mountbatten-Windsor. When Charles is King he'll automatically become Prince Archie, but he (or his parents) may choose not to use it."
UPDATE 2: Master Archie already has his own webpage on the British Royal website.
---
The Baby of Sussex is here!
May 6th, 2019 under The Princes of England. [ Comments:

none

]

Prince Harry and Meghan Markle welcomed their first child together today, 13 days before their first wedding anniversary.
The Sussexes released this statement, "We are pleased to announce that Their Royal Highnesses The Duke and Duchess of Sussex welcomed their firstborn child in the early morning on May 6th, 2019. Their Royal Highnesses' son weighs 7lbs. 3oz.
"The Duchess and baby are both healthy and well, and the couple thank members of the public for their shared excitement and support during this very special time in their lives.
"More details will be shared in the forthcoming days."
The overjoyed Prince Harry told Sky News that they we will meet the Baby of Sussex in two days with his wife. Hopefully, by then they will have name for him. As of now they are still debating one. Although, he admitted more time to pick a name since the seventh in line to the throne was rumored to be a week late.
UPDATE: Meghan Markle's TV husband from Suits, Patrick J. Adam, had a message for the new mom. He wrote, "Just heard that the world just got heavier by 7 pounds and 3 ounces. Much love to him and his incredible parents. Learned first hand 7 months ago how transformational becoming a parent is and couldn't be happier for Meghan and Harry as they begin this adventure. #playdatesoon"
He and Troian Bellisario have a baby girl. Maybe their babies will enjoy their playdates so much, they will get married in the future! Would that be incestuous?
---
Prince Louis is getting so big!
April 22nd, 2019 under The Princes of England. [ Comments:

none

]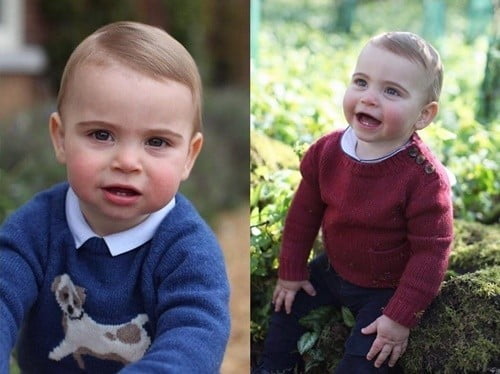 via Kensington Palace
Tomorrow is Prince Louis' firstoccasion already, can you believe it? In honor of the occassion, his parents Prince William and Kate Middleton shared a photo of their youngest child that she took at their home in Norfolk earlier this month.
Prince Louis looks a little different than his older siblings Prince George, 4, and Princess Charlotte, almost 3, who look almost identical. Even though he is not their triplet, he is absolutely awwwdorable. To me, he looks very posh, but you can tell he can be trouble. Like his sister, I bet he knows how to use his cuteness to get himself out of the trouble he gets himself into.
---