Meghan Markle says people don't ask her if she is OK!
October 18th, 2019 under The Princes of England. [ Comments:

none

]

In the last three years, Meghan Markle went from an American actress in Canada to marrying a British Prince in England. That is a lot for anyone to handle.
Ever since we found out that she was dating Prince Harry, we have not heard that much for her. We have seen her, but we have not really heard her. This Sunday on ITV in England and Wednesday on ABC in America, she gets very candid about her new life with Tom Bradby.
He wanted to know how the pressure of being the Duchess of Sussex is affecting her. Tears started to back up her eyes and she told him, "Any woman, especially when they're pregnant, you're really vulnerable. So that was made really challenging and then when you have a newborn…especially as a woman, it's really, it's a lot. So you add this on top of just trying to be a new mum or trying to be a newlywed." She took a pause and added, "Thank you for asking because not many people have asked if I'm ok. But it's a very real thing to be going through behind the scenes."
With that, he wanted to know if her perceived fairytale life is a struggle. She responded with one word and that word is, "Yes."
Watching her answer his questions made me really sorry for her. She is living a fantasy many women dreamed of since we were little girls. I guess, you can say, living the reality of a dream is far from perfect. It is still great, but there are evil stepmothers all over the place. And I am not referring to Camilla, you know since she is Prince Harry's stepmother.
In Meghan's case, the evil person seems to be her dad. Unlike in the Princess stories where the father is always the good guy.
Hopefully, people will lay off her of her for a bit so that she and Harry can live the happily ever after those books always ended with.
---
Princess Charlotte started school today!
September 5th, 2019 under The Princes of England. [ Comments:

none

]

Princess Charlotte is getting to be such a big girl that today she joined her big brother Prince George at Thomas's Battersea. The two kids were taken to their first day at school together by their parents. Kate Middleton held her daughter's hand as the 4-year-old nervously entered the building. After she was inside, her father told Daily Mail's Rebecca English and the other Royal press that his daughter is excited to start school today.
I bet you she will be the most popular person in her class by the end of the day. Not because she is a literal princess, it's because she is full of so much personality. Who wouldn't want to be her friend?
---
Prince William and Kate Middleton fly a budget airline
August 22nd, 2019 under The Princes of England. [ Comments:

none

]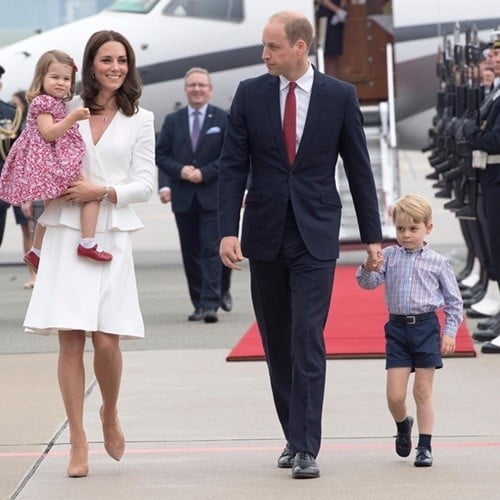 For the last few weeks, Prince Harry and Meghan Markle have been bashed for taking private jets for a few vacations. Today, when Prince William, Kate Middleton and their three children traveled from London to Scotland to visit the Queen and Prince Phillip, they took a budget airline. According to Daily Express, FlyBe flights from Norwich to Aberdeen cost around £73.05. Assuming that Prince Louis flew for free, they paid about £300 for the trip. Which is not bad.
Did anyone know they were onboard? The paper say the passengers had no idea until they got off. The Cambridges sat in the front of the plane and appearantly snuck on unnoticed.
Their gesture means that the next time his brother travels with his wife and their son, they will have to fly like commoners too. I wonder which Kensington Royal is more upset about that? The Duchess of Sussex at least is used to it, since she has not even been a royal for 2 years.
---
Want to live like Meghan Markle did?
August 6th, 2019 under The Princes of England. [ Comments:

none

]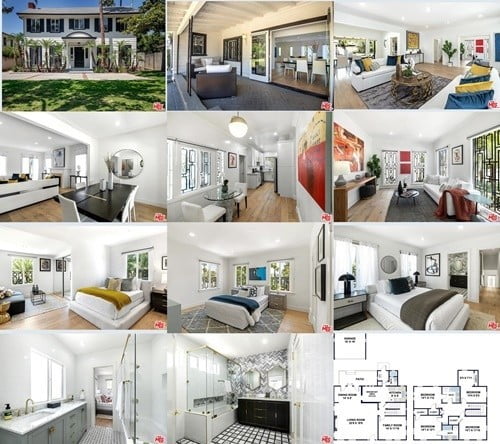 Meghan Markle lives like a princess in a castle now, before that she lived in a 4 bedroom/3 bathroom house in Hancock Park. That home went on the block last week and you can own it for just $1,799,000.
The Bienstock Group describes their listing as, "Rare colonial Hancock Park charmer with so much sunshine! Abundant off street parking! Open floor plan downstairs amazing for entertaining. Living room with fireplace opens to dining room and family room. Kitchen with eat in breakfast area. Four sunshine filled large bedrooms and two remodeled bathrooms upstairs. Park like grassy yard with porch, al fresco dining area, garage. Spacious, open, and airy in amazing central location! Buyer to verify square footage."
The 1924 colonial is something I can picture her living in back when she was just an actress. Can you see yourself living there? It is a nice quiet street not too far from The Grove. If you have the money, it can be yours!
---
Meghan Markle auditioned for The Wendy Williams Show
July 11th, 2019 under The Princes of England, Wendy Williams. [ Comments:

none

]

Before Meghan Markle was married to Prince Harry, she was just a girl trying to get a work as an actress. One of the roles she auditioned for was to be a model on The Wendy Williams Show for one of the fashion segments. I guess her Suits were not good enough for them because Williams says they did not hire her.
For some reason, I do not think the Duchess of Sussex cares. I think in the long run, things turned out OK for her. Much better than OK. I wonder how her life would have turned out had she landed the part? She probably would be married to one of the Trump kids. Yeah, her life turned out much better than OK for not landing that job.
---