Kate Middleton looking like the Princess that she is
January 8th, 2022 under The Princes of England. [ Comments: none ]
Tomorrow is Kate Middleton's 40th birthday, and Duke and Duchess of Cambridge released some new photos of the Princess. As the future Queen of England, she is wearing Alexander McQueen in the photo that was taken in November at Kew Gardens. If those earrings look familiar, they belonged to her mother-in-law Princess Diana, according to Daily Express' Richard Palmer.
When it comes to the Duchess, I have never seen her look more gorgeous. She is aging beautifully as she ascends to the throne. Being a royal and a mother really agrees with her.
To see the other two photos, then click here!

---
The Sussexes release their family Christmas card!
December 23rd, 2021 under The Princes of England. [ Comments: none ]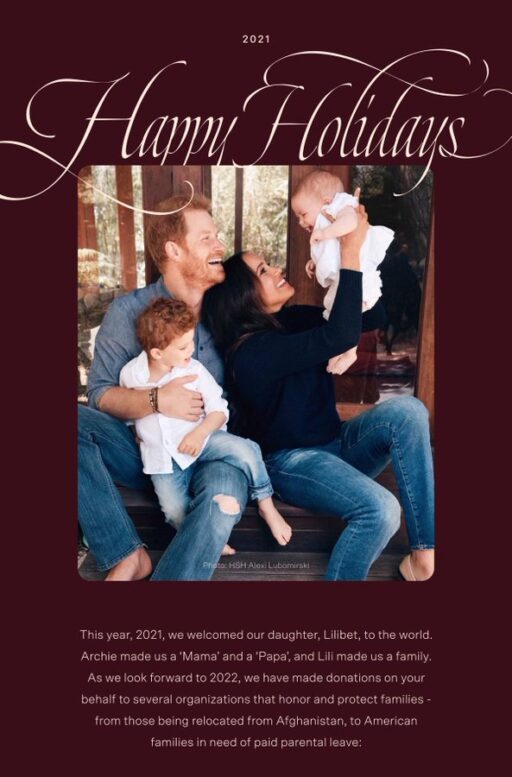 Team Rubicon/Twitter
It has been over six months since Lilibet Diana Mountbatten-Windsor was born, and yet we haven't seen any photos of her. Today, her parents, Prince Harry and Meghan Markle shared their Christmas card photo that includes all three of them and her 2-year-old brother Archie.
I love that their gorgeous heirs are redheads like their dad! They will make gingers feel comfortable in their hair.

---
Prince William and Kate Middleton share their family Christmas photo
December 10th, 2021 under The Princes of England. [ Comments: none ]
It is almost Christmas, so that means it is time to see people's family photos. Today, Prince William and Kate Middleton shared a photo of themselves with their three children Prince George, 8, Princess Charlotte, 6, and Prince Louis, 3. I can't believe how big their little kids are getting. Prince Louis is no longer a baby. He has turned into a little man. It is time for them to have another heir.

---
Meghan Markle rode a broken down car to auditions
November 17th, 2021 under Ellen DeGeneres, The Princes of England. [ Comments: none ]
Meghan Markle is ready to do the talk show circuit, and she is starting with Ellen DeGeneres tomorrow.
While this is the first time she has been on Ellen, it is not the first time that she has been on the Warner Bros Lot. Before she was the Duchess of Sussex, she was just a struggling artist who would audition there.
Now, she has people driving her around. But then, she drove herself in a rundown Ford Explorer Sport. It was in such bad shape that the key didn't work on the driver's side. So, she would have to climb in and out of her trunk.
Therefore, when she went on auditions, she would park in a secluded area of the parking lot so that no one would see her.
She has come a long way since then. Now, she could pay people to put her in the car if she doesn't feel like doing it herself. It's good to marry a Prince.

---
Queen Elizabeth II spent the night in the hospital
October 21st, 2021 under The Princes of England. [ Comments: none ]
Yesterday, Buckingham Palace announced that Queen Elizabeth II cancelled a trip to Northern Ireland on the advice of her doctors.
Today, The Sun is reporting that she spent the night in the hospital for "preliminary investigations." She was discharged this afternoon and is said to be in "good spirits."
While this sounds worrisome, we have to remember she is 95 years old. Therefore, this is part of getting older. Hopefully, the tests will come back, showing that she is fine.

---