Maury Povich is getting into the Who's the Daddy at-home testing business
June 23rd, 2023 under Maury Povich. [ Comments: none ]
Maury Povich retired from television last year. Because of that, there are a lot of babies who do not know who their father is.
However, Maury doesn't want them to suffer anymore. Therefore, he is selling at-home DNA tests that the potential father(s) can take to find out if they are going to get another tie for Father's Day next year.
According to TMZ, The Results are In kit comes with a test and instructions on how to do it. Then, the samples are sent to a lab where they will determine if he is the father with a 99.99% accuracy rate. How long will it take for him to find out? He should get the results in about three days.
So, men, just because Maury isn't on television anymore doesn't mean you get away with pretending you are not the father when you are the father.
The only negative is that I am going to miss watching the dramatic moment when Maury read the results. Maybe they can share the results with us on TikTok?

---
Susan Lucci finally wins her second Daytime Emmy
June 16th, 2023 under Emmys, Maury Povich, Susan Lucci. [ Comments: none ]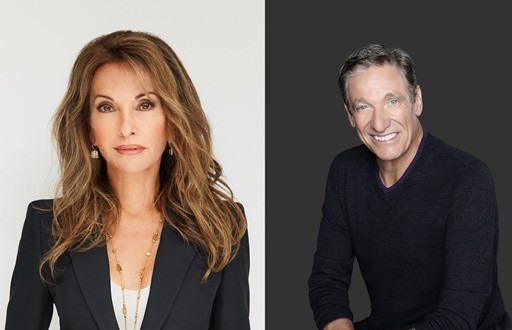 Susan Lucci is as known for losing Emmys as she is for her legendary career as the Soap Queen. And in the near future, those two things will come together for her.
That is because the woman who was nominated 21 times, and only one once in 1999, is going to get her second Daytime Emmy. But how? All My Children hasn't been on the air since 2011. That is because she is getting Lifetime Achievement Award at the 50th Daytime Emmys.
"I am truly humbled to receive this esteemed award from the Academy. Throughout my career, I have been incredibly fortunate to work alongside exceptional talents and embraced by my fans that have been with me every step of the way," the actress said. "This honor is not just a reflection of my journey, but a testament to the enduring power of storytelling and the profound connection we are so lucky to forge with audiences all over the world through television."
Lucci is not the only one getting the prestigious award this year. The recently retired Maury Povich is also getting it for his work with his daytime talk show, where many found out they are the father.
"I'm just blown away by this honor from the Academy," the host said. "I have always had great respect for its work as I served on the National Board and was President of the New York Chapter. I guess if you hang around long enough, some good things happen. It's been a 60+ year ride for me in this business, so I feel extremely blessed with this acknowledgment."
When will we see them get the awards? That date has yet to be decided due to the Writers Guild of America's strike. But when a date is set, I can't wait to see them get the honor they so richly deserve.

---
What would get Maury Povich out of retirement?
April 27th, 2023 under Maury Povich. [ Comments: none ]
Last year, Maury Povich decided to hang up his DNA tests and retire from The Maury Show after 31 years. So now, women all over the country are left to wonder who is the father of their baby.
Well, the beloved daytime host revealed what it would take to get him to television to do his talk show again. So what would get him to do it? He says, "Patiently waiting for a celebrity DNA feud I would come out of retirement for."
Khloé Kardashian, bite the bullet and finally prove to us that O.J. Simpson is not the father. Which celebrity do you want him to get DNA from?

---
Do you miss Maury Povich saying, 'You are not father?'
October 20th, 2022 under Maury Povich. [ Comments: none ]
Maury Povich retired from his talk show, so that means we can no longer hear him say, "You are not the father." Or so we thought…
The daytime host recorded his popular phrase as an AMSR, and it is better than when he told ten men the same they were not the father of one woman's child.
I love it so much I am going to record it in a loop and play it every night to lull me to sleep.

---
Maury Povich is not the daddy of Daytime TV anymore
March 20th, 2022 under Maury Povich. [ Comments: none ]
Daytime television is going to look a lot different next season because several shows were cancelled or they lost their hosts. Ellen DeGeneres was the first to leave her show. Then Dr. Oz announced that he is running for office, so they gave his daughter his show. Her show will not be back in the fall. Neither will Nick Cannon's nor Jerry Springer's Judge Jerry. And then there is Wendy Williams, who thought if she took the season off, her timeslot would still be available. It is not, so they gave it to Sherri Shepherd.
Finally, the hardest ax has fallen. Maury Povich's show will not be back for a 31st season, according to Broadcast & Cable. How will women find out who is the father of their children? They won't—the injustice.
So hopefully, someone will pick him up for another year because next year's new shows are not going to be well-received. Who is hosting them? They will be hosted by Jennifer Hudson and Queer Eye's Karamo Brown. I could be wrong, but are you going to watch?
Maybe I am old school, but I would rather watch Jerry and Maury.
UPDATE: It was Maury's decision to retire at the age of 83. Can you believe that he is that old?
"Six years ago when I was ready to retire, my the NBCUniversal family asked me to continue the show," he said in a statement that was giving to Deadline. "Even though I told them I was ready for assisted living, out of loyalty to NBCUniversal and my more than 100 staff and crew members, Tracie Wilson and I agreed to one more deal. I'm so proud of my relationship with NBCUniversal and all those who worked on the Maury show but as I occasionally tell my guests on Maury, 'Enough, already!'"
We will miss him, but he has earned the right to retire after making so many baby mamas happy and their ex-lovers unhappy.

---