Hot Links!
April 30th, 2019 under Hot Links!. [ Comments: none ]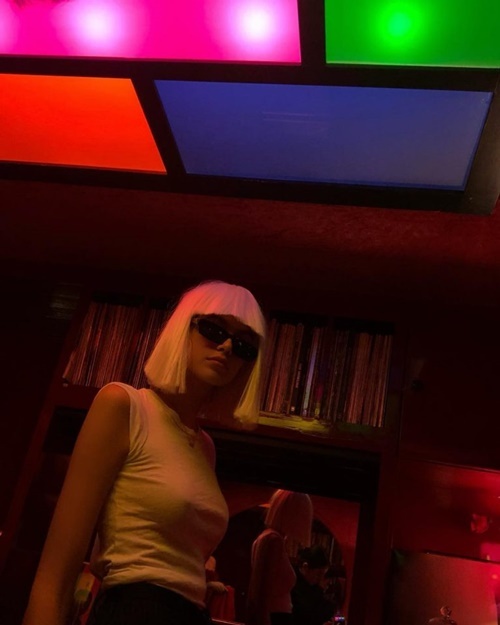 Who looks different with a wig? – Drunken Stepfather
Who held a funeral for their birthday? – Dlisted
Who smokes pot all day every day? – Celebitchy
The Queer Eye five makeover a puppy – ScreenRant
Zac Efron had an ab-off with his wax figure – Towleroad
Did you know that Salma Hayek has a secret tattoo? – GCeleb

---
Fox renews Empire and Jussie Smollett for season six, but…
April 30th, 2019 under Empire, Jussie Smollett. [ Comments: none ]

Fox announced today that they picked up Empire for another season. In the press release, Michael Thorn, President, Entertainment for FOX Entertainment said, "EMPIRE continues to break barriers with its emotionally powerful storytelling, and it remains a core part of the FOX legacy," said Thorn. "We want to thank everyone on the show – Taraji, Terrence and the entire cast."
They mention their parents and not the kids. That is because Andre (Trai Byers) life is in peril as Jussie Smollett's. One is fictional and one is fact.
Let's talk about the one whose real life is a mess right now, is Smollett coming back in the fall? Fox said, "By mutual agreement, the studio has negotiated an extension to Jussie Smollett's option for season 6, but at this time there are no plans for the character of Jamal to return to 'Empire.'"
Will the Lyons be down two sons next season? We only have two episodes left this one to find out who is in that coffin. Is it Andre who is dying from heart failure after beating cancer with a deadly amount of chemo? Tune in to find out.

---
BTWF: Zac Efron on Summerland
April 30th, 2019 under Before They Were Famous, Graham Norton, Zac Efron. [ Comments: none ]

Before women wanted to kiss Zac Efron on camera, his co-star on Summerland did not want to do it. To hear why Kay Panabaker did not want to kiss the 16-year-old in that 2004 episode, then click here!

---
See inside the last Blockbuster!
April 30th, 2019 under Kellie Pickler. [ Comments: none ]

Back before there was Netflix and Amazon Prime, we had to rent movies at Blockbuster. Then when those services started streaming videos, Blockbuster pretty much went out of business. I saw pretty much because there is only one store left and it is Bend, Oregon.
Today on Pickler & Ben, the hosts spoke to the family that owns that store. Even though it is 2019, it still looks like the ones we visited in 1999. Something Sandi Harding takes a lot of pride in. Besides having walls of DVDs, they still have that candy stand full of goodies you get at the movies. Remember how much fun it was to rent a movie and buy a pack of Sno-Caps so you could Blockbuster and chill?
Do people still go to that store? You betcha. She says 10 new people sign up every day. Families still come to rent movies. New and old. They have films that the streaming services do not have much to the delight of their customers.
Since they are the very last Blockbuster, people send them the old VHS tapes, DVDs and gift cards they find in their house to the store. While a lot of that is currently stored in the backroom, Harding says she plans to display them some day next to all of the Russell Crowe memorabilia they have.
That will be a total trip down memory lane. This whole interview was just that. Am I the only who misses going to the video store and checking out all of the new releases? While I get to do that with Tubi TV, it is just the same.
And TV will not be the same when Pickler & Ben tapes its last episode later this month. I wish there were more talk shows like this one. They do things the others do not like this segment. Seriously, how much fun was this to watch?

---
Rebel Wilson fakes being pregnant to get things
April 30th, 2019 under Anne Hathaway, Rebel WIlson. [ Comments: none ]

Rebel Wilson and Anne Hathaway are doing press for their movie Dirty Rotten Scoundrels and Extra wanted to know who is the better con artist. Hathaway said her co-star is because of her improv skills.
Then Renee Bargh wanted to know what was the last lie they told. Wilson said she recently had to go to the bathroom, but they were all locked up for the night. Thus she went up to one of the workers and asked if they could open one up for her because she is pregnant. But that was not the first time she did that and it was also not the last. Then she admitted why that works, "Because the way my stomach is, I could be pregnant, I could be."
Then Hathaway warned her not to do that because the tabloids could have a field day with it. However, if she has done it a few time and no one cares, then I think she is safe.

---