Shut up, Princess Diaries 3 is closer to being a reality
November 16th, 2022 under Anne Hathaway, Julie Andrews. [ Comments: 16 ]
Have you been wanting another Princess Diaries movie? Then The Hollywood Reporter has some most excellent news for you. Disney has hired a screenwriter to pen the script for the Princess Diaries 3.
While that is the good news, neither Anne Hathaway nor Julie Andrews has signed on. But then again, this is in the very early stages. Plus, I doubt they will do it without either one of them.
Are you excited about this?

---
Anne Hathaway's laugh will haunt you
October 13th, 2022 under Anne Hathaway. [ Comments: none ]
Anne Hathaway was a guest on the Today show yesterday, and she laughed at something. That laugh went viral, and now we are suffering for it.
It is the type of cackle that sends chills down your spine. It's the chuckle you hear from the deranged killer who is in your house. The giggle the fake bitch gives to let you know she hates you as much as you hate her.
I could go on, but I need to find happy laughter from innocent babies on the internet to drown Hathaway's out. It keeps repeating in your head even after you hit stop. Make it go away.
And in case you were wondering, it is my new ringtone. Why should I suffer alone?

---
The weird way Anne Hathaway eats cupcakes
July 20th, 2022 under Anne Hathaway, Kelly Clarkson. [ Comments: none ]
Anne Hathaway was on The Kelly Clarkson Show, and the host had a very important question for the actress. Clarkson heard that her guest eats cupcakes differently than you and me.
How does Hathaway eat them? She peels off the liner, splits the cupcake in two, and puts the frosting in the middle to make a little sandwich. This way, she says that you don't get the best part up your nose.
But then you get too much cake and not enough frosting. So, when I eat one, I eat the sugary sweetness first and throw out the rest because the cake is bland, like the Oscar winner.
How do you eat cupcakes?

---
Madame Tussauds Las Vegas removes Anne Hathaway
January 20th, 2021 under Anne Hathaway, Madame Tussauds. [ Comments: none ]

Madame Tussauds Las Vegas is removing Anne Hathaway from their museum. Not her wax figure, but her plague. They are replacing Anne with Annie, the name she wants to be called.
I know she wants us to call her Anne. However, if I can call Mark Wahlberg Marky Mark, then I will continue to call her Anne. We have known her as Anne for over 20 years; it is hard to switch it up.

---
Surprise, Anne Hathaway is very pregnant!
July 24th, 2019 under Anne Hathaway. [ Comments: none ]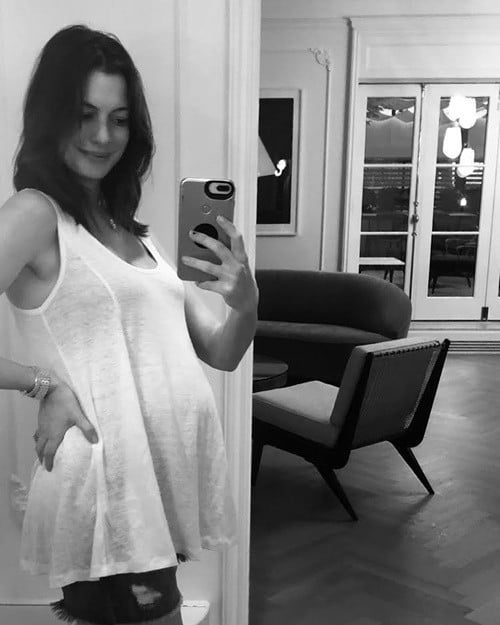 We have not seen Anne Hathaway since early May when she was promoting her movie The Hustle with Rebel Wilson. Turns out she has been pulling a hustle on us. Today, she revealed that she is pregnant with her second child that is due later this year.
She did not reveal when the baby is due, but she has to be at least 5 months along from the looks of it. However, she did reveal this, "For everyone going through infertility and conception hell, please know it was not a straight line to either of my pregnancies. Sending you extra love 💕"
Hathaway and her husband of almost 7 years, Adam Shulman, have a son together, Johnathan, 3.

---