The weird way Anne Hathaway eats cupcakes
July 20th, 2022 under Anne Hathaway, Kelly Clarkson. [ Comments: none ]
Anne Hathaway was on The Kelly Clarkson Show, and the host had a very important question for the actress. Clarkson heard that her guest eats cupcakes differently than you and me.
How does Hathaway eat them? She peels off the liner, splits the cupcake in two, and puts the frosting in the middle to make a little sandwich. This way, she says that you don't get the best part up your nose.
But then you get too much cake and not enough frosting. So, when I eat one, I eat the sugary sweetness first and throw out the rest because the cake is bland, like the Oscar winner.
How do you eat cupcakes?

---
Madame Tussauds Las Vegas removes Anne Hathaway
January 20th, 2021 under Anne Hathaway, Madame Tussauds. [ Comments: none ]

Madame Tussauds Las Vegas is removing Anne Hathaway from their museum. Not her wax figure, but her plague. They are replacing Anne with Annie, the name she wants to be called.
I know she wants us to call her Anne. However, if I can call Mark Wahlberg Marky Mark, then I will continue to call her Anne. We have known her as Anne for over 20 years; it is hard to switch it up.

---
Surprise, Anne Hathaway is very pregnant!
July 24th, 2019 under Anne Hathaway. [ Comments: none ]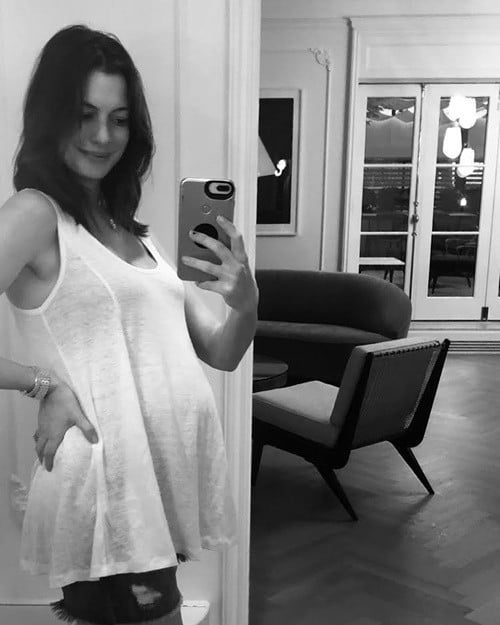 We have not seen Anne Hathaway since early May when she was promoting her movie The Hustle with Rebel Wilson. Turns out she has been pulling a hustle on us. Today, she revealed that she is pregnant with her second child that is due later this year.
She did not reveal when the baby is due, but she has to be at least 5 months along from the looks of it. However, she did reveal this, "For everyone going through infertility and conception hell, please know it was not a straight line to either of my pregnancies. Sending you extra love 💕"
Hathaway and her husband of almost 7 years, Adam Shulman, have a son together, Johnathan, 3.

---
Rebel Wilson fakes being pregnant to get things
April 30th, 2019 under Anne Hathaway, Rebel WIlson. [ Comments: none ]

Rebel Wilson and Anne Hathaway are doing press for their movie Dirty Rotten Scoundrels and Extra wanted to know who is the better con artist. Hathaway said her co-star is because of her improv skills.
Then Renee Bargh wanted to know what was the last lie they told. Wilson said she recently had to go to the bathroom, but they were all locked up for the night. Thus she went up to one of the workers and asked if they could open one up for her because she is pregnant. But that was not the first time she did that and it was also not the last. Then she admitted why that works, "Because the way my stomach is, I could be pregnant, I could be."
Then Hathaway warned her not to do that because the tabloids could have a field day with it. However, if she has done it a few time and no one cares, then I think she is safe.

---
Anne Hathaway does a great Matthew McConaughey!
January 15th, 2019 under Anne Hathaway, Jimmy Kimmel, Matthew McConaughey. [ Comments: none ]

Let's be honest, most of us have done an impression of Matthew McConaughey, "Alright, alright, alright." However, Anne Hathaway takes her impression of him even further. Yesterday on Jimmy Kimmel Live she showed us that she does not only captures the way he enunciates words, but she also nails his essence. The way he talks about things is unlike anyone else. Which is why we love him.
I forgot what she won an Oscar for, but, to me, this is the finest acting she has ever done in her career. Take that Princess Diaries.

---