American Horror Story lives to tell its tale for another season!
October 31st, 2011 under American Horror Story. [ Comments: none ]

News that won't come as a total shock on this Halloween day, FX announced today that it has renewed its killer hit American Horror Story for a 13 episode second season! AHS is not only FX's highest rated new show ever in the network's history, but they also find more and more viewers each week! If you have never seen the show before, catch up on the first four episodes tonight on FX at 10p! And once you do, you will be prepared for the next 9 episodes left for season one.
What I want to know is how are they going to come up with 13 more unnatural deadly situations at Murder House for the second season? I mean there are only 90 years between when the house was built and today and they already covered the late '20s, '60s, 70's and '00s, so there isn't that much time left…or is there?
No matter how many more people meet their makers, I can't wait to see how this and next season! And don't forget to watch the conclusion of this week's episode Wednesday at 10p on FX because so much is answered in the spooktacular episode.

---
My favorite costumes worn by celebrities this Halloween!
October 31st, 2011 under Halloween, NBC, The CW, Zachary Levi. [ Comments: none ]

Every Halloween Bloggers like me love to see what celebrities will go as and this year I have two favorites. My first pick goes to The Vampire Diaries' Candice Accola and Zach Roerig who costar Nina Dobrev Tweeted, "Candice as "Toddlers in Tiara's" and Zach as her creepy stage dad! Brilliant!!!!!!!" Brilliant is right and also a lot of fun.
But as creative as their costumes were another Zach one upped them, Chuck's Zachary Levi and 4 friends recreated 5 characters from one of our favorite movies Ferris Bueller's Day Off. They dressed up as Ferris Bueller, Cameron Frye, Sloane Peterson, Jeanie Bueller and "The Drug Addict at the Police Station" aka Charlie Sheen's character and they totally nailed them!
BTW talking about Charlie Sheen, I would pay Ashton Kutcher to dress up as him today. Oh wait he already does that every Monday at 9p on CBS's Two and a Half Men!

---
John Taylor just gave me nightmares!
October 31st, 2011 under Duran Duran. [ Comments: none ]

John Taylor has always been my dream man, but after seeing the Duran Duran bassist dressed like the walking dead he is now the man of my nightmares. So Save a Prayer for me now because his View to a Kill is totally horrifying. Seriously isn't his costume the scariest one of them all?

---
Katherine Heigl makes it so easy!
October 31st, 2011 under Katherine Heigl. [ Comments: 1 ]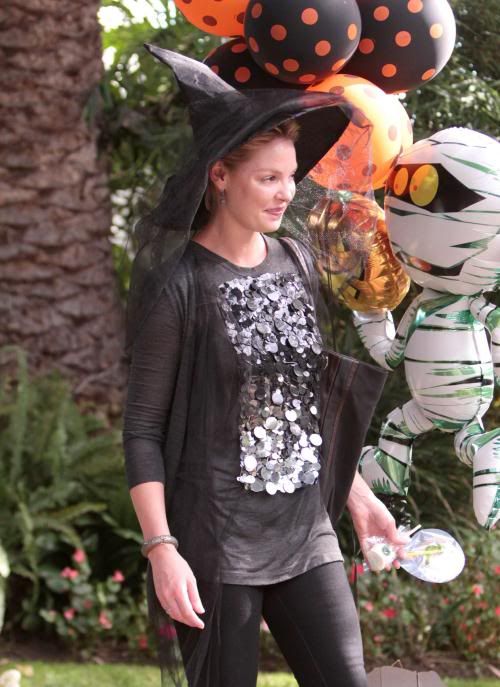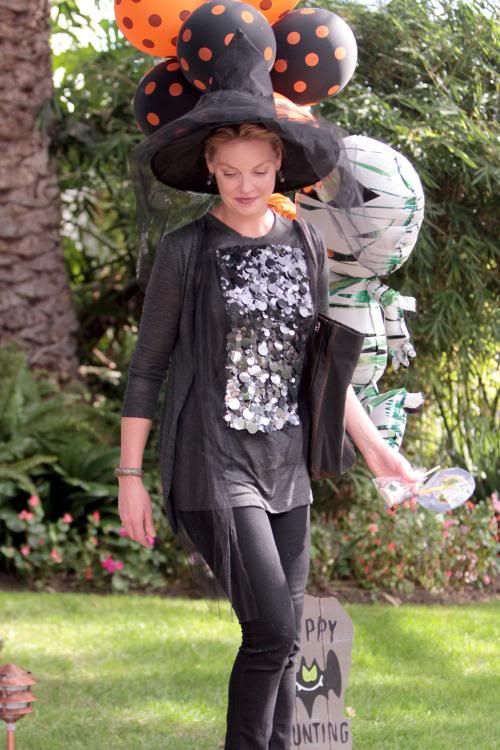 Fame Pictures
Katherine Heigl took her daughter Naleigh to a Halloween Party and the Knocked Up actress dressed up as a Witch. The actress made it so easy for us because she dressed as most of us truly see her.
Actually now that she has been off of Grey's Anatomy, she doesn't bother me anymore but I still had to go there.

---
At least Kim Kardashian waited to file for divorce until after the E! wedding special aired!
October 31st, 2011 under The Kardashians. [ Comments: none ]

Today is Halloween and I wonder if this news from TMZ is a Trick or a Treat. They are reporting after 72 whole days of marriage Kim Kardashian will be filing for divorce from Kris Humphries. She will be citing irreconcilable differences as the reason why her short marriage is ending. What that means, we will have to wait until E! follows up her wedding special with a divorce one. You know they will go into detail about why their marriage didn't last long enough for the new Keeping Up with the Kardashians season premiere. Can't wait that long to find out why her marriage last 70 days longer than you thought, I am sure People is negotiating a deal with her to tell all in this weeks edition.
On a positive note at least they waited until E! special aired before they announced their split. You know if I was a fan of The Kardashians this news would be so upsetting me, but since I am not I am beginning to wonder if the whole marriage was a sham from the get go.
On a positive note their wedding was great for California's economic woes because they spent so much on it, and the State of California will be getting taxes from all the people that benefited from it. If you think about it their nuptials cost almost a million dollars for every week they were married. Ouch!
BTW the news is a Treat because Ryan Seacrest, the producer of the E! show, confirmed the news on Twitter by saying, "Yes @kimkardashian is filing for divorce this morning. I touched base with her…"

UPDATE: Kim Kardashian issued a statement to E! about her divorce:
"After careful consideration, I have decided to end my marriage. I hope everyone understands this was not an easy decision. I had hoped this marriage was forever, but sometimes things don't work out as planned. We remain friends and wish each other the best." They wish each other the best, until the divorce gets ugly which should be by tomorrow.

---