BTWF: Katherine Heigl for J.C. Penny
May 10th, 2021 under Before They Were Famous, Katherine Heigl. [ Comments: none ]
Before Katherine Heigl put herself through med school as a model on Grey's Anatomy, she was putting herself through elementary school doing that for J.C. Penny?
"Ladies and gentleman I present hilarious excerpts from the 1988 @jcpenney Christmas Book. 🤣😂 My very early days as a child catalog model. Strike a pose," Heigl wrote. "So… what do you think about some of these '80s fashion gems? I think I saved the worst (best) for last. You decide! ❤"
How cute was the 9-year-old in those 1988 ads?

---
Katherine Heigl goes from being a pain in the neck to having one
March 18th, 2021 under Katherine Heigl. [ Comments: 1 ]
First off, I am sorry, Katherine Heigl, for the headline, but I had to.
Second, let's talk about why her neck is bandaged up like that. The actress had herniated discs in her neck, so she flew to LA to get it fixed.
"Well…I am now bionic!! Two titanium discs now inhabit my neck and I can probably stand on my head for like hours…I'm not gonna try it just yet but give me a few months and I'll blow your mind," she said.
The actress went from having a huge pain in the neck to not having any at all. That is why she is smiling as big as she is.
Now, if they can only do something about her being a pain a$$. Sorry, I had to.

---
Katherine Heigl is not above cleaning the cats' litter
January 28th, 2021 under Katherine Heigl. [ Comments: none ]

Katherine Heigl has spent the last four days doing press for Firefly Lane on Netflix, and some of her chores were ignored. However, now that she is done, it is time to go back to work.

No more bullsh!tting with the press; it is time to clean up the sh!t. Something that reminds her, "nothing is more humbling than cleaning up cat poop…well maybe dog poop…that's pretty humbling too."

I can't argue with her. Dog poop is so much worse than cat's doody, which is why I have a cat and not a dog.

Also, who else is shocked she doesn't have people, like her husband, to do that for her?

---
Isaiah Washington calls out Katherine Heigl 13 years later
November 17th, 2020 under Katherine Heigl. [ Comments: none ]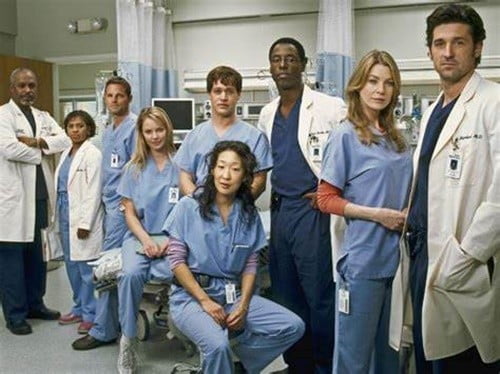 Remember when we talked about Grey's Anatomy, it was all about the drama on the show. Then in 2006, it took a turn. That is when Isaiah Washington was accused of calling T.R. Knight the F-word. Once what happened was out of the bag (the F-word rhymes with bag), he lost his job. Then we stopped talking about the drama in front of the camera and just gossiped about what was going on behind it.
It has been 13 years, and for some reason, Washington decided to reignite the feud with Heigl. That is because he tweeted this along with his former co-star's photo, "This woman once proclaimed that I should 'never' be allowed to speak publicly again. The world agreed with her proclamation back then and protested for my job and my head in 65 languages. I wish I was on Twitter in 2007 because I will NEVER stop exercising my free speech."
I wonder what got him started? Could it be because he is jealous they welcomed Patrick Dempsey with open arms last week, and not him? I think we all know why they did that.
Heigl has yet to respond. When she does, you know it will be really good.

---
Katherine Heigl goes dark!
September 4th, 2019 under Katherine Heigl. [ Comments: none ]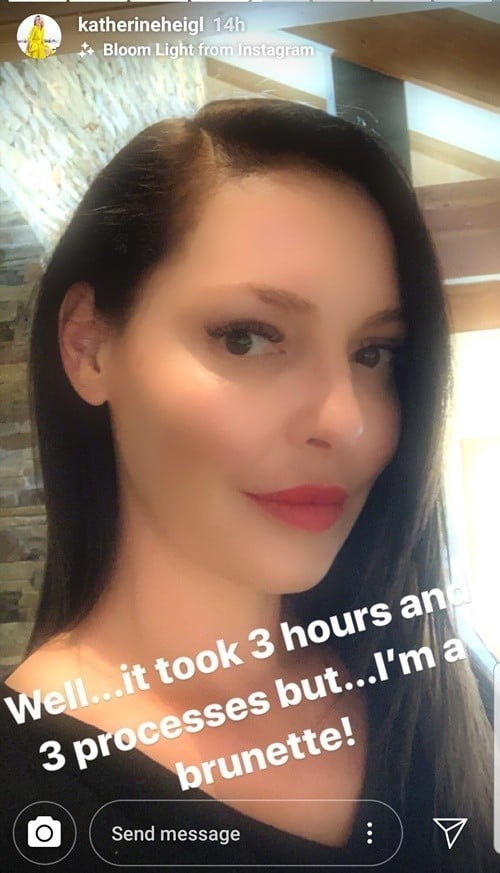 Now that Katherine Heigl has wrapped on the final season of Suits, she is ready for her next job. She will be starring in Firefly Lane for Netflix and the actress has to change up her look. In order to play Tully Hurt, she went from a blonde to a brunnette.
You know what, they say blondes have more fun, but she looks so much sexier with the darker locks. She should keep the color when she is done filming. What do you think?

---