Chuck vs a beardless Morgan!
July 15th, 2019 under Zachary Levi. [ Comments:

none

]

It has been 7 years since Chuck ended. Yesterday three of the cast members were reunited and it felt so good for us and them. It was like no time has passed for Zachary Levi, Ryan McPartlin and Joshua Gomez when they all got together in Burbank. Not at Buy More because it is no more, but at a restaurant.
We don't know why they reunited, but I hope it is because Chuck, Captain Awesome and Morgan are thinking about bringing their beloved show back for at least another season. That would be as awesome as Captain Awesome!
BTW is it a true Chuck reunion without Jeffster?
To see a photo of them from yesterday, then click here!
---
When are we going to get a Shazam and Aquaman buddy movie?
March 28th, 2019 under DC Comics, Jason Momoa, Zachary Levi. [ Comments:

none

]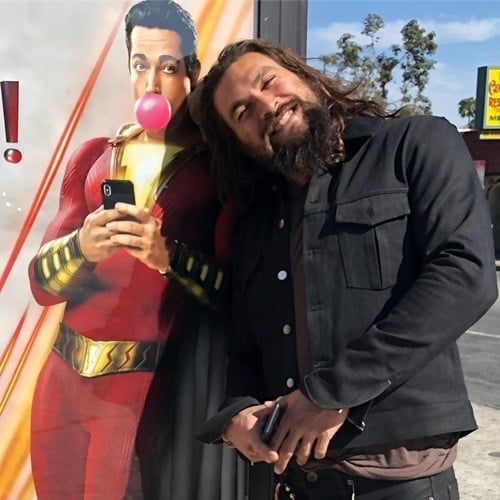 Jason Momoa was walking around town when he saw a poster for Shazam. He is so proud of his friends', Peter Safran and Zachary Levi, work that he had to pose with it. Then he wanted to remind you to go see the movie on April 5th, just like you saw his film Aquaman.
Which makes you wonder when are they going to do a feature together. I want to see the lighter side of DC Universe working together instead of the darker versions. Who is with me?
BTW how awwwwwdorable is Momoa when he smiles big like that?
---
Shazam makes superhero films fun again
March 5th, 2019 under DC Comics, Zachary Levi. [ Comments:

none

]

Over the last few decades, superhero movies and shows have gotten darker and darker. That is about to change with Shazam when it comes out on April 5th. This film is making them fun again. A trend that I hope continues because I am tired of all of the doom and gloom. Superheroes are supposed to give us hope, not despair.
---
Shazam asks the age old superhero question!
July 22nd, 2018 under Zachary Levi. [ Comments:

none

]

How many times have you watched a movie about superheroes and asked how do they pee in their costume? Well, Zachary Levi's Shazam asks that very question is the upcoming move? Will we find out if he did? We will have to wait until April to find out.
So that gives us about 9 months to be excited about the PG-13 version of Deadpool. As in a fun(ny) superhero movie you can take the kids to and not worry about having to explain a lot of things to them afterwards.
---
Is Chuck joining Psych the Movie?
June 14th, 2017 under Psych, Zachary Levi. [ Comments:

none

]

Psych the Movie is currently filming, but we do not know that much about it. We do that all the series regulars are returning, but that is it. Late last night, Dule Hill posted a video on Instagram with James Roday and asked what they were holding. Then Zachary Levi walks by and says, "I believe that's a pineapple, isn't that right Chucksters?" Does that mean that the recently blonde Chuck is going to guest star in USA Network telemovie? All we know is Gus added, "#Psych'Os #Chucksters…this just got reaaally interesting." Which means unless we use our psychic abilities like Shawn, we will not know until December when it airs.
I for one cannot wait for it! Hopefully, it will get a revival order by USA! I still miss the show.
---