Young Sheldon needs a hobby, Evil deals with the purest of evils
October 17th, 2019 under CBS, Chuck Lorre. [ Comments:

none

]

Tonight at 8p on CBS, Young Sheldon is still dealing with finding out that his mentor Dr. Sturgis has been institutionalized at a mental hospital. To distract himself from it all, he is focusing all of his energy on solving a scientific problem. So much so, he does not care about anything else.
His mom (Zoe Perry) is worried about her son (Iain Armitage), so she and his MeeMaw (Annie Potts) tell him to find a new hobby. They try everything from exercise to the Church, and it does not work for him. He finally finds his newest addiction on his own and it is Lord of the Rings. He is so obsessed with it, he will drive everyone else crazy. What will they do?
Meanwhile, Sheldon's sister (Raegan Revord) has a crush on a boy and she asks her father (Lance Barber) to help get him to like her. The two will finally bond which is really sweet to watch. However, is it sweet enough for her to land that boy?
Tonight's episode proves that Revord is going to grow up to be a great little actress. Same with her older TV brother Montana Jordan. Actually, the whole cast really does a great job and that is why we keep tuning every week.

Then at 10p, tonight's episode of Evil is really f*cked up. Yet, having said that, it is the series' best episode yet.
Psychologist Dr. Kristen Bouchard (Katja Herbers), Chruch employee David Acosta (Mike Colter) and technical expert (Aasif Mandvi) are called in to investigate a boy that his parents believe might be possessed.
Two years ago, their oldest child went from a sweet child to a psychopath. The 9-year-old tried to poison his parents and he is obsessed with killing his baby sister. He has attacked her a few times, so her parents are afraid for her life. They have tried everything to make their son better and nothing has worked.
That is why they have finally called the Church in to see if maybe an exorcism might work. Before they can perform one, they have to make sure he is possessed. They will examine him, his surroundings and his parents to see what is causing him to be pure evil.
Can they figure out what is wrong with him before it is too late? All I will say is you are going to want to find out. This episode is very dark, but it is also very well done.
Evil is the best new drama of the season. It is creepy but it is also really interesting. Check it out, it will possess you…
---
Watch Ryan Reynolds become Deadpool
October 17th, 2019 under Ryan Reynolds. [ Comments:

none

]

As we know, Ryan Reynolds had to put on a lot of makeup to play Deadpool unmasked. How much? Today, he shared a behind the scenes video of Bill Corso and the Maximum Makeup team doing their magic on him.
The actor had to sit there for hours and hours in order for them to transform him into Wade Wilson. He demanded perfection. When he didn't get it, well, now you can understand why there won't be a Deadpool 3.
---
Stephen Colbert will be around until 2023
October 17th, 2019 under Stephen Colbert. [ Comments:

none

]

CBS announced today that Stephen Colbert will be hosting The Late Show until 2023. They better hope that Donald Trump gets reelected. If he doesn't, the most-watched show in late night will see their ratings decline to where they were before he got elected. Which is not a good thing.
I get why they extended his contract, but I cannot watch him. He is so boring that I cannot even watch his interviews or clips to post. I try to watch his interviews, but they are so bad I hit stop after a minute. I know people love him, but I am not one of them.
BTW I so do not want Trump to get reeleceted. I miss the days when late night TV did not only talk about him.
---
Jason Momoa almost missed the birth of his first child
October 17th, 2019 under Jason Momoa. [ Comments:

none

]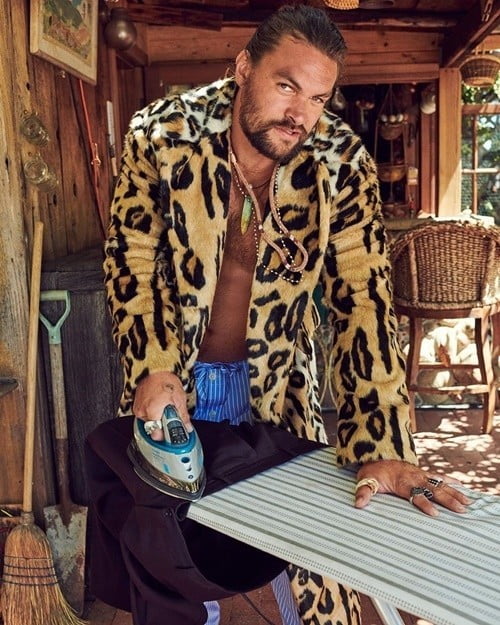 Back in 2007, Jason Momoa was looking forward to the birth of his first with his childhood crush Lisa Bonet. He was filming Stargate in Canada and she was back in the States. Everything was going fine until her water broke early. That is when he tells Esquire he almost missed Lola's birth.
It was a very hot July day, and his place had no air conditioning. Therefore, he was sleeping by the window and did not hear his phone ring, 70 times. When he finally woke up, he found out Bonet was labor. He called the producer on the show and they told him to get on a plane and go.
That is what he did. He got the last seat on the plane and it was all the way in the back. Then he told the stewardess, "'Listen, I'm having a baby—make sure everyone sits down so I can get off the plane first.'" When they landed, everyone sat and let him out first. That sh!t never happens.
Then he was, "running through the airport, and I get in the car. I go, like, 'Dude, I don't care, run all the lights . . . I'll pay for everything.' And I made it in the nick of time. I had about two hours with her in the tub, and my baby girl was born." This is one of the rare times when the father has a better story birthing story than the woman who is giving birth.
Now that we got that story out of the way, let's talk about how Momoa makes ironing look hot. Hotter than the iron set on its highest setting. Sizzle!
---
Guess who is missing his two front teeth?
October 17th, 2019 under Guess who?. [ Comments:

none

]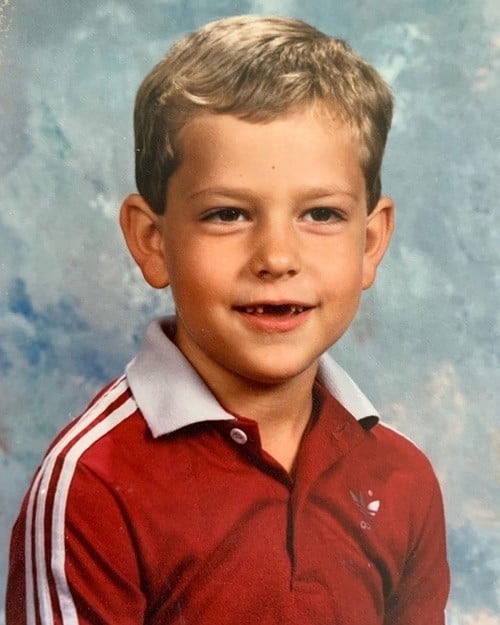 Want to see who that blonde boy is now, click here!
---