BTWF: Lady Gaga on The Sopranos
February 18th, 2019 under Before They Were Famous, Lady Gaga. [ Comments:

none

]

Before Lady Gaga was nominated for an Oscar for A Star Is Born, she was just an extra on The Sopranos. She looks the same now as she did when she was 14 in that 2001 episode.
---
Descendants 3 looks so good that even villains will enjoy it!
February 18th, 2019 under Disney Kids. [ Comments:

none

]

We are still a few months away from the debut of Descendants 3 and Disney Channel gave us a little sneak peek! Therefore, grab an apple, sit back and enjoy. Hopefully, that apple won't put you to sleep for so long you that you miss the movie.
What happens in the sequel besides some more catchy songs and awesome dance numbers? "Mal (Dove Cameron), Evie (Sofia Carson), Carlos (Cameron Boyce) and Jay (Booboo Stewart) — return to the Isle of the Lost to recruit a new batch of villainous offspring to join them at Auradon Prep. When a barrier breach jeopardizes the safety of Auradon during their departure off the Isle, Mal resolves to permanently close the barrier, fearing that nemeses Uma (China Anne McClain) and Hades (Cheyenne Jackson) will wreak vengeance on the kingdom. Despite her decision, an unfathomable dark force threatens the people of Auradon, and it's up to Mal and the Villian Kids to save everyone in their most epic battle yet."
It is once again, good vs evil. Who will win? Find out this summer, you know want to know if they will live happily ever after.
---
Doug Davidson is back on The Young and the Restless.
February 18th, 2019 under TV Soaps. [ Comments:

none

]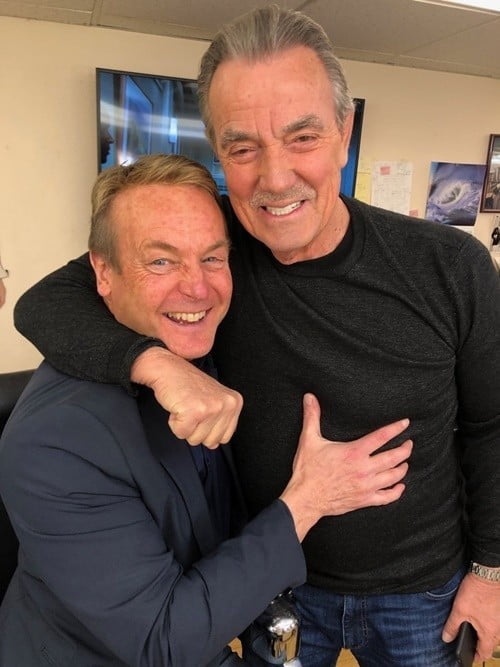 Back in September, shortly after Doug Davidson celebrated his 40th anniversary on The Young and the Restless, the daytime drama fired him. Fans of the show were obviously pissed because you don't mess with soap fans. Thus, they protested Y&R's decision and the bosses listended.
Therefore, he is back on the show! Eric Braeden broke the news on Twitter last week by posting the above photo. Then Paul Williams followed up with, "Okay! So, the cat is out of the bag. NONE of any of this would happen without all of your undying loyalty, support and kindness. All of you are the reason 'Paul' is back on the canvas. THANK YOU SO MUCH. @EBraeden has been incredible the entire time. A huge thanks to him as well!"
It is nice when shows do the right thing. This was the very right thing to do. Soap Operas have to realize viewers prefer the people who have been there for a while over the newbies. They have been welcoming them into their homes, five days a week for years, they have a special bond with them. Take them away, they are pissed and stop watching. With ratings the way they are, they cannot afford to lose any more eyeballs.
---
Why did the ducks cross the road?
February 18th, 2019 under Animals. [ Comments:

none

]

It has been really cold in Calfornia since the New Year, and some places are actually seeing snow. One of those places is Kings Beach, where a lot of ducks call home. They would prefer to be somewhere warmer, so they crossed the street to find some warmth in the shopping center. You can say they wanted to duck for some shelter.
Anyways, as they were crossing the street, they stopped traffic. For two minutes, the drivers didn't quack as they made their way across the road.
Were they successful? Let's just there is a sale on duck meat in Kings Beach. Joking! They bought some down coats with your guess it, duck feathers and went back home.
---
Tell me All The Ways you love this Meghan Trainor press release
February 18th, 2019 under Meghan Trainor. [ Comments:

1

]

Meghan Trainor has a new album out and her record company came up with a titillating way to publicize it. Is it enough to make you want to buy it? It definitely will make you want to make out.
"Valentine's Day is around the corner, and whether you're planning on smashing bae's junk to smithereens or out with a pint of Phish Food, you need some fresh Valentine's Day bops to get you in the mood for L♡VE. And MEGHAN TRAINOR has got you covered with her new EP, THE LOVE TRAIN [Epic Records.]

"You know you want it. And you can freakin' get it b*tch. On all digital platforms right HERE.
The bass gets turned up from her and as we know it is all about the bass. Want to read the rest, then click here!
---