BTWF: John Slattery in The Dirty Dozen
September 23rd, 2020 under Before They Were Famous. [ Comments:

none

]

Before John Slattery was one of the Mad Men, he was part of The Dirty Dozen. He looks the same now as he did when he was 25 in that 1988 episode. Even though he had jet black hair back then.

---
Next is the next big show
September 22nd, 2020 under Fox. [ Comments:

none

]

We have become so tech needy that everything is connected. What would happen if artificial intelligence decided to control everything about you and everyone else via their phones, cars, computers, televisions, and everything else? That is the premise for Next that debuts on Fox tonight at 9p.
Paul LeBlanc (Paul Slattery) is a tech genius, whose worth billions of dollars. As brilliant as he is, he is also an a$$hole. That is why his company threw him out. While he has been working the speech circuit, his brother, Ted (Jason Butler Harner), has continued to work on his artificial intelligence program. It has gotten so smart; it has become deadly.
Special Agent Shea Salazar (Fernanda Andrade) works for the cybersecurity unit, and her friend has been attacked. Before the attack, he tried to contact Paul. Since he is still unconscious, Shea goes to Paul to find out why.
When Paul realizes the attack might have something to do with his old company and his AI, they got there to confront it. Once they do, it goes after them and their loved ones. It can erase data, cause things to go after them, and make them out to be criminals. How far will it go to destroy them? Can they stop it before it stops them?
You will have to tune in for a thrilling show about a game of cat and mouse, where the mouse is not human. Or is it the cat?
The concept is so terrifying, I am almost thought of going tech-free. But then I thought if I did, how could I tell you about it?

---
Supergirl is flying into the sunset at the end of season six
September 22nd, 2020 under DC Comics. [ Comments:

none

]

The CW announced today that season six of Supergirl will be its last. Melissa Benoist, who is expecting her first child, wrote how she feels about the DC Universe show ending.
To say it has been an honor portraying this iconic character would be a massive understatement. Seeing the incredible impact the show has had on young girls around the world has always left me humbled and speechless.

She's had that impact on me, too. She's taught me strength I didn't know I had, to find hope in the darkest of places, and that we are stronger when we're united. What she stands for pushes all of us to be better. She has changed my life for the better, and I'm forever grateful.

I'm so excited that we get to plan our conclusion to this amazing journey, and I cannot wait for you to see what we have in store. I promise we're going to make it one helluva final season. ♥️ el mayarah 💪 @supergirlcw
I guess you can say that ratings were the show's kryptonite.
Are you sad that Supergirl is ending, or did you think it has been a long time coming?

---
Will Forte shows men how to take off their boxers while wearing shorts
September 22nd, 2020 under Will Forte. [ Comments:

none

]

Thanks to the movie Flashdance, girls all over the world learned how to take their bra off while still wearing a shirt. This is a technique I still use up until today.
While we women have that, what do men have? Will Forte has answered that question. The Last Man on Earth gave a demonstration on how men can remove their underwear while still wearing their shorts. He is so special; he even showed them how to do it while standing up.
The best part of this video is that his mom, and not his fiancee, was the one that filmed it. She must be so proud of her boy! Look at the man he grew up to be because of her.
Why did he share this instructional video now? Because in the amount of time it took him to take off his boxers, people can register to vote at TurboVote.com. This election is so important on so many levels, so make your voice heard. If you don't vote, then I don't want to hear your voice when you tell me how unhappy you are about the direction our country is going in. You are part of the problem.
Finally, I had a vote in my house, and my cat and I voted that Will Forte is the funniest Will! How do you vote?

---
Want to crochet the Golden Girls?
September 22nd, 2020 under Betty White. [ Comments:

none

]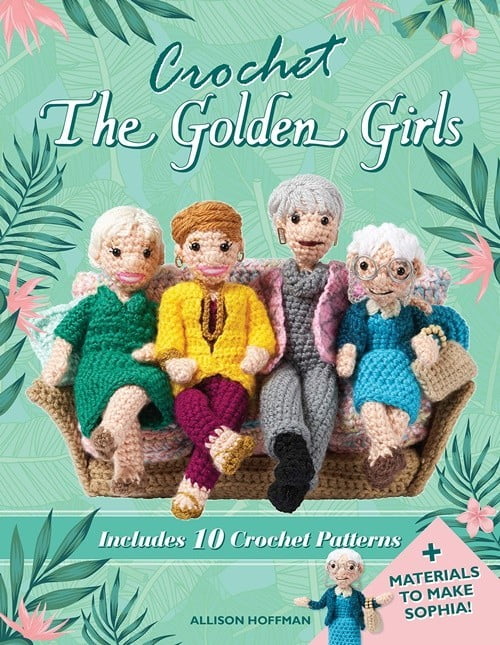 Have you ever wanted to make crochet versions of Rose, Dorothy, Sophia, and Blanche? Then you can learn how to do it with the help of Allison Hoffman's Crochet The Golden Girls. The how-to book comes with patterns for the four Golden Girls plus the wicker couch they sat on, Fernando Rose's teddy bear, two versions of cheesecake (because one is never enough), a functional coin purse for Sophia, and a palm leaf brooch.
To get you started, you get all the materials to make the Sophia, including six colors of yarn, crochet hook, embroidery floss, embroidery needle, safety eyes, beads for her purse, armature wire, and fiberfill stuffing. All for $22.49 on Amazon.
Since, I don't know how to crochet, then I need someone to make them for me. Who wants to do that? If you do, then I will sing Thank You for Being a Friend to you since you are a friend.

---