Lifetime announces a celebrity Christmas game show and lots of holiday movies
August 22nd, 2019 under Lifetime. [ Comments:

none

]

We are four months and three days away from Christmas. However, we get to open one gift today, thanks to Lifetime. That is because they announced most of their plans for the holiday season. They will be unwrapping 28 new movies and a game show starting on October 25th. They are not even waiting for Halloween to start the season.
This Christmas will be full of stars on the network and I am not talking about the ones we put on the trees. Their movies are full of them like Kelly Rowland, Melissa Joan Hart, Tia Mowry-Hardrict, Vanessa Lachey, Hilarie Burton, Megan Hilty, Sarah Drew, Tatyana Ali, Jana Kramer, Soleil Moon Frye, Marla Sokoloff, Kim Fields, Erin Cahill, Tiya Sircar, Kyla Pratt, Keshia Knight Pulliam, Marie Osmond, Jaclyn Smith, Cheryl Ladd, Loretta Devine, Megan Park, Ricardo Chavira, Jaleel White, Patrick Duffy, Moira Kelly, Markie Post, Pam Grier, Willie Garson, Patricia Richardson, George Stults, Ryan McPartlin, Antwon Tanner, Tyler Hilton, Ted McGinley, Michael Gross, Christian de la Puente, Erica Durance, Lesley Ann Warren and many more.
Since there are so many of them, they decided to have some of the actors compete on Battle of the Christmas Movie Stars on December 21st after all of the films have aired. They will take part in DIY challenges like gift-wrapping a co-star to decorating an ugly Christmas sweater. The winner will be chosen from a panel of fans. The one who has the spirit is the winner of the holiday. However, I bet all they really want is to have a telemovie franchise of their own.
Before they get that present, they still have to star in one of their many heartfelt movies that will warm up our cold October, November and December nights. To read descriptions of the so-far announced telemovies, then click here!
---
Jane Lynch reveals why they curbed the booze on Hollywood Game Night
August 22nd, 2019 under Conan O'Brien, Jane Lynch, Sean Hayes. [ Comments:

none

]

Jane Lynch was on Conan yesterday and Andy Richter mentioned how much drinking they did on the NBC show. The game show host said that it used to be that a glass never went empty on HGN.
However, things have changed and now they do not serve as much alcohol as they used to. Why? Simply too many, celebs and contestants got really wasted.
How drunk? She said that one person was so upset that they missed out on a point that they got into a fetal position and tears were flowing down her face. Another one got so drunk, that he could not stand up anymore. The last instance she talked about is someone gave a speech to the audience about how hard it is to find a good nanny.
I guess you can understand why Sean Hayes, who produces the show, put his foot down and stopped encouraging the players from having an unlimited amount of liquor. I mean he does not have kids, what does he know about hiring nannies? I guess it was for those people who found themselves crying like an infant or couldn't walk. What nanny wants to put up with that.
Of course, I am joking about Hayes being the one. Here is the IMDB page listing who has been on the show. Who do you think are the answers to her blind items? I think Kelly Clarkson or Kristen Bell was the crier and Jason Biggs was the person who has nanny issues. They are just the three names who popped into my head.
Side note: Jane Lynch and Andy Richter have been worked together almost 30 years ago. To see then do their take of The Brady Bunch, then click here.
---
Prince William and Kate Middleton fly a budget airline
August 22nd, 2019 under The Princes of England. [ Comments:

none

]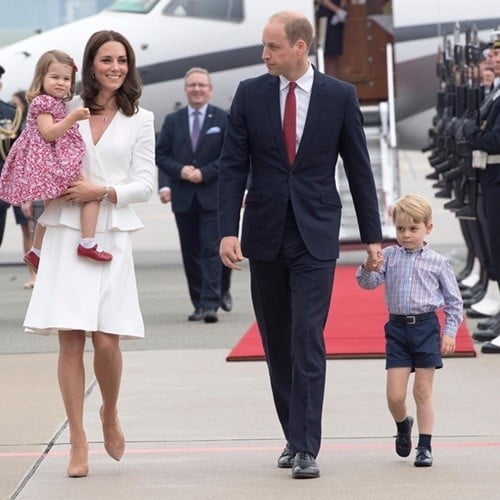 For the last few weeks, Prince Harry and Meghan Markle have been bashed for taking private jets for a few vacations. Today, when Prince William, Kate Middleton and their three children traveled from London to Scotland to visit the Queen and Prince Phillip, they took a budget airline. According to Daily Express, FlyBe flights from Norwich to Aberdeen cost around £73.05. Assuming that Prince Louis flew for free, they paid about £300 for the trip. Which is not bad.
Did anyone know they were onboard? The paper say the passengers had no idea until they got off. The Cambridges sat in the front of the plane and appearantly snuck on unnoticed.
Their gesture means that the next time his brother travels with his wife and their son, they will have to fly like commoners too. I wonder which Kensington Royal is more upset about that? The Duchess of Sussex at least is used to it, since she has not even been a royal for 2 years.
---
Is Sofia Vergara trying to write Eric Stronestreet out of her life?
August 22nd, 2019 under Do they have something to tell us?, Modern Family, Sofia Vergara, Uncategorized. [ Comments:

1

]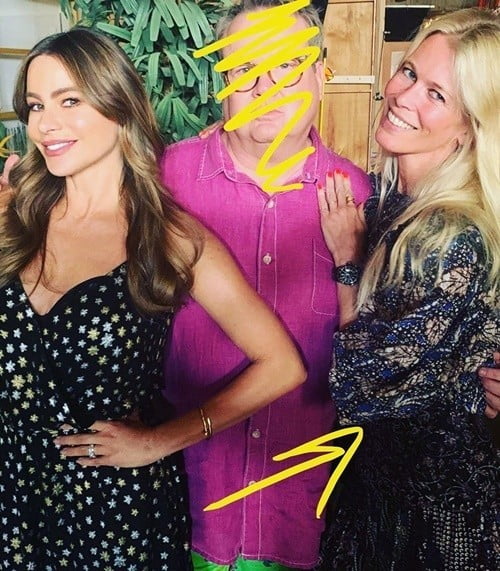 Sofia Vergara posted a photo with Eric Stonestreet crossed out, so are Modern Family stars no longer family? Nope. She explained, "My teenage girl crush came to visit!!! Sorry @ericstonestreet!!! I needed a picture alone!!! @claudiaschiffer 😍😍😍😍"
I am sure he would not mind being in the meat in that sandwich if Vergara's teenage dream was able to be fulfilled.
When it comes to what the Supermodel is doing on the show, we do not know. We will find out on one of the Wednesdays after September 25th. That is when the ABC sitcom returns for its final season.
---
Taylor Swift's dad feeds her fa-fa-fans
August 22nd, 2019 under Taylor Swift. [ Comments:

none

]

Three-thousand fans camped out overnight in Manhattan to see Taylor Swift perform live on Good Morning America this morning. When the singer found out, her people including her dad decided to feed them. Since New York is the city that never sleeps, they found an all-nite pizza joint and handed out pies to the Swifties. Reportedly 10 Manhattan blocks of admirers.
That is a lot of pizzas! Then again, Swift can afford it. Boy, can she afford it.
Sincerely, this is a nice gesture. I have not heard of another musician doing this. Then again, I never paid attention to it before.
---