Rod Stewart is back with new music
September 16th, 2021 under Rod Stewart. [ Comments:

none

]
If ever we needed new music from Rod Stewart, it is now. So be prepared for the release of his 31st studio album, The Tears of Hercules, on November 12th.
"I've never said this before about any previous efforts, but I believe this is by far my best album in many a year," Stewart writes.
The record will include original songs and these covers, Soul Brother Six's Some Kind Of Wonderful and Johnny Cash's These Are My People.
Those are the covers, and today the sexy singer, because we all think he is, released the first original single from it. One More Time is definitively his sound, and I love it. He also dedicates the song Touchline to his father for teaching him and his brothers the love of football.
Along with the album, he will be touring the US next year starting in July.
To see the tracklist, then click here!

---
What is, Mayim Bialik and Ken Jennings will host Jeopardy for the rest of 2021.
September 16th, 2021 under Jeopardy, Mayim Bialik. [ Comments:

none

]
Jeopardy has chosen stability and named two temporary hosts for the rest of 2021. They are Mayim Bialik and Ken Jennings.
Bialik is currently taping episodes until November 5th, Jennings will go next, and they will switch out as their schedules allow. Bialik was already attached to do the second season of Call Me Kat for Fox when all of this started to happen.
I can't blame the game show's decision. After all, they lost their permanent host, who was also their EP, in less than two weeks. The viewers need normalcy since they are still grieving Alex Trebek's death. More importantly, so does the crew.
Are you happy with their choice? I still want to see Weezer's Rivers Cuomo and Neil deGrasse Tyson get an audition.

---
Hot Links!
September 15th, 2021 under Hot Links!. [ Comments:

none

]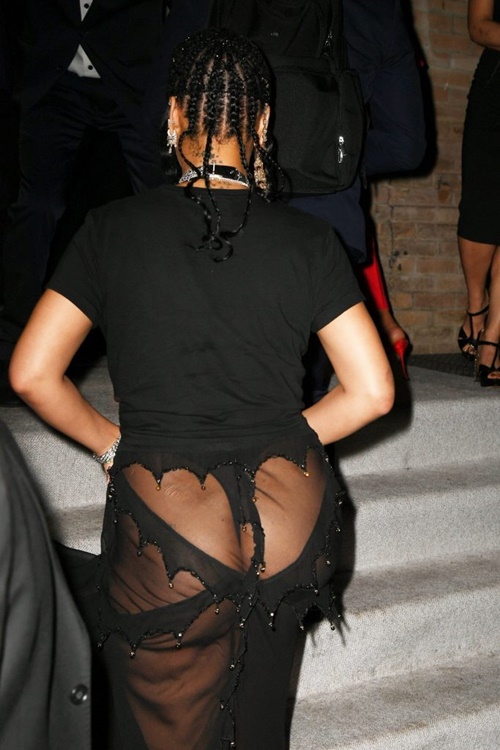 Guess whose butt that is? – Drunken Stepfather
Did John Candy predict his own death? – Grunge
CBS is reworking The Activist after backlash – Pajiba
How did Caitlyn Jenner react to getting 1% of the vote? – Dlisted
What dangerous drugs are anti-vaxxers taking now? – Celebitchy
Steve-O shares 3 stunts that were too dangerous to air – Screen Rant

---
Tiffany Haddish gets her own wax figure
September 15th, 2021 under Uncategorized. [ Comments:

none

]
Tiffany Haddish is so famous now that Madame Tussauds Las Vegas gave her her own wax figure.
They recently debuted it and wanted to see if people could tell the difference between the two. As in, which one is real and which one is faking the job of selfie expert.
Even though she has short blonde hair, they were still able to recognize her. It could be because she was standing right next to her double. Seriously, they did such a great job it really looks like her clone.
Don't you agree?

---
BTWF: Vanessa Hudgens for Reese's Puff
September 15th, 2021 under Before They Were Famous, Vanessa Hudgens. [ Comments:

none

]
Before Vanessa Hudgens was all about Zac Efron, there was another guy in her life who was offering her Reese's Puffs. She looks the same now as she did when she was 14 in that 2003 commercial.

---