RIP René Auberjonois
December 8th, 2019 under Obits. [ Comments:

none

]



René Auberjonois passed away today at the age of 79 from metastatic lung cancer, according to AP.
René Auberjonois started out on Broadway, but his life changed in 1970 when he starred in the big screen version of M*A*S*H as Father Mulcahy. He took on several roles for after that. Then in 1980, the actor landed a part that made him unforgettable. He played the uptight and stuffy Clayton Endicott, III, on Benson. He and his mustache became iconic as his character picked on co-workers at the governor's office, and they put him in his place.
In 1993, the actor had a whole new group of followers, thanks to Star Trek: Deep Space Nine. Years later, he would work with Star Trek legend, William Shatner, in Boston Legal. His character was there to keep everyone in order. Something, he was never able to do.
While he is most notable for his TV work, he was also the voice of so many animated characters we love. You heard him in The Little Mermaid, The Smurfs, and Snorks, to name a few.
We might not have been able to say his last name, but we are always able to recognize him. Today, let's honor the actor by recognizing him in one of his many roles.
Auberjonois is survived by his wife of 56 years, Judith, their two children, and three grandchildren.
---
The L Word has evolved with Generation Q
December 8th, 2019 under Jennifer Beals, Showtime. [ Comments:

none

]

The L Word took Showtime by storm in 2004. Sadly, like all good things, it came to end in 2009. However, like a fine wine, it is back tonight at 10p, and it has aged very well.
Generation Q includes the shows original stars Jennifer Beal, Katherine Moennig and Leisha Hailey. A lot has happened to them in the last 10 years and they have grown up.
Bette (Beals) is raising a daughter and she is running to be mayor of Los Angeles. She meets with Dani Núñez (Arienne Mandi), an exec who can Bette money for her campaign. When Bette does not like what she stands for, she opts not to work with her.
Sophie (Rosanny Zayas) does not reject Dani because the two of them are dating, and things are getting serious between the two ladies. Sophie works for Alice (Hailey), who is now a television star. Alice has found love with Nat (Stephanie Allynne), a woman with two children.
Shane is back from Paris, is she ready to date every available woman in LA again? Not if Finley (Jacqueline Toboni) can have her way. Finley is a younger version of Shane, which is why she idolizes her so much.
Unlike the first time around, where it was about friendship, partying and dating, this time, it is about friendship and settling down. Maybe it is because I have grown up a lot in the last decade, but I prefer this version of the show.
---
Wonder Woman: 1984's trailer is like finally here
December 8th, 2019 under DC Comics, Gal Gadot. [ Comments:

none

]

I know people loved Wonder Woman, but I found it so boring. However, since the sequel is like set in 1984, I am hoping it will be like totally awesome. After watching the trailer, I am like gag me with a spoon. It is like so confusing and I have no like idea what is going on. To like me, there is like no reason to be like excited for it coming out on June 5th.
Hopefully, the next like trailer will llke explain what it is about. Instead of showing fight scenes with no substance.
Dude, did you find it tubular or gnarly?
On like a positive note, I think her new costume is like totally rad. Much better than the first one.
---
Will Jason Derulo accept CamSoda's $500,000 to post photos of the Deru-log?
December 6th, 2019 under Jason Derulo. [ Comments:

none

]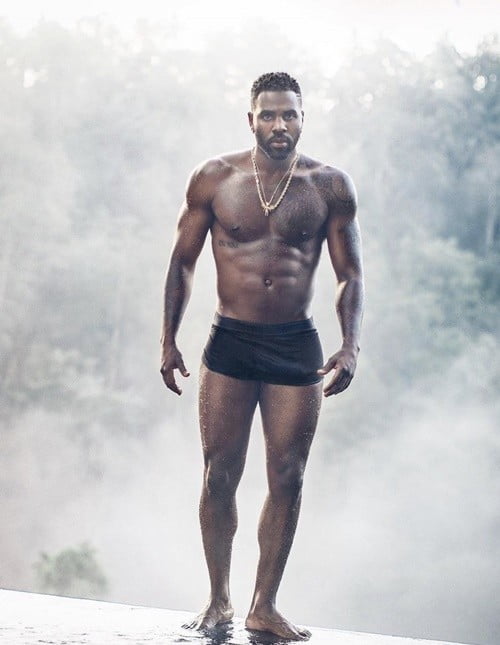 A few weeks, we all learned how to spell Jason Derulo's last name correctly after he posted a photo of himself in just black underwear. I think you can see why!
Anyways, Instagram pulled the photo claiming that it did not meet its community guidelines because it showed nudity or sexual activity. Well CamSoda, an adult website, heard that about that, they offered him $500,000 to post photos of himself with or without clothes on their site and they promise not to remove the Deru-log.
Did he accept their offer? The singer told them, "Imma need a wayyyy bigger bag than that 🤑" I really hope he reconsiders. I am sure I am not the only one.
---
Reno 911 is back on duty
December 6th, 2019 under Comedy Central. [ Comments:

none

]

Comedy Central announced today that Quibi picked up Reno 911 for a seventh season, 10 years after the show ended its run. Robert Ben Garant, Kerri Kenney-Silver and Thomas Lennon will all write and star in the series but what about the rest of the original cast like Cedric Yarbrough and Niecy Nash? Wendi McLendon-Covey, who is also original, wrote that "the whole original cast will be involved."
The Goldbergs actress also says she thinks the show will return in April. Since she and Yarbrough (Carol's Second Act) are both currently working on broadcast sitcoms, I wonder how they will have the time to film new episodes. We will find out soon enough, along with all the other details.
While I never got into the show, I know so many people who are so excited about it coming back. Are you one of them?
---