Hot Links!
December 3rd, 2020 under Hot Links!. [ Comments:

none

]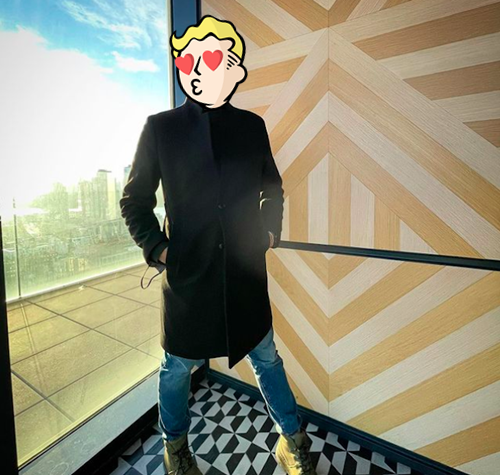 Guess who lost 50 pounds? – Dlisted

J-Lo naked – Drunken Stepfather

Kristen Bell is au natural – GCeleb

What happened to Keanu Reeves' hair? – Pajiba

Wait, animals can talk on Christmas Eve? – Grunge

Why are people mad at James Corden? – Screen Rant

Who's dating a married man half her age? – Celebitchy

---
Caption Jerry O'Connell
December 2nd, 2020 under Caption the Celeb, Jerry O'Connell/Rebecca Romijn. [ Comments:

none

]

This photo of Jerry O'Connell has caption me written all over it, so go ahead and do it.

---
BTWF: Neil Diamond on American Bandstand
December 2nd, 2020 under Neil Diamond. [ Comments:

none

]

Before Neil Diamond starred in The Jazz Singer, he talked to Dick Clark about getting into acting on American Bandstand. He looks the same now as he did when he was 25 in that 1967 episode.
If you want to laugh, then you have to watch Diamond's really bad interview with Clark from a year earlier. What was Clark thinking? To see it, then click here!

---
Does this photo of Mario Lopez look phallic?
December 2nd, 2020 under Mario Lopez. [ Comments:

2

]

Mario Lopez posed in between two lighted ornaments, and I can't help but think that he looks like a dick with two balls. Does anyone else see it, or am I the only perv?

In fact, I think you can see the vajayjay behind him, welcoming him with open lips.

I really need a boyfriend because everything looks sexual to me these days.

---
Harry Styles responds to the conservatives who didn't like him wearing a dress
December 2nd, 2020 under Harry Styles. [ Comments:

none

]

Harry Styles graced the cover of this month's Vogue magazine in a Gucci dress, and the conservatives went mad. They were like what happened to a man being a man.

Well, today, the singer finally responded to those angry little bitches. "Bring back manly men," he wrote along with the above photo eating a banana.

To all the Ben Shapiros of the Worlds, I would rather have sex with Styles in a dress than well do anything with you. I want a man who is so comfortable in his skin that he doesn't care about the norms. As compared to one who is stuck in the past, he is so full of anger that he can't handle the littlest amount of change. Get with the 21st century.

Who cares what someone wears? As long as it makes the person wearing it happy. At the end of the day, it only matters how the person wearing the dress feels about wearing it. It doesn't matter what anyone else thinks. Those who complain about others have their own issues, and we should be glad we are not them.

---