Hot Links!
March 29th, 2020 under Hot Links!. [ Comments:

none

]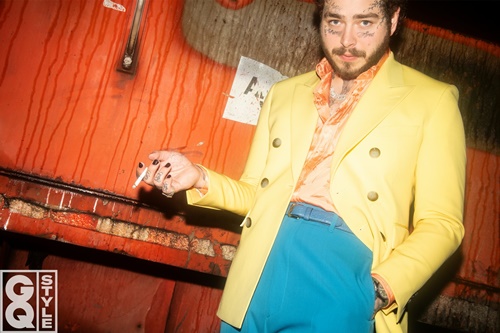 Post Malone explains his facial tattoos – Celebitchy

Sad The Office news – Pajiba

Sad DC Comics news – Screen Rant

Which female rapper came out? – Dlisted

Was Jeannine Pirro drunk on her show? – The Cut

Dumb people stupid things online – Drunken Stepfather
---
I Want You To Want to watch Zoey's Extraordinary Playlist
March 29th, 2020 under NBC. [ Comments:

2

]

Every now and again you watch an episode of a show, and you say this deserves an Emmy. Tonight's episode at 9p of NBC's Zoey's Extraordinary Playlist is one of those episodes.
Zoey (Jane Levy) and her family get the news that they have been dreading. The medicine her father (Peter Gallagher) has been taking no longer works and he only has a few months to live. As the doctor is explaining that to them, Zoey retreats into her own world. One where her power of hearing people's most intimate thoughts becomes her own reality.
As she is walking to work after that appointment, a woman asks the stunned Zoey if she is OK. Zoey responds by doing a song and dance number to Gnarls Barkley's Crazy. There is only one problem, it is not all in her head. She is actually singing and dancing all by herself in front of people who have no idea what is wrong with this Crazy lady.
Luckily, she has Max (Skylar Astin) to navigate her through it. She is going to need the help because she will be singing six songs tonight. Three of them are love songs to the men in her life.
Wait, I said too much. Zoey has a lot on her plate with her dad's grim diagnosis, the CEO coming into to hear about Chirp, a glitch in their latest software, and she can't stop singing and dancing. You can say that is a lot of Pressure.
Can she figure out how to stop singing and dancing before it costs her everything like her job, her friends, her crush and her dad? You are not going to want to miss this extraordinary episode for this season's best new show. What else do you have going on? It is not like you can go out. Therefore, watch as Jane Levy sings her way into an Emmy nomination.
---
Rick Springfield reworks Human Touch for Coronavirus
March 28th, 2020 under Rick Springfield. [ Comments:

none

]
https://www.instagram.com/tv/B-SpXZxBZev/
Back in 1983, Rick Springfield told us we all need the Human Touch. In 2020, you don't dare say that because of Coronavirus. Therefore, he rewrote his tune to make it appropriate for today's world.
Since we all need to sing and laugh, he posted his version of We Don't Need the Human Touch on Instagram. I cannot say it is better than the original. What I can say is that it is exactly what we all need!
If you never heard the catchy tune that was ahead of its time, then click here!
---
Kevin James' son tickles the ivory like Billy Joel!
March 27th, 2020 under Kevin James. [ Comments:

none

]
@kevinjamesofficial

Stay Strong New York. My family and I send our love to everyone around the world and to all those on the front lines.

Kevin James' son Kannon might only be 8-years-old, but he is just as good as the Piano Man himself. The proud dad shared a TikTok of his son playing Billy Joel's NY State Of Mind. You would swear he is was a concert pianist and not a kid in elementary school.
It is nice that someone in the family has some talent. Joking! It was too easy not to go there. Actually Kannon is not the only one, his baby sister, Sistene, 5, is a pretty good singer.
---
Is Mariah Carey really 50?
March 27th, 2020 under Mariah Carey. [ Comments:

none

]

Mariah Carey turned the big 5-0 today, and she is celebrating her birthday with a new song. Since it is her day, she does not have to put on her full face if she does not want to. Thus, she didn't.

Seeing her without all of that paint on her mug, she appears like a different person. She looks like a high-paid secretary from Long Island.

Maybe she should reinvent herself in this style? What do you think?
---