NBC's streaming site Peacock revives Saved By the Bell and Punky Brewster
September 17th, 2019 under NBC. [ Comments:

none

]


Today, NBC has finally revealed details about their streaming site including its name. It will be called…Peacock. Which makes sense. They also said that it will hit the world wide web at the end of July during the Summer Olympics.
Now that you know the name and when it will launch, what can we expect from it? Lots and lots of shows and movies. A lot of classic shows like Everybody Loves Raymond, House and The Office. Some rebooted ones like Punky Brewster, Saved By the Bell with Jesse (Elizabeth Berkley) and Slater (Mario Lopez) and Battlestar Galactica. There will also be new shows like Dr. Death starring Alec Baldwin and Christian Slater, Brave New World with Demi Moore and comedy Rutherford Falls with Ed Helms. Late Night with Seth Meyers' Amber Ruffin is getting a weekly late night show. As if there were not enough Real Housewives shows, Peacock will be getting a spinoff.
When it comes to movies, Psych the Movie 2 will premiere on Peacock and not USA Network. We better get a revival of the series as compensation. Along with big screen movies like the Fast and the Furious franchise, The Breakfast Club, Mamma Mia, Jaws and Back to the Future.
That is a lot of streaming! How much will it cost? They will announce that closer to the premiere date. Now is when you start negotiating with your friends. You say to them if you give me a password to Netflix, I will give you one for Peacock. Then you do the same with another friend for Disney+ and/or Hulu.
Forget cutting the cord, we are going to have to stop paying all the streaming sites. We can no longer say there is nothing on because there is always something to watch somewhere.
To read about everything coming to Peacock, then click here!
---
Alex Trebek reveals he had a cancer set back
September 17th, 2019 under Jeopardy. [ Comments:

1

]

In March, Alex Trebek revealed that he was diagnosed with Stage 4 Pancreatic cancer and he was undergoing chemotherapy to beat it. In May, he said that his numbers were way down and doctors were hoping he was in remission. He spent the summer trying to rebuild his strength and regrow his hair. So much so, he was back at work on Jeopardy in July.
UPDATE: Alex Trebek gave this personal statement. He says that doctors are optimistic that chemo will work again last time. Let's hope this time it sticks.

Things were looking good for the beloved talk show host. Then this morning he gave an update to Good Morning America and he has suffered a setback. He told T.J. Holmes, that in one week he lost 12 pounds and his numbers are higher than they were when he was first diagnosed. Therefore, he is undergoing a second round of chemo. Which is tiring him out and causing him to be in excruciating pain in his lower back. Yet, he has never missed a single day of work since he was diagnosed.
Does he plan on taking a break from the show? He says, "As long as I can walk out and greet the audience and the contestants and run the game, I'm happy."
He is also at peace with the idea if he does not beat this disease. He said, "I realize that there is an end in sight for me, just as there is for everyone else. One line that I have used with our staff in recent weeks and months is that when I do pass on, one thing they will not say at my funeral is, 'Oh, he was taken from us too soon.'" Then he added, "Hey guys. I'm 79-years-old. I've had one hell of a good life. And I've enjoyed it … the thought of passing on doesn't frighten me, it doesn't. Other things do, the affect it will have on my loved ones, yes, it bothers me. It makes me sad. But the thought of myself moving on, hey folks, it comes with the territory."
In the interview, he said that he thinks of himself as a wuss because sometimes his emotions take over. To me, he is a stronger man than Samson with his hair and Trebek does not have any. We can all learn a lesson from his bravery. May Gd bless him with strength and may this round of chemo destroy those cancer cells.
---
Does Neil Patrick Harris sound like a sore loser?
September 17th, 2019 under Neil Patrick Harris. [ Comments:

none

]

On Sunday night, A Series of Unfortunate Events was up against Sesame Street, Carmen Sandiego, Songs of Parkland and Star Wars Resistance for Outstanding Children's Program at the Creative Emmys. There could only be one winner and it was not Neil Patrick Harris.
A day after his loss he wrote, "A Series of Unfortunate Events lost at last night's Emmys to Sesame Street. I'd say I was bummed, but Catherine O'Hara told me: losing an Emmy to 'When You Wish Upon A Pickle' is in many ways, a funnier way to end the story. I like that. #befitting #countolaf @netflix @TheEmmys"
Is it just me or does he sound bitter? He has 5 Emmys, how many more does he need? How many actors wish they had just one. He needs to remember that.
---
Hot Links!
September 17th, 2019 under Hot Links!. [ Comments:

none

]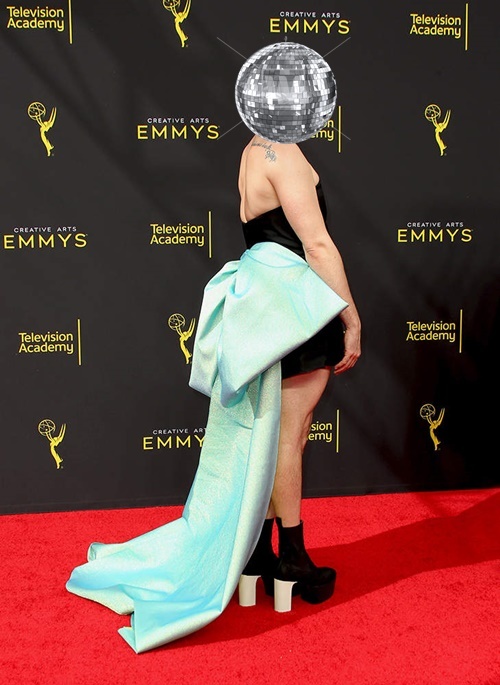 Guess who is working the red carpet? – Dlisted
Who was fired from Saturday Night Live? – Pajiba
January Jones shows off her boobies – Drunken Stepfather
Could we get another Star Wars X-Mas special? – ScreenRant
Which singer is dating a Bachelorette contestant? – Celebitchy
---
Is Mark Cuban in trouble with the law?
September 16th, 2019 under Do they have something to tell us?, Nathan Fillion. [ Comments:

none

]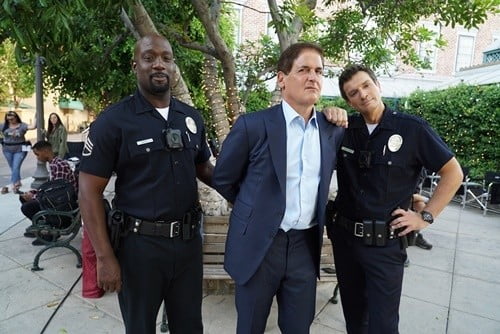 Mark Cuban was seen in handcuffs being escorted away by two police officers. Does that mean the mogul is going from the Shark Tank to the drunk tank? Nope, it was just Cuban, Nathan Fillion and Richard T. Jones having some fun behind the scenes of the season premiere of The Rookie.
You can see the Mavericks owner twice Sunday, September 29th on ABC. First on the business reality show and then on the police procedural. Where he might or might not be arrested.
---