Supergirl is flying into the sunset at the end of season six
September 22nd, 2020 under DC Comics. [ Comments:

none

]

The CW announced today that season six of Supergirl will be its last. Melissa Benoist, who is expecting her first child, wrote how she feels about the DC Universe show ending.
To say it has been an honor portraying this iconic character would be a massive understatement. Seeing the incredible impact the show has had on young girls around the world has always left me humbled and speechless.

She's had that impact on me, too. She's taught me strength I didn't know I had, to find hope in the darkest of places, and that we are stronger when we're united. What she stands for pushes all of us to be better. She has changed my life for the better, and I'm forever grateful.

I'm so excited that we get to plan our conclusion to this amazing journey, and I cannot wait for you to see what we have in store. I promise we're going to make it one helluva final season. ♥️ el mayarah 💪 @supergirlcw
I guess you can say that ratings were the show's kryptonite.
Are you sad that Supergirl is ending, or did you think it has been a long time coming?

---
Will Forte shows men how to take off their boxers while wearing shorts
September 22nd, 2020 under Will Forte. [ Comments:

none

]

Thanks to the movie Flashdance, girls all over the world learned how to take their bra off while still wearing a shirt. This is a technique I still use up until today.
While we women have that, what do men have? Will Forte has answered that question. The Last Man on Earth gave a demonstration on how men can remove their underwear while still wearing their shorts. He is so special; he even showed them how to do it while standing up.
The best part of this video is that his mom, and not his fiancee, was the one that filmed it. She must be so proud of her boy! Look at the man he grew up to be because of her.
Why did he share this instructional video now? Because in the amount of time it took him to take off his boxers, people can register to vote at TurboVote.com. This election is so important on so many levels, so make your voice heard. If you don't vote, then I don't want to hear your voice when you tell me how unhappy you are about the direction our country is going in. You are part of the problem.
Finally, I had a vote in my house, and my cat and I voted that Will Forte is the funniest Will! How do you vote?

---
Want to crochet the Golden Girls?
September 22nd, 2020 under Betty White. [ Comments:

none

]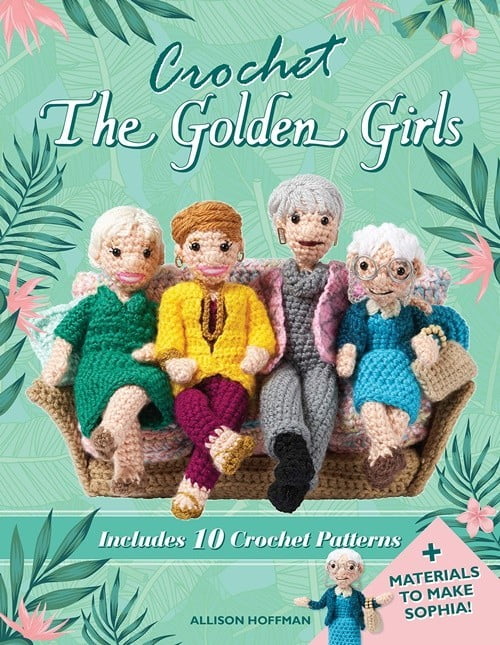 Have you ever wanted to make crochet versions of Rose, Dorothy, Sophia, and Blanche? Then you can learn how to do it with the help of Allison Hoffman's Crochet The Golden Girls. The how-to book comes with patterns for the four Golden Girls plus the wicker couch they sat on, Fernando Rose's teddy bear, two versions of cheesecake (because one is never enough), a functional coin purse for Sophia, and a palm leaf brooch.
To get you started, you get all the materials to make the Sophia, including six colors of yarn, crochet hook, embroidery floss, embroidery needle, safety eyes, beads for her purse, armature wire, and fiberfill stuffing. All for $22.49 on Amazon.
Since, I don't know how to crochet, then I need someone to make them for me. Who wants to do that? If you do, then I will sing Thank You for Being a Friend to you since you are a friend.

---
An asteroid could collide with the Earth on November 2nd
September 22nd, 2020 under Neil deGrasse Tyson, Seth Meyers. [ Comments:

none

]

Whenever someone says to me what else can happen in 2020. I tell them don't ask because we don't want to know. In the latest example of that, there is a refrigerator-sized asteroid that could come in contact with our planet on November 2nd.
Yesterday, when Neil deGrasse Tyson was on Late Night, Seth Meyers wanted to know if we should be afraid of it. The astrophysicist said that it is traveling at 10-20 miles per second. When it hits our air at that speed, it will be like it ran into a brick wall and will shatter into a million little pieces. That means no one will be hurt, but anyone in eyesight will get to see a beautiful meteor shower.
Something positive about 2020. Unless Tyson is wrong like he was with Pluto. Therefore, you want to make sure to vote before Election day. If the asteroid hits the United States, then you want to make sure your vote is counted before your city was smashed to smithereens because 2020.

---
Yoko Ono is throwing an 80th birthday party for John Lennon
September 22nd, 2020 under The Beatles. [ Comments:

none

]

On October 9th, John Lennon would have turned 80 had he not been shot shortly after his 40th birthday on December 8, 1980. Imagine all he could have done had that not happened?

In honor of the milestone, his widow, Yoko Ono, is planning on giving the Beatle a birthday party on JohnLennon.com. She says we can expect, "great artists, great people and great songs." Along with "previously unseen and unheard John Lennon music and films."

I am sure as we get closer to the date, we will get more details about who will be there. I am hoping the celebration of his life includes his two sons, Julian and Sean, and his bandmates, Paul McCartney and Ringo Starr.

If ever there was time that we needed a reminder of what John Lennon stood for, it is now.

---