Zooey Deschanel already has a new man and it's Jonathan Scott
September 14th, 2019 under Divorce. [ Comments:

none

]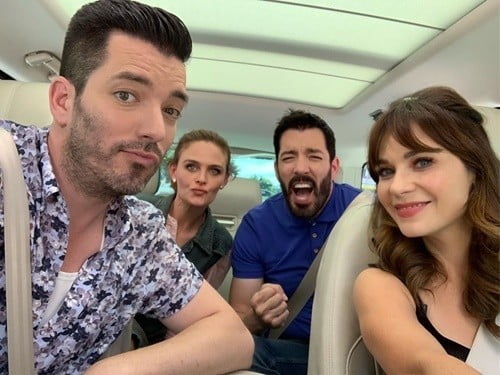 Around August 14th, Emily and Zooey Deschanel and Jonathan and Drew Scott shot a Carpool Karaoke together. On September 6th, Zooey and her husband Jacob Pechenik announced that they split. Yesterday, the actress and half of the Property Brothers were seen holding hands. Today, Us Weekly confirmed that she is dating Jonathan.
The new couple has not said anything about their relationship status. As in no word if they started dating before or after her marriage was over. If they dated before, then their squeaky clean images are completely tainted by an affair.
Pechenik spoke with the mag today and he said to them, "Everything is amicable and we have beautiful children together that are that way because we were the parents." When they asked him how he was doing, he simply told them, "I'm happy!" Two words that can say so much. What they say? Only he knows.
---
Caitlyn Jenner still has her little Bruce!
September 14th, 2019 under Caitlyn Jenner. [ Comments:

none

]

Caitlyn Jenner took part in the Comedy Central Roast of Alec Baldwin and she has something to get off her crotch, I mean chest. There have been rumors that when she became Caitlyn, she got rid of little Bruce. Turns out he is still there, he is just retired. After all, why you cut off something that made Kylie and Kendall Jenner? They are worth their weight in cash.
The roast airs tomorrow and you can see what else they have to say about her and Alec.
---
Felicity Huffman sentenced to 14 whole days
September 13th, 2019 under Desperate Housewives. [ Comments:

none

]

Ever since Felicity Huffman pleaded guilty for paying to get her daughter a better SAT score, we have wondered what her sentence would be for her part in the college admission scandal. Today, she found her fate with her husband William H. Macy nearby in the courtroom.
According to Reuters, U.S. District Judge Indira Talwani sentenced her to 14 days in prison, a $300,000 fine, one year supervised release and 250 hours of community service. Prosecutors were recommending she get 30 days.
While she and the other parents involved in the scandal are probably pleased with her just doing two weeks, a lot of other people are not going to be. Why does a rich white actress just get such a short sentence when African-American women are sentenced for years for lying about their address to get their children into better public schools. Justice is not color blind.
I am sure Lori Loughlin is breathing a sigh of relief today over the sentencing, but I don't think she should be. There are so many differences. Huffman pled guilty, only did the SATs for one daughter and was very remorseful. Loughlin pled not guilty, used the money to get both daughters into USC and we have not seen her be remorseful. Plus, if there is a big uproar over Huffman's sentence, the judge might have to make an example of all of the parents. Huffman was the first one to be sentenced.
She has six weeks to turn herself in for her sentence.
---
I'll take, How well do you know Country music's history?
September 13th, 2019 under Jeopardy. [ Comments:

none

]

Yesterday on Jeopardy, the game show teamed up with PBS for a category based on Ken Burn's docuseries about the history of Country Music.
They are questions that even this Northerner was able to answer. I was surprised I got them all even though Dolly Parton, Kenny Rogers, Willie Nelson and Loretta Lynn were not on the board. How well did you do?
While they were not any of the clues, they will all be mentioned in the 8-day 16-hour miniseries that premiere Sunday at 8p.
---
There are more than words between The Voice coaches
September 13th, 2019 under Blake Shelton, Gwen Stefani, John Legend, Kelly Clarkson, The Voice. [ Comments:

none

]

One of the sappiest songs ever recorded is Extreme's More Than Words. This season the coaches of The Voice harmonize that tune together. Can a Popstar, a Country boy, an R&B artist and a Country Popstar get the melody down as one coherent group? That is what Gwen Stefani, her boyfriend Blake Shelton, John Legend and Kelly Clarkson attempt to do with Carson Daly on guitar.
How did they do? Surprisingly. the love song worked for the American Idol winner and the one who won an EGOT. However, it was not made for the couple's voices. They came off as really nasally. It made question if the No Doubt singer can sing without the help of a producer if you know what I mean?
The Voice is back on NBC September 23rd.
---